Bath's time?
Miles Harrison says Bath must beat Wasps on Sunday to keep in touch with the Premiership leaders.
Last Updated: 05/01/13 2:45pm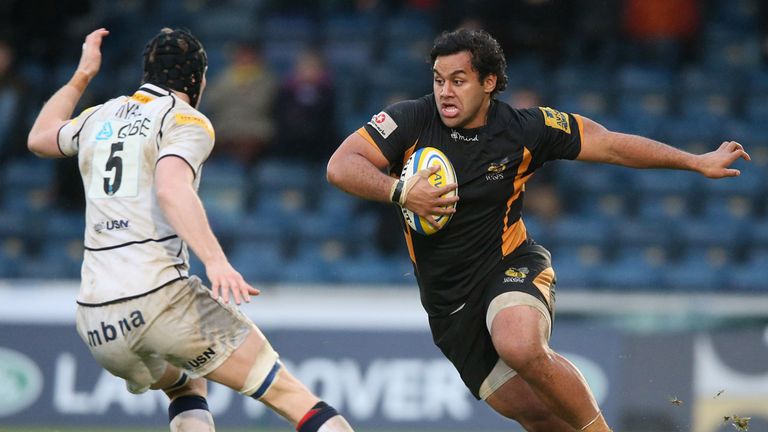 Wasps will be looking to continue their rise up the Premiership table when they take on Bath at Adams Park on Sunday, live on Sky Sports 2 HD.
Wasps, who have moved from 10th to fifth on the table, have been in fine form and are yet to lose at home this season.
Bath will be hoping to change that, though, as they know a loss on Sunday could well end their hopes of making the play-offs.
Sky Sports commentator Miles Harrison previews the match-up...
Wasps are going pretty well at the moment, aren't they?
MILES REPLIES: They certainly are, but I think they showed right from the start of the season that they were going to be different this year. You go back to the first weekend of the season and that Harlequins game, a contest they really should have. Harlequins had to do everything 100 per cent right from that point in the match where Wasps seemed to have won it. I think Wasps were still suffering from that loss the following weekend when they played Bath, so they have a bit of a payback here this weekend, a score to settle. Looking back though, their Twickenham efforts proved what they could do as a positive attacking force and now they are getting the results to show for it. They may not be in many people's pick for the top four but you can't argue with their points total and had they closed out that Harlequins game in the September sun, they WOULD be in the top four. Wasps' issue is perhaps their depth and if they start getting hit by a few international calls for England and the Saxons, which the form of their players deserves, they may find it difficult to cope.
Two of those young stars are Elliot Daly and Billy Vunipola. How impressed have you been with them this season?
MILES REPLIES: Billy Vunipola must be approaching England recognition; he is young but he is very, very good. If you are good enough then it does not matter how old you are - his brother proved that. As far as Elliot Daly is concerned, I think there is international class in the things that he does. When Ben Foden played on the wing for Sale in the those early days he finished like an international; I can see the same things happening with Daly, in that he has that star quality but also that versatility. He is playing for Wasps at full-back, wing and in the centre and I think he could be a solution for the England backline in the years to come. Is it too early for Daly at the moment? Unlike with Billy Vunipola, the answer is probably yes because Daly will need to grow as a physical presence, whereas Vunipola doesn't need to. But, Daly's little 'in and out' swerve which leaves defenders grasping, and his long-range boot for the stick, proves he has some things that others don't.
Are we finally getting to see the vision that Dai Young has for this team?
MILES REPLIES:Young needs to take a lot of credit; he was frustrated by all the injuries last year, but they have managed to keep away from that this year and you can really see his imprint on the team. They play a really exciting brand of rugby and when they get the ball out to the wingers, Christian Wade and Tom Varndell, its is very pleasing to watch. Also, the settling down of the issues off the field has helped as well.
Bath are eighth in the Premiership, so how important is this game for them?
MILES REPLIES: I think they have got to win this weekend to keep in touch. They cannot afford to fall further behind and they may have left it too late already, as you would assume that the teams above them will continue to win most of their games. However, they need to qualify for the main European competition at the very least. The problem for Bath is that it is all about history these days; winning trophies happened a long time ago and their fans have been incredibly loyal considering. The Rec is always sold out and if they get the bigger stadium they crave, then that would sell-out, too. Their draw at Exeter proved the fight is all there, after that desperately disappointing home reverse to Saracens, but Bath will need all of that fight from now until the end of the season.