Miles Harrison says that both Exeter and Northampton need to get something out of their Premiership clash on Saturday
Miles Harrison believes that home advantage could be the difference when Exeter host Saints on Saturday.
Last Updated: 04/01/13 4:42pm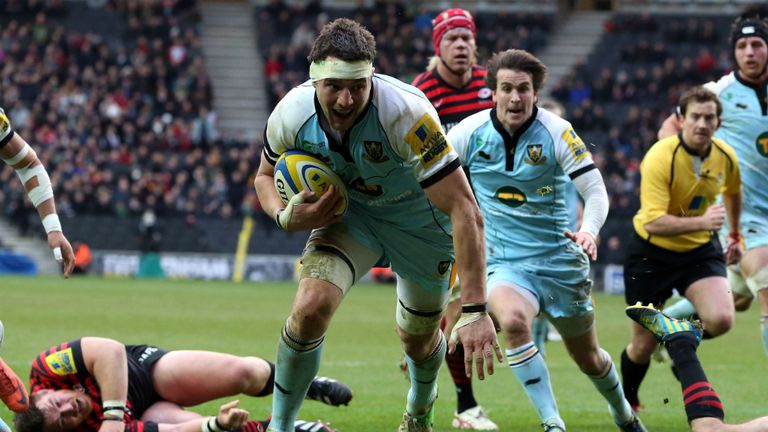 Exeter, who are currently in seventh position and are also looking at a top four spot, have been virtually unbeatable at home and Miles Harrison believes that home advantage could be the difference on Saturday.
There has been a lot of talk about Northampton going off the boil recently; do you think they have stagnated a little bit?
MILES REPLIES: I think 'stagnated' is too strong but I don't think they have ever been really consistently 'on the boil' this season either as their Heineken Cup campaign proves. They showed how well they 'can play' in the away game in Ulster and how they 'cannot play' in the home game. But, to go and win in Ravenhill, even though Ulster were not where they should have been on that night, shows how well Northampton can go on their day. The Saints have never been far away - but Quins pre-Xmas and, to a lesser extent, Sarries post Xmas - showed that they are still short of where they need to be to win this competition. Jim Mallinder accepts that most people will be writing them off but he also says that suits his team just fine. This weekend's game is a big one, as Northampton cannot afford to see that gap between them and the top four grow.
Northampton have always relied on their pack but is there a suggestion that they may not be as strong in that area as they once were?
MILES REPLIES: It is an interesting one. It seems Soane Tonga'uiha and Brian Mujati are on their way and that may actually not be a bad bit of business for Northampton. They both still have a lot going for them but maybe not as much as they once did. So, I do take the point that Northampton may not have as fearsome a pack as they had when Tonga'uiha and Mujati were firing on all cylinders. However, I still think they have a pretty impressive pack - Dylan Hartley, Samu Manoa, Tom Wood and now Phil Dowson coming right back into form. Courtney Lawes was out for a while but will come back to his best at some point. So, I am definitely not going to be writing off this Northampton pack just yet!
Can you see the Saints making the play-offs at this stage?
MILES REPLIES: Yes, what Northampton really want is to become champions of England - can they do that? It is going to take an awful lot of work for them to do that this season. As I say, Northampton really cannot afford to lose too many games now - especially against the likes of Exeter who, of course, are also in the mix for the play-offs. But, the one-off element to the season's conclusion keeps all the big names interested it really does.
Exeter's home record is pretty impressive, how big a factor is that for them?
MILES REPLIES: It is a massive factor. It is why people said pre-match that they had a chance against Clermont Auvergne in their Heineken Cup home tie against the French giants. You get hit by this massive atmosphere and intensity. As it happened, Clermont Auvergne put in one of those performances that really underlined their credentials but my point is that it took a team like Clermont Auvergne to dismantle Exeter at Sandy Park - no one in England is going to be able to do that. Over their seasons in the top flight, Exeter have also shown some good form on the road - they are in seventh position this season - but that just goes to show just how competitive it all is - not that Exeter have any great weaknesses. Yes, Exeter are always going to be in there fighting and it all makes this weekend's game a pivotal one for both teams. As I say, there are too many big names above them to be able to lose matches like these and get away with it.