Saints on the rise
Miles Harrison expects a cracking game as a resurgent Northampton side take on Harlequins.
Last Updated: 21/12/12 1:42pm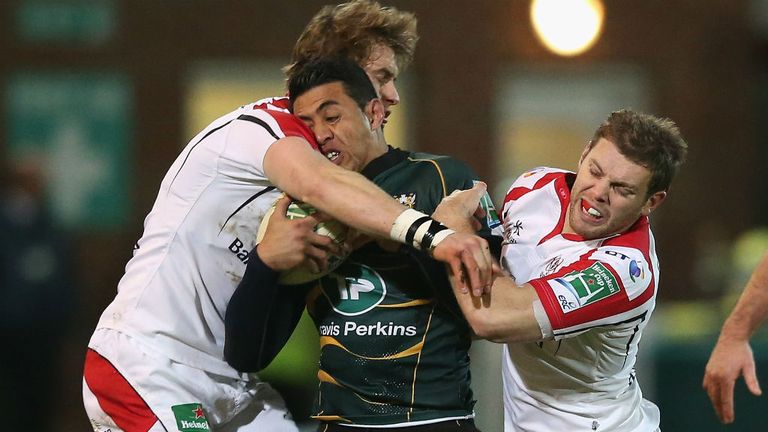 Northampton Saints ended Ulster's 13-match unbeaten run with an impressive win in the Heineken Cup at Ravenhill last weekend - eight days after being heavily beaten by the Irishmen at home.
Premiership champions and current league leaders Harlequins, meanwhile, enjoyed a straight-forward victory over Zebre for the second week running.
And that all suggests the Aviva Premiership clash between the two sides this Saturday is going to be a cracker, says Miles Harrison.
What will that win against Ulster have done for Northampton's confidence?
MILES REPLIES: It was a great win for Saints. They had been written off after what happened at Franklin's Gardens. It was not difficult to see them responding in the way that they did because they played so below par that night and there is too much pride in the club to let that happen again. But, many were saying, you also had to take into account the opposition - Ulster had been playing so well and were absolutely ruthless at Franklin's Gardens.
If they could get anywhere near that at home then surely they would triumph almost regardless of what Northampton did. However, the Saints, much to their credit, stopped Ulster in their tracks. It reflected really well on everyone at Northampton. They can take great pride from that and really use it going into another massive game this weekend. They know now what they need to do is back it up.
Would that effort have taken anything out of them Miles?
MILES REPLIES: It is a difficult one, you never really know until teams start playing again. But, they have had a full week to recover and, if I had to put money on it, I think the positives of doing what they did and getting that belief again will far outweigh the negatives of feeling a bit 'cream crackered' from having to produce that level of performance. Also, let's not forget that they performed in Ulster and they will want to make amends to all those home fans that they disappointed in that loss at Franklin's a fortnight ago. There is a still some payback left to deliver which is not a bad thing.
What about Harlequins, Miles; they have had the easier two weeks in the Heineken Cup with impressive wins against Zebre?
MILES REPLIES: Again, we are not going to be sure about this until the game pans out and there are two sides to this argument. On the one hand, Harlequins cannot go into this match any more confident than they are - they have stuck over 100 points on the board against Zebre scoring 15 tries in the process. They are in a terrific position in their Heineken Cup pool and are currently top of the Premiership table. There is so much to be positive about that it is hard to think there is anything negative to come out. But, they have had quite an easy run over the last couple of weeks and I'm sure that will be on their minds and perhaps they will be a little worried about that.
However, I think as a club they are beyond those worries doing any damage. We know they can deliver the big performances on the big day. What will be a concern though is that they have lost three times in the Premiership this season, including a couple of times on the road to Bath and Exeter. I am not dismissing the Bath loss but it was during the autumn internationals - the Exeter loss though was the one when they were not in the right frame of mind and Exeter really took them apart - which made Conor O'Shea pretty angry at the time. They will know that if they are not absolutely right for this game and, if Northampton play like they did against Ulster last week, then they could be in for another defeat. They have to be right on top of their mental preparation - and I am sure they have learnt the lesson of Exeter.
So all the signs are pointing towards a really good game?b>
MILES REPLIES: Yes, I think we will see two teams who will turn up in front of a sold out Franklin's Gardens and deliver a real treat. Northampton love to carry the ball into their opponents and use their big carriers to really get that pace going. Dickson gets in there and gets the ball out quickly to a big runner who gets it across the gain line. It is what they did not produce against Ulster at home and what they produced away last week. That will worry any team if they get it right. Some have accused them of a lack of variety in their game but if they do get it right, then it is very hard to stop. Harlequins, well they can be lethal too of course when Nick Evans is running things and feeling like he is the king of the castle. If he is working off a platform that his forwards can so obviously provide for him, then they are almost unstoppable too. If all those elements come together then we should be in for a cracking game.
We are going to get the atmosphere; everyone is going to be up for it - with Christmas just around the corner. If you get that energy in the ground then it just lifts the players even more. I hope you enjoy it and have a very Merry Christmas yourself!