Call to arms
Miles Harrison says that Saracens need to improve in all areas if they want to beat Munster on Sunday.
Last Updated: 18/12/12 2:42pm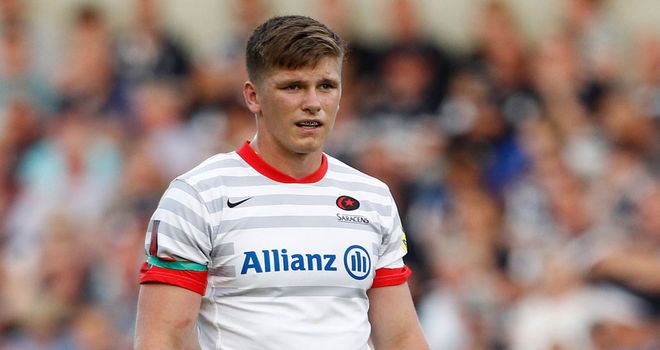 Saracens were uncharacteristically off-colour in the 15-9 defeat last weekend at Thomond Park and will feel that they let Munster off the hook.
They have the opportunity to make amends on Sunday but Miles Harrison says that to compete with Munster, Sarries need to tighten up their set-pieces and fulfill their attacking potential.
Last weekend Munster had to beat Saracens to keep their play-off hopes alive, how has that affected this weekend's game?
MILES REPLIES: Yes, having lost to Racing Metro, Munster really had to beat Saracens at Thomond Park and they will be relieved that they came through with the win. You can't say that Munster didn't deserve to win - they did but I also think that Saracens will be looking back at that game and thinking that they missed an opportunity there. Had they landed those kicks then things could have been so different. But, it is not the end of the world for Sarries because with the home game coming they are still the better placed of the two teams. Munster have to win again this weekend, but then so do Saracens - it really is beautifully set-up.
Saracens made some uncharacteristic errors, how much credit goes to Munster for forcing them into those errors?
MILES REPLIES: I would not be too harsh on Saracens; plenty of sides have left Thomond Park with nothing! But, they will be unhappy that they did not deliver on the day. However, that unbelievable home support really drives the Munster players to perform and gets them fired up to a level that so many others can't deal with. Unless you go there you don't really know now much a factor the 16th man can be. For a lot of the Saracens players it was their first experience of it - many go back more than once and still can't cope with the Thomond Park factor. Yet, as I say, Saracens will be disappointed that they made those mistakes regardless of the atmosphere - they are pretty used to being on the road and they have done well on their travels this season. Also, they seem to thrive in adversity but last week they just did not click.
What do Saracens have to do now?
MILES REPLIES: They need to be right on their game, getting into that place that makes them, on the day, unbeatable. To start to do that they have to get their set piece right, the line out was a big disappointment last week; they have got to be their normal aggressive selves at the breakdown; make sure they use the territory and build pressure. And, of course, they have got to make sure that they slot the points. A bit of the cutting edge that was so evident in Edinburgh and Brussels wouldn't go amiss either. Munster will be up for the fight though and they are coming back hard in this Pool and will not be beaten for desire. It should be a tense afternoon alright at Vicarage Road.