Battle of the big men
Miles Harrison says the battle up front will decide whether Ulster win at Northampton on Friday.
Last Updated: 09/12/12 7:21pm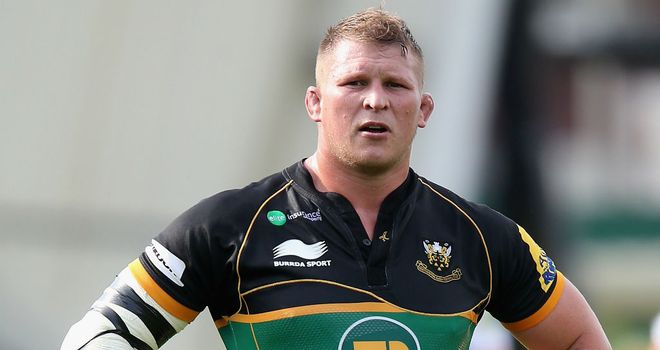 All-conquering Ulster head to Franklin's Gardens on Friday looking to make it 13 wins from 13 starts this season!
The RaboDirect PRO12 leaders top Pool 4 after solid wins over Castres and Glasgow while Northampton sit in second and must bounce back after their 21-16 away loss to Castres in the last round.
Saints will be looking for Tom Wood and Courtney Lawes to be bring some England momentum with them after that wonderful win over New Zealand as they face the in-form team in Europe.
Ben Foden, Dylan Hartley and George Pisi are also back in action to boost Northampton while Ulster have a full squad to pick from - except for the injured Stephen Ferris.
Miles Harrison kicks of his European weekend at Franklin's Gardens and says it is the battle upfront that is going to decide this game.
Ulster look to be in the driving seat at the moment, Miles - they are unbeaten so far this season.
MILES REPLIES: They have won 12 from12. In fact, I don't think anyone has gone better at the start of a Rabo Direct season since the competition went home and away. It is great credit to them and a great credit to their new coach, Mark Anscombe, who came in and took over from a man who had led Ulster to their first Heineken Cup final for 13 years. But, he has started really well and his players have delivered for him. They have won some games convincingly but they have also won some tight ones - Ulster just seem to know how to win at the moment. I have felt from day one of this competition that they have a good chance of going one better this season. I haven't seen anything since to change that view. I'm not saying they are going to win it but they are going to take some knocking out.
Anscombe seems to have a very good squad to choose from though; how much has that helped them?
MILES REPLIES: I think the squad has gotten stronger. We spoke about Jared Payne at the start of the Heineken Cup this season and his return to action really strengthens them. The return of Tommy Bowe is, of course, another major boost and the continuing emergence of Craig Gilroy, not just for Ulster but for Ireland now, is a big plus.
They also have options in the centre with the likes of Luke Marshall, Paddy Wallace, Darren Cave and, of course, Andrew Trimble. There is also strength in depth at No.9 where you have Ruan Pienaar and Paul Marshall - Marshall is just getting better and better but Pienaar is the main man. To have them both is quite a luxury.
In the pack, Roger Wilson has come home and Iain Henderson is a star in the making.
So, yes, I think there is more depth than there was before and that is one of the major reasons as to why they can go a long way.
What about Northampton's strength in depth, Miles?
MILES REPLIES: They have tried to address this issue and when you look at the personnel they have coming back now too, they look as strong as they have done for some time. They have some big names fit again, players who have a huge influence on them and who they cannot really do without in Europe - Ben Foden, Dylan Hartley, Courtney Lawes, all back from injury and Tom Wood, getting his form back - didn't we see that in England colours last week! They also have the Pisi brothers who have worked really well in Europe already. I think we will find out over the next two weeks just how strong they are - how this Northampton team compares to the Saints' side that got to the Heineken Cup Final. These two games against Ulster are going to be like Cup Final games for them.
And, one extra point here... props Brian Mujati and Soane Tonga'uiha seem set to leave the club at the end of the season. That is something that can work two ways but I would wager that it is set to be a powerful motivational force. This popular duo's departure would signal the end of an era for this group and they will want something to show for it all.
The forwards battle is going to be key, isn't it?
MILES REPLIES: Always is! But, they both have very strong scrums and are going to have to watch out for each other. Ulster can really look after themselves upfront with the likes of John Afoa, Tom Court and Rory Best; while in the second row Johan Muller is a classy lump. We are talking international players on both sides. Northampton do like to push teams around and, when they do it, it allows them to play their game, they thrive on that forward power first and foremost. They also like their forwards to run straight and hard and carry the ball well. But, you can almost use the same words for Ulster - they thrive on establishing that aggressive forward platform and getting their forwards carrying the ball up at the heart of the opposition. So, it is going to be an almighty clash upfront and they both have the backs who, if given any kind of room, will take their chances. There are genuine world class finishers on both sides. Whoever gets that little nudge, gets the upper hand in the forward battle will decide the outcome.