A storm brewing
England must front up physically - and find their finishing touch - against South Africa, says Miles.
Last Updated: 23/11/12 10:21am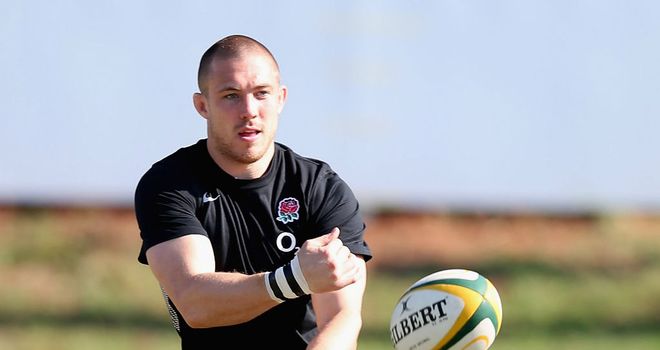 After England's disappointing loss to Australia last weekend, their task does not get any easier as they host South Africa at Twickenham.
England boss Stuart Lancaster has made six changes to the starting XV with promising young lock Joe Launchbury given his first start.
It promises to be a baptism of fire for Launchbury who will have to front up to a very physical South African side determined to head home with three wins out of three.
England would have taken some comfort from watching both Ireland and Scotland push the Springboks all the way, but it's one thing knowing exactly what is coming and another stopping it.
Miles Harrison will bring us all the action from Twickenham and so skysports.com got his views on the main talking points...
What do you think of the changes England have made? Do they bring a balance to this side that is needed against South Africa?
MILES REPLIES: It seems England were going to make some changes anyway and some of those were going to be horses for courses with South Africa very much in mind, but six changes is also, in part, a reaction to the disappointing performance last week.
A case in point is Joe Marler, who is injured but his position was under pressure after how he went in the scrum against Australia. Marler's replacement, Alex Corbisero, has served England very well and, importantly, against South Africa recently when he came on in the summer. Corbisiero says he is feeling fit and South Africa will really test that fitness.
Tom Palmer is also injured but he was under pressure from Launchbury - something that is happening not only at international level but at club level for Wasps. We have seen some positive signs from Launchbury when he has come on over the last two weeks and the England management have had their eye on the youngster for a while. He is the right selection for this particular opposition but also the right selection full stop.
The same goes for Tom Wood. I think Tom Johnson has been unlucky as I don't think he has done much wrong but he looks made for a looser game; Wood brings a more abrasive presence. Wood is clearly a man England rate very highly and he has been working himself back to full fitness after his injury. He showed signs last week when he came on that he can add something.
Thomas Waldrom at No.8 was perhaps not giving England what they wanted and Ben Morgan gets his chance again. In some ways, I was surprised that Morgan was not the first choice at the start of the autumn series given the time and effort that had been invested in him already. But, England wanted him to go away and work on having more presence in the tackle. He seems to have done that and his three tries for Gloucester last week could not have been better timed.
In the backs, Mike Brown is the extra full-back in the back three - it's the way England have been wanting to go of late. He will certainly help when it comes to the kicking game and again this is important against the Boks. But, there is a risk element to this as Brown is not a regular winger and, if fit, JP Pietersen can be world class.
However, Brown is one of England's best players and he loves a fight - so you can see why England want to get him on the field from the start. I think Ben Youngs over Danny Care must have been the really tight one, but the with the club combination of Youngs and Toby Flood reunited, again you can understand it.
Care did not help himself when he kicked away the possession to lead to Australia's try last week. However, Care's quick tap lead to a try and Youngs' tap didn't. As I say, it must have been close. But, you asked in your question about balance and that is where the loudest critics can be heard again. England's midfield can look after itself defensively and against South Africa that is important but can England create the scores too? That is the challenge for this team - to find the finishing touches.
There was talk that maybe Mouritz Botha would get a start against South Africa to bring a bit of mongrel to the England pack. Do you think that Launchbury can do that?
MILES REPLIES: Launchbury is a very bright prospect and, as I said, I think it is right he is given a chance now; it is not as if he has been plucked out of thin air. Botha is a wonderful whole-hearted rugby player and can add value but on that summer tour to South Africa I don't think he was as dominant as England would have liked. A little bit like with Ben Morgan, there was a reason why he did not start the autumn internationals in that, he probably got a bit of a physical international wake-up call in the summer. But I don't think he was demanding to be a starter this weekend over and above the men chosen.
Against Australia, England really looked to be missing that out and out 7, do you see that being a problem this weekend against Francois Louw?
MILES REPLIES: It is a really interesting one. Chris Robshaw may not be an out and out 7 but he has done really well for England there and in South Africa he shocked the Boks in that No.7 jersey. He has also gone well there for his club side, Quins and in some big games, too. Against Australia it was pretty obvious that he was not at his best - but he was not the only one involved in not getting to the breakdown in numbers - England got it wrong there as a team. Of course, the man of the match award went to Hooper who is a 7 and that just highlighted Robshaw's lack of effectiveness on the day but I don't think you can judge him on just that game.
If the problems continue against Louw and then against Richie McCaw a week later, then you can start to ask questions, but not after just that game. I suppose this applies to the whole of England - you have to look at their performances over the entire autumn series and not just on the one game. Against South Africa, they have a chance of redemption, much like Australia had after what happened to them in Paris. Australia were taken to the cleaners by the French and whilst England were beaten by the better team on the day last week, there was a way for England to win that game and they didn't take it.
Let's talk about South Africa. England know what is coming but the Boks are a lot more than just brawn aren't they?
MILES REPLIES: There always has been and there always will be a lot more to South Africa than just brawn.; it is ridiculously simplistic to say otherwise. Take captain, Jean De Villiers, he is a very clever player and there is a lot to Juan de Jongh, although we are yet to see him really perform at his consistent best at international level. JP Pietersen, Ruan Pienaar and Patrick Lambie all have very sharp rugby brains to name but three more. We know that the Boks play in a certain way and that plays to their South African characteristics but why wouldn't you tap into this? Why would you not use that strength and power to dominate in a physical game?
It is a very effective weapon that had the All Blacks very concerned at the last World Cup - there was no one more pleased about not meeting South Africa in the World Cup than the Kiwis.The Boks have a game plan yes, and that helps in a certain way because you know what you are going to get, but it does not mean you are going to be able to deal with it - plus they offer more besides. The tries may not come like they do for New Zealand or, in the same number, but when South Africa get it right they are virtually unstoppable in their own way and there is nothing wrong with that from their point of view, is there?
South Africa have a young lock in their ranks, too. He may have made the headlines for the wrong reason this week but what do you make of Eben Etzebeth?
MILES REPLIES: We have seen enough of him to know that he is going to be some player, in fact, he already is! It is unbelievable how well he has taken to international rugby. South Africa are already talking in terms that they have found the next Bakkies or Victor - that is high praise indeed. As far as the citing went, well I don't think there was anything in that and I am pleased to see he has been cleared to play. The Twickenham crowd will be able to watch a young man who looks set to be an international player for a long, long time and possibly a great. But, England will be hoping that they have found a new star in Launchbury. However, South Africa are 100 per cent in their lineout in the two matches so far - if you want the evidence then there it is.
How important is this game for England to win?
MILES REPLIES: These games have always been about the development of the team at this point and I think wining for the rankings has always been a bit of a sideshow. But winning for themselves and the fans, then that is a different matter. There was a lot of pressure on England against Australia last week - I mentioned it here that that was a pivotal game. Had England won they would have been able to head into this match with real confidence. Maybe that pressure showed in the second-half but now on the back of the defeat there will be even more pressure this weekend. They are coming up against a side that is arguably even more difficult to beat. This is the Boks final game of the year, and their coach, Heyneke Meyer, has said they may be a bit tired but we know South Africa will be giving everything, it is their last hoorah and they don't want to end it all with a loss to England. It is their final.
It will be a brutal test for England but, then, I suppose, it was always going to be regardless of last week. And, to answer your question, England really need to get something out of this autumn that is tangible on the scoreboard. Having said that, if England were to go down this weekend and against the All Blacks next week but play their part in a couple of high quality cliff-hangers with their rugby suggesting that the team was going in the right direction then, of course, that would not be the end of the world. But, as I say, the team need a win and the fans are entitled to a win because these autumn series have not exactly been smattered with victories of late! It promises to be a massive day at Twickenham and I know you will be joining us! Speak to you then.