Given half a chance
Miles Harrison says England cannot afford to let any chance go begging when they take on Australia.
Last Updated: 16/11/12 12:48pm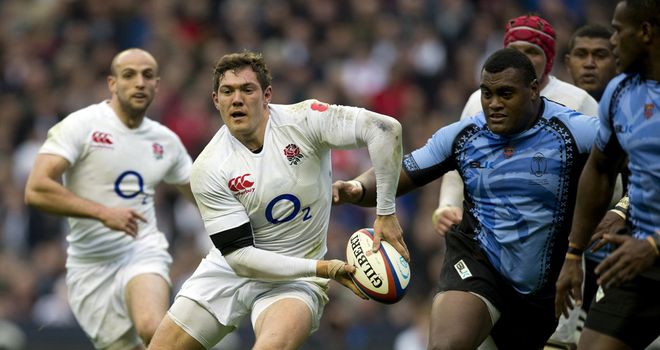 England may have scored seven tries in their 54-12 win against Fiji last week but face a much tougher against Australia on Saturday.
There was plenty to work on after the Fiji game and despite the Wallabies being put to the sword by France, Stuart Lancaster's men cannot afford to take Robbie Deans' men lightly.
Too many opportunities went begging against Fiji and England lacked some precision.
But with chances likely to be few and far between against Australia, Miles Harrison says that England must make those moments count..
What will England have learnt from their 54-12 win against Fiji that they can take into the Australia game?
MILES REPLIES: The first thing to say about last week's game is that it was an almost impossible game to draw any firm conclusions from. It was first match up for England and it looked like it, especially early on when they were clearly rusty. But they got going and recorded their biggest winning margin against Fiji which is encouraging. However, it comes with a big caveat because this Fiji side found itself in a difficult place last week when it came to preparation time and their list of absentees, so England were always going to be in a bit of a no-win situation.
Yet, they did score seven tries and some individuals did look impressive, nobody more so than man-of-the match, Alex Goode. But numerous chances were squandered and the England camp has been very honest about that issue this week. I don't think anyone is being overly critical here, it is just about highlighting the fact that England need to be more precise. England have to make those moments count this weekend because they certainly will be less frequent against superior opposition.
Talking about England needing more precision, Chris Ashton is back in the team and has been in superb form for Saracens in the Premiership, hasn't he?
MILES REPLIES: Yes, he has, although as you've probably been hearing that his lack of England tries in recent times has really started to get to him! At his best he is a world class winger and a terrific rugby player. He has had his problems with tackling this season and the suspension that followed but, no doubt, this has been addressed both at club level and with Andy Farrell at England because if something like this is identified, and it happens again in the near future, then the reputation will start to stick. But he is in the team primarily as a finisher and he is a fine finisher. He would have loved that game against Fiji because there was so much space and that made him even more annoyed with the suspension to the point where he left the ground early. He will come out all guns blazing against Australia.
Australia were very poor against France and the knives are out again for Robbie Deans with David Campese saying he has destroyed Australian rugby. What are your thoughts on what went wrong for them in Paris?
MILES REPLIES: They have got a lot of injuries but that performance against France was not just down to that. It looked like there was a bit of an attitude issue - I cannot remember a time when I have said that about Australia but it did not look like they wanted it. It almost begged the question do they actually want to be on this tour? France were good, you can't take that away from them and many a good side has suffered at the hands of a fired up French pack in Paris, but Australia were really poor. At the scrum, rather worryingly for the Wallabies, it was a horrible flashback to the bad days.
But, I don't think they were saying Deans killed Australian rugby when the Wallabies got that draw against New Zealand - which was a very respectable result - and when they won recently in Argentina, in Rosario which, as we all know, is not easy. They are not scoring as many tries these days which is perhaps what Campo is referring to but just remember who is missing from this backline. Will Genia is out injured, James O' Connor is out injured, too, and you have Quade Cooper out of the team and out of sorts. They do have Digby Ioane back though this weekend and that should give them a boost. In summary, though, I don't think Deans will be judged on this tour, unless it goes catastrophically wrong again this weekend and beyond in Italy and Wales, too. No, his judgement day will come when the Lions arrive next year.
Can you see Australia being as bad at Twickenham as they were in France?
MILES REPLIES: It was a very unusual performance from them and that is why I am absolutely convinced that we will see a totally different attitude this weekend. The mood in the Wallaby camp is one of a total lack of understanding as to how they performed so badly against France but also one of a total determination to put it right. Nathan Sharpe, who has all those caps and has played with so much pride and passion of late, was way off his game over the weekend and has a determined face on now.
Normally just playing against England is enough to get an Aussie prepared to give his best but I sense it is not the major motivation for Australia this Saturday - not by a long way. Their major motivation this weekend is to say sorry to Wallaby supporters for the way they performed last weekend. In their minds they have to make amends and do it now.
There has been a lot of talk about England demolishing Australia's scrum, do you think they will be that vulnerable?
MILES REPLIES: I think there are various issues to throw in here. France did at times demolish them and on that basis England will fancy this and look to win the scrum battle. However, there are some more caveats. Firstly, Australia feel that some of the decisions that went against them in Paris were not necessarily their fault. Also, in the Rugby Championship, they caused a lot of other sides to concede penalties at the scrum and very often more than held their own. That is recent and relevant history and cannot be ignored.
But, as I said earlier, last week was at times like going back in time for the Aussie scrum to those dark days. England certainly got the better of the Australia scrum when they went Down Under in 2010 and also at Twickenham in the same year. Yet, we must also remember 2008 and 2009 when England were meant to 'beat up' the Australian scrum leading to victory and it never happened. One more point here is that in their front row England have two men who are still very inexperienced at this level and are still learning, Joe Marler and Tom Youngs.
They are very good scrummagers but this England front row is not as well-established as previous ones that took on and beat the Aussie scrum. However, I will back Marler, Youngs and Dan Cole to win that battle upfront but it may well be not as clear cut as some people think. England will need to win the game using additional weapons and they must take those chances. It is a game that I, for one, can't wait for and I look forward to your company on Saturday for our coverage from another sold out Twickenham.