Great expectations
England lack experience, says Miles Harrison, but they can deliver what Twickenham expects.
Last Updated: 09/11/12 2:38pm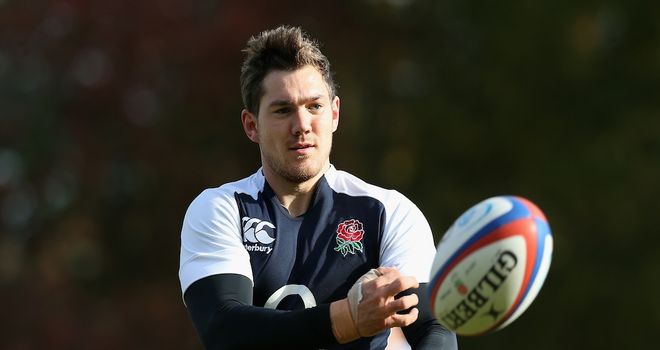 It's set to be an intriguing November as the southern superpowers prepare to storm Twickenham.
Fiji are England's first visitors on Saturday before Australia, South Africa and New Zealand descend and it is time that England show the world what they are all about.
England coach Stuart Lancaster has called on Tom Youngs to makes his England debut after just nine starts at hooker for Leicester. Alex Goode is chosen ahead of Mike Brown at fullback, while Tom Palmer comes in for the injured Courtney Lawes.
With Chris Ashton suspended, Charlie Sharples wins his third cap and Ugo Monye makes his first appearance since March 2010. The bench is also relatively inexperienced and includes two uncapped 21-year-olds in Saracens prop Mako Vunipola and Wasps second and back rower Joe Launchbury.
England may lack experience but there is a buzz about this side and Miles Harrison believes that can deliver what a packed out Twickenham expects...
England have made changes, what do you make of them?
MILES REPLIES: Some of them have been forced, probably too many for England's liking but Stuart Lancaster seems very calm at rolling with the injuries and presenting one man's loss as another's opportunity. But, there are one or two changes that I think the coach would have been looking to make anyway. It is always exciting to see some new faces and Mako Vunipola and Joe Launchbury give this match day squad selection freshness and form.
The new face starting is Tom Youngs - there were some questions marks over his lineout skills after that Leicester game at Gloucester. Are they justified and how do you see him reacting to that criticism?
MILES REPLIES: The problem that day was initially exacerbated by a timing issue and I don't mean at the line-out, we'll come on to that in a minute. No, the issue that day was magnified because Dylan Hartley had just injured his knee and it became apparent that Youngs, selected as England's back-up hooker this autumn, was going to be thrust right into the limelight. Justifiable questions were then asked about his suitability when the Leicester line-out was not going as well as it should in a pressure game. And, undoubtedly, there were times during that match when Youngs would have been unhappy with his performance yet there were other times when his lineout jumpers would not have been happy with what they did. Very rarely in this game is one man to blame. I think the key to this though is how Youngs reacted. You listen to people who play with Tom Youngs or coach him and they all say the same thing - this guy has got what it takes when it comes to dealing with the setbacks. This would appear then to be one of the reasons why he was identified, first by Heyneke Meyer, as being able to make the seismic switch from centre to hooker and why the current Leicester management have spent so much time developing him. Youngs has also been identified as an international player because he can run hard just like a powerful centre, scrummage well and do all of this with an 'edge' - one that makes him stand out. His general stats at the line-out this season are good but he knows this month will be a massive test. His time may have come a little earlier than expected but that is not to say that this time will not be used well by Youngs. More mistakes are going to happen this autumn, it is a fact of life, he just needs to minimise them and to show again how he bounces back and that will really count. Tom Youngs will be in for a pretty long stay in the England squad.
Mike Brown was unlucky not to get the nod - do you think that the selection of Alex Goode was based on form or Stuart Lancaster's desire to have more creativity in the side?
MILES REPLIES: Alex Goode is not out of form - he is clearly a very fine player and he looked the part on the tour to South Africa. There were a lot of people over there who had never seen him before and they were seriously impressed. He brings a bit of class to any side and is a very good selection in his own right. But, if you were going to go purely on form, then it is hard to ignore Mike Brown's excellent claims. Brown has been exceptional again in the Premiership this season. However, Goode does bring that fly-half, first-receiver style creativity and ball playing ability which helps out when England opt for the 12 and 13 combination that they have gone for in this side. Selection is not just about your own role, it is also about how you combine with others and I think we are seeing that here. Over the season and, over this month too, there will be a chance for some horses for courses in the back three because Mike Brown adds creativity in a different way. England are genuinely spoilt for choice in this position, especially when you add the injured Ben Foden into the mix although I feel that Foden would have been used on the wing, just like in South Africa, because Alex Goode and Mike Brown are two talents that you would want to get in the side too.
Recent reports allege that French clubs paid their Fijian players NOT to go to the World Cup. What are your views on this?
MILES REPLIES: My view on this is clear - if true, it is wrong and the IRB is right to react in the way that it has. Of all the teams, it is the non-Tier One nations who need every help they can get to gather the squad that they want when their big game chances come along. Players must be available for the World Cup - simple as that. But, being realistic, because of the economics of it all, I don't think this issue is ever going to go away. There is investment and funding into Fiji these days, yes, but there is another investment in this sport that goes directly into the players' pockets and that comes from the clubs or regions. We see it in cricket with the IPL and in football with the power of the Premier League and we have seen it again this week in rugby with Jamie Roberts. It is not just Fiji fighting the problem of player drain to France, the likes of the Cardiff Blues are fighting it too, albeit from a different angle and on a different financial level. This is not a criticism of players - they deserve to be paid handsomely for what they do and who are we to tell individuals that they can't look after their families? The further sadness from the Fiji national team's perspective is that, over the years, so many of their players have gone to play for other countries and it is the alleged tapping up of talent at a really young age that has also been much talked about this week that worries me even more. When it comes to more established players, Fiji admit to wanting some of them to play with the big European clubs to gain that valuable frontline experience, I dare say, even if that might mean losing those players every now and again. But, what Fiji doesn't want is a situation where players still at school are tempted into changing their national allegiance even before their rugby career has begun - this is a much more sinister problem.
England are expecting to win but what will you be looking for from their performance on Saturday?
MILES REPLIES: I think from an England point of view - and this applies to all the autumn internationals - what we will be looking for is a side that has the ability to seize the moments in these big games when they come along. Stuart Lancaster has talked this week about his side needing to play for all four quarters of the game. The problem in South Africa in the summer was that England drifted in and out of the matches and therefore undid all the hard work that occurred when they were switched on. And, whilst looking towards 2015, England also know that it is important to live in the here and now. To be fair, I think this England management team has shown that they have one eye on the future and another on the present. They recognise that we have four sell-outs coming up at Twickenham and a crowd thirsty for success so, as Stuart Lancaster said himself, this is time to deliver. That means winning games and making Twickenham feel like a home ground again at this time of year. As you say, we fully expect England to win this game against Fiji but it is that clinical nature that needs to be on show. They are bound to be a little rusty as it is the first game since the summer but those half chances need to turn into full and taken chances because you sense that, as the month goes on, the chances for scoring in the games against Australia, South Africa and New Zealand will progressively diminish. It is all very exciting and I look forward to speaking to you from the commentary box on Saturday.