In with a shout
Miles Harrison wonders if Gloucester can bottle their Kingsholm spirit and uncork it at the Stoop!
Last Updated: 02/11/12 12:02pm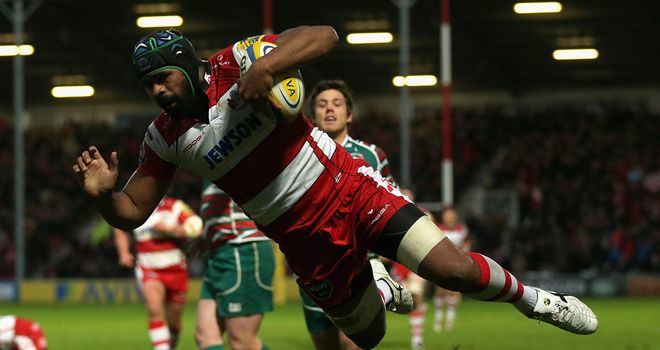 Harlequins host Gloucester at the Twickenham Stoop on Saturday in a game that will surely test the depth and their character.
With eight key players out - including skipper Chris Robshaw, Danny Care, Joe Marler and Mike Brown - the defending Premiership champions face a tough challenge from third-placed Gloucester.
The Cherry and Whites will arrive at the Stoop on the back of an eight-game unbeaten run in all competitions, and will be looking to build on their spirited win against Leicester last weekend.
Charlie Sharples will not feature due to his international commitments but Ben Morgan has been released from the England set up, and another impeccable performance from James-Simpson Daniel will no doubt expand his 'Sinbad for the Lions' campaign.
Miles Harrison will commentate on the action and will be fascinated to see if Gloucester can bottle their Kingsholm spirit and uncork it on the road!
Gloucester had a great win against Leicester. Do you see that game as a turning point for them?
MILES REPLIES: Not so much a 'turning point' because they were going pretty well before that win, but I see it more of a potential launch pad. To win in the manner that they did last Saturday and to show that much character when down to 13 men will have pleased the coaching staff no end and given the supporters genuine reasons to believe that this squad can do something together. However, Gloucester fans also know that these moments in a season need to happen away from Kingsholm too and that is why this weekend is so fascinating - to see if Gloucester can back up what they did against Leicester on their travels. Of course, they don't have to win to back up the argument that they are in with a shout this season but they do have to look like a top-four team away from home and that means they have to be, at the very least, difficult to beat.
Freddie Burns got a lot of plaudits after the win but how impressed were you with Gloucester's pack - in the set pieces and in defence? Akapusi Qera seemed to be everywhere?
MILES REPLIES: Let's take this one step by step, with Freddie Burns first. Burns is a talent, there is no disputing that. I said in this column last week that I was a little disappointed not to see him in the England squad and that disappointment was only increased by what I saw last week. There are times when Burns looks like he has something special and different and we saw that on more than one occasion again against the Tigers. However (there is always a 'however'!) there were also moments when Burns did not show the consistency of performance during the Leicester game that he will need to show if he is to become an international or, should I say, an international regular. That being said, he is still only young and that experience is coming all the time and, on current form, I would have him in the England party this Autumn. But, let's face it, he's not far away is he?
On the matter of Gloucester's pack, they were clearly challenged up front by Leicester in the scrum but were at their most tenacious when it mattered most and they made some useful changes as the game went on that helped their cause.
The team's defence was, at times, breath-taking and nobody showed that commitment more than Man of the Match, Akapusi Qera. He was entirely the right choice, despite Burns' big contribution and, I even had him down for MoM at half-time, such were his efforts in the first period. He was even more influential as the game went on. It was a golden performance alright from the Fijian.
Harlequins came away from London Irish with a crucial four points. There was some controversy about Tom Casson's try but that aside do you think Harlequins are developing a winning mentality that is hard to beat?
MILES REPLIES: They are not developing it - they have developed it. Take their bounce-back wins last season, take the first weekend of this season and now take last Sunday in Reading -they all show just how hard to beat this team is now. As for the Casson try - in my view it was a try. The ball went backwards off his hands, then hit his knee and he touched it down with his torso - all legal acts of play. It is irrelevant how he reacted to the score and it is just as wrong to say that, by the letter of the law, it was a try but because he lost control of the ball, it shouldn't have been allowed. It is also wrong to say it was a subjective call by the TMO Graham Hughes - he can't be getting into making subjective calls - he has to make objective ones only and that he did in my view.
Both sides are missing players due to injury and international duty but who do you think will be missed the most?
MILES REPLIES: When you look at it in terms of weight of numbers it is obviously Quins who suffer most during this period but they got to the top last season based on their squad as a whole. Everybody knows the rules going into the season and they can plan for the clashes between club and country at this time of year and during the Six Nations too. In fact, squads are managed from Day one of the season with these international spells in mind. I'm not saying it is irrelevant to consider the absentees but to dwell on them would be a negative drain for those most affected and I'm sure Quins are not in that mind-set at all. They are far too savvy and they have the trophy to prove the point. Those who take the field this weekend are the ones who matter, not those who can't and we should be in for another cracker.