Close encounters
Miles Harrison looks at Gloucester's top four credentials as they prepare to host Leicester.
Last Updated: 26/10/12 1:38pm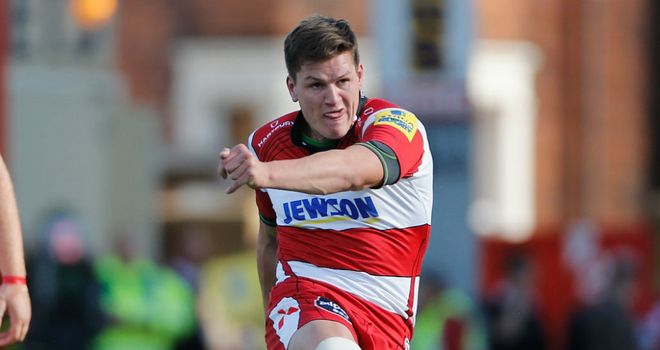 It's back to the Premiership this week after two scintillating weeks of European action.
Gloucester will host Leicester in what promises to be a mouth-watering game as two of the form sides in the Premiership clash at Kingsholm.
Gloucester are unbeaten in their last seven matches in all competitions - a record that includes five successive victories - while Leicester have lost only once in the Premiership - to reigning champs Harlequins - and were clinical in their display against the Ospreys in the Heineken Cup.
Recent clashes between the two teams at Kingsholm have been close fought encounters and Gloucester will be looking to avenge last season's 14-19 defeat as they look for a top four finish.
Miles Harrison will bring you all the action from Kingsholm and looks at their recent form and which player could have something to prove.
How impressed were you with Leicester's display against the Ospreys?
MILES REPLIES: Very impressed indeed...there was a lot of pressure on the Tigers going into the match after what had happened in Toulouse and even more pressure on them after the start that the Ospreys made. But Leicester showed again what they are made of in the big games and their drive to the bonus point at the end was irresistible. The performance in general from their pack and half-backs and that thrilling finish from all the team should have given them great confidence.
Back to domestic matters and Gloucester have had a good start to the Premiership season too - they are unbeaten after that defeat to Saints in the first round....
MILES REPLIES: Both sides have identical records going into this match - won four, drawn one and just the one defeat. As you say, Gloucester's defeat came in the first round of games and, although it was at home, I think everybody knows that the first day of the season is a day when a side can be vulnerable with pre-season never seeming long enough. I did not read too much into that Gloucester loss to Northampton on that basis. When I saw them up close for the first time this season, Gloucester looked pretty good in beating Wasps in our live Premiership visit to Kingsholm just over a month ago and since then they have beaten London Welsh, Bath and have those two wins in Europe as we've seen in our coverage of the Amlin Cup over the last fortnight. They seem to be in a good place under the new leadership of Nigel Davies and well placed to push on and challenge for a top four finish.
Gloucester have had a few more days extra rest than Leicester - could that make a difference?
MILES REPLIES: It could but I would be more likely to say 'would' had this been a Friday night fixture. As gruelling as the match against the Ospreys would have been for Leicester, the turnaround is almost the full week and I don't think the Tigers will find it too much of an issue. In fact, that Ospreys game, as I said earlier, should have, if anything, energised the club. But, I admit, Gloucester do have an advantage when it comes to preparation for this game - I suppose we will only know how significant this is come Saturday evening.
A lot of people were hoping to see Freddie Burns in the England squad for the autumn internationals; he'll have a point to prove against Toby Flood on Saturday won't he?
MILES REPLIES: I was a little disappointed too not to see Freddie Burns in that England squad. He has been playing well and he looks to me to be one who can make the step into international rugby - he has that something extra. Of course, it could be that Leicester's other fly-half, George Ford, takes them all on the rails in the years to come and clearly Toby Flood could have done no more than he did last week against the Ospreys to say that he is still the main man. But, Burns is good and, on current form, with Charlie Hodgson out of the equation, I think he deserved to be more than just an injury away from the squad. However, that is exactly what he is, an injury away, and he should be readying himself for the call should it come because the autumn period for England will be tough.