No regrets
Miles Harrison says that Leicester must get over their Toulouse loss quickly or find themselves in real trouble.
Last Updated: 19/10/12 2:24pm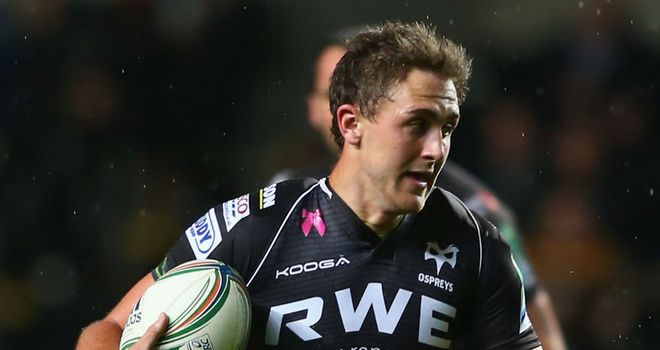 Leicester will be looking to get their Heineken Cup campaign back on track when they host the Ospreys on Sunday.
The Tigers were disappointed when they returned home from Toulouse with not even a bonus point to show for their troubles - a bonus point that could have proved crucial in thier quest to get out of Pool 2.
The Ospreys top the Pool after their bonus point win against Treviso and Miles Harrison says that Leicester must get over their Toulouse headache quickly or they could find themselves in real trouble.
Richard Cockerill labelled Leicester "naive" after their 23-9 loss to Toulouse. Is that a fair assessment?
MILES REPLIES: Yes, I thought Leicester were their own worst enemy. It is always hard to quantify just how many of those points Toulouse scored were self-inflicted by the Tigers or were actually down to Toulouse pressure. And there was a lot of pressure on the gain line, a lot of physical presence from Toulouse which creates mistakes. However, I am convinced that Leicester did let a chance slip and overall were the authors of their own downfall and did not show their usual composure. It did not feel right when Ben Youngs tapped in front of the posts - it should have been three points which would have taken them to within two points of Toulouse. That would have put pressure back on the home side and could have changed the game. And the fact that Leicester walked away with nothing might come back to haunt them in this Pool.
How has that result affected this game?
MILES REPLIES: Well, it has certainly upped the ante. You can never afford any slip ups at home but we know that if Leicester do not win this game then they are facing the exit door. But Leicester cannot afford to labour their thoughts on what happened against Toulouse. For example, it felt like Leicester's neighbours, Northampton, did dwell last season on what happened in their first round game against Munster. It was a slightly different scenario because it took 42 dramatic phases to set up Ronan O'Gara's last-gasp drop goal and that was a crushing blow for the Saints - there was a lot to get your head around if you were a Northampton player that day. But there was a hangover from that game going into week two which cost them dearly - Leicester cannot afford to dwell on their naivety in Toulouse and have to use that performance as a way of not letting it happen again.
The Ospreys had a good win over Treviso, did they make heavy work of that or is that a bit unfair on Treviso?
MILES REPLIES: Maybe a little bit unfair on Treviso, but there was an element of heavy work. There was a spell when the Ospreys rather let Treviso back into the game. But, because of that, I thought the fact that they did get the bonus point was even more impressive. They did not panic and reverted to what they were doing so successfully earlier in the game and got the bonus try. Ashley Beck was a major player for them in that game - they have got a very classy centre there. There is a lot of competition in the Welsh backline but if he continues to play like that, then Beck will make himself a first choice for his country before very long.
Will the Ospreys be going to Welford Road looking for a win or a losing bonus point?
MILE REPLIES: Any side in this Pool that walks off with something away from home will not be too disappointed. That is why Leicester were so disappointed last week because they had the chance to get that bonus point but did not take it. However, I think the Ospreys will be looking for the win here. I think they genuinely feel that this year they can perform on the back of what they achieved in the Rabo Direct last season. The Ospreys may have lost some seriously big names in recent times like Shane Williams, Mike Phillips, James Hook and Lee Byrne, but they proved at the end of last season that maybe more than ever before they are ready to launch a Heineken Cup campaign of substance. Going to Welford Road is not easy though. Leicester have lost just one game there in their last 17 (although it was recently to Harlequins) and they are unbeaten in their last 19 home Heineken Cup games. So, it's over to you Ospreys....