Home comforts: Miles Harrison previews the Heineken Cup clash between Exeter and Clermont Auvergne
Miles Harrison says that Exeter have the courage and the belief to give Clermont a run for their money.
Last Updated: 19/10/12 10:03am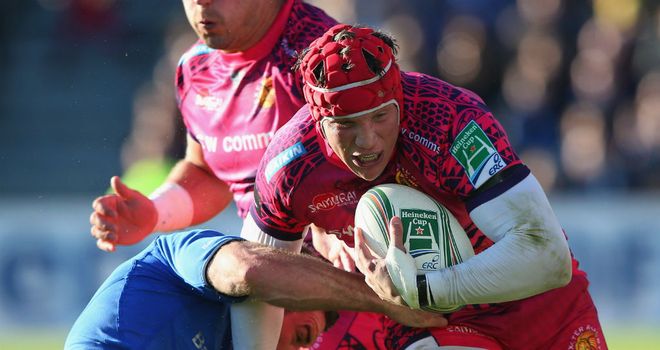 Exeter narrowly lost 6-9 to reigning champions Leinster in the first round - and had the chance to draw the game. The Chiefs will have learnt a lot from that trip to Dublin and showed the sort of courage that will hold them in good stead in this competition.
The task does not get any easier for them as Clermont is a side packed full of talent with the likes of Aurelien Rougerie, Julien Bonnaire, Sitiveni Sivivatu and Lee Byrne in their ranks.
However, Miles Harrison believes that Sandy Park will be a tough place to go even for Clermont and is expecting Exeter to give their guests a torrid time.
Catch Exeter v Clermont live on Sky Sports 1HD, Saturday,5.45pm
Leinster coach Joe Schmidt said after this game that he thought a draw would have been a fair result - do you agree?
MILES REPLIES: I think that was probably right. Supporters from both sides could make cases as to why their team may have sneaked it and, to be honest, I think maybe Exeter's supporters had the stronger case, especially as they were the side away from home. The reaction from the Chiefs' coach, Rob Baxter, was, in part, one of obvious pride in that his side performed as well as they did in their first European Cup game. Exeter have moved on once again which is what they want to do - develop as a club and as a force not only in the Premiership but in Europe too now. That was the good aspect for Baxter but the bad side was that he had to reflect on the frustration of a loss when a draw was definitely on the table. It was one of those 'might have been' days that always leaves a sour taste.
How much confidence would Exeter have got from that Leinster game?
MILES REPLIES: Exeter play with a lot of confidence anyway. They have had some good performances in the Premiership this season, most notably the recent win against Harlequins. So, we saw them go into the Leinster game with the mind-set that they were going to give it a go. But, the way it went in Dublin can only have added to that already high confidence level. Now, they are going back to Sandy Park and will be looking forward to 'welcoming' Clermont Auvergne. If they had gone to Leinster and been taken apart then it would have posed some serious European questions in their minds but it seems they are ready for this competition. What was already going to be a magnificent fight on Saturday is going to be an even better one now on the back of last weekend.
Clermont had a very solid win over Scarlets at home, but the game was over as a contest after Morgan Stoddart's red card wasn't it?
MILES REPLIES: We will never know if that sending off determined just how the game went from that point. It was a very significant moment and you can't go and play against Clermont with just 14 men. You have to remember that Stoddart was in the sin bin for ten minutes before he was sent off - so it was a long time to be without him and that would have really taken its toll and therefore had to have had an influence on the outcome. However, the feeling is that this Clermont Auvergne side at home start to play like that anyway as the game goes on and they gather momentum. We have seen it so many times and my money would have been on Clermont pulling away regardless of the sending off. The fact that they got six tries is maybe down to the extra man but they are incredibly strong at home.
What about Clermont travelling away from home then Miles?
MILES REPLIES: I am never quick to use the 'French sides do not travel well' line. If you look at it in more detail you see that sometimes they travel very well indeed. Having said that, Clermont did lose twice last year in this competition on their travels - they lost to Ulster and they lost in Leicester. However, very importantly, they only lost narrowly in those games and that is a key point because they got a losing bonus point on each occasion. Those crucial points helped them get out of the Pool despite the two losses. Sandy Park will be crackling and it will really feel like a big cup tie. I think that even for Clermont the atmosphere is going to feel intimidating and that they will be asked some serious questions. I am not saying that they won't find the answers but they will be asked those questions alright.