A point to prove
Miles Harrison says Leicester need to get something from their trip to the Toulouse.
Last Updated: 13/10/12 4:39pm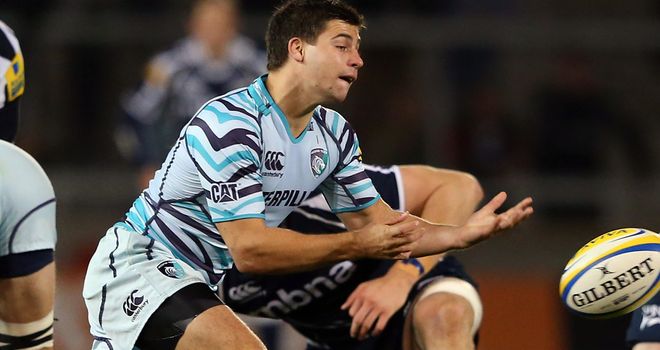 Heineken Cup rugby is back this weekend with a fantastic line-up of first round fixtures.
After watching Harlequins against Biarritz on Saturday evening, Sky Sports commentator Miles Harrison will be at the Stade Ernest Wallon on Sunday afternoon as Leicester Tigers take on French champions Toulouse in Pool.
Here are his thoughts on potentially the biggest clash of the opening weekend.
Richard Cockerill has spoken about the financial disadvantage English teams have in Europe again this week. How big a factor do you think that is?
MILES REPLIES: Richard is very open and honest and if you ask him a question you get a straight answer. That is one of the reasons people really like him. If he is asked that question he is not going to shy away and he has strong views on that. He has a point in as much as going to a team like Toulouse, even a Leicester with their financial clout that they carry within England and all the fans they get regularly at Welford Road, their cheque book is not in the same league as Toulouse's. Everyone knows that.
That though has not always prevented teams like Leicester being a very dominant force in Europe; it has not always provided Toulouse with the rights of passage all the way through to the final. We saw Toulouse last year beaten at Edinburgh in the quarter final regardless of their cheque book and we have seen Leicester become European champions before. I don't think it is something that you can say ultimately decides the issue when Toulouse and Leicester meet. It is a perfectly valid point to make that Toulouse have more money than Leicester.
Will it make the difference in this group? I am not so sure. Leicester go to Toulouse on the back of a pretty good start to their opening six rounds of Premiership rugby. It is never easy going to Toulouse but Toulouse have shown against English rivals in opening games in recent years that they are vulnerable. And they do seem to be, regardless of cheque book, a bit vulnerable in the early round of the Heineken Cup. They may well be again this weekend. I am not saying that it will be easy but I would not rule Leicester out.
How important is it that Leicester gain something from their trip to Toulouse given the quality of the group they are in?
MILES REPLIES: They need to try to walk away with something. It may not make the difference but if they can get something out of there, it could and probably will be vital. This group is not just about these two. The Ospreys are right in there and talking confidently about a European campaign. I know they have done that before, and I know they have fallen short before, but you look down that squad and their success in the RaboDirect last season and you see a side that will be more than a handful when they are at home and quite possibly like Leicester and Toulouse to sneak stuff on the road too.
I think it is a really challenging pool for all involved. Leicester have to try to leave with something if they can. And that something could be the win. We know that it is going to be a massive battle up front and if Leicester can look after themselves in that department don't rule out the victory. But I take the point that Leicester may literally take the point.
Which Leicester players are you looking forward to seeing against the French champions? And who will be important for the Tigers?
MILES REPLIES: Goneva has had a good start to the season and looks like a good signing. They were very excited about him in pre-season when I went up to see Leicester, they said look out for him. I am also excited about seeing Ben Youngs again with the implications not just for Leicester but also for England, and it was a pretty good re-introduction for him against Sale last Friday. I am looking forward to seeing Anthony Allen and Manu Tuilagi. Allen does nothing wrong week in, week out.
I know he came to the attention of the English management again over the summer after some years since his first cap. He went on that tour of South Africa and did very little wrong. But he did more than that. He stood out in the midweek team and whenever I watch him he is one of those players who does not let a team down. He knows exactly what he is doing and how to do it and how it will help the team.I think his combination with Manu Tuilagi is a very good one. So Allen, Tuilagi and Youngs are all players I am looking forward to seeing in the backline but I do think the game will be decided by the scrap up front, which I am sure Leicester are up for and looking forward to.
Among Toulouse's many stars, who should Leicester be most wary of
MILES REPLIES: The simple answer with Toulouse is the lot. If you look at the Toulouse squad this year there are not many changes. This is a side that is growing old together. There is great continuity on the field and off it, Guy Noves has coached them in every year of the Heineken Cup in thje realms of Sir Alex Ferguson. They do bring in stars but they reward those that have rewarded them over the years. So they are all starts and they are all threats in their own way.
But I don't think there is anything massively to fear either. I am trying not to do Toulouse down because they are what they are: a great club. They have some great players. But Leicester should go there with heart.