A big reaction
Miles Harrison says that Harlequins need a big performance against Biarrtiz after recent defeats.
Last Updated: 11/10/12 9:14am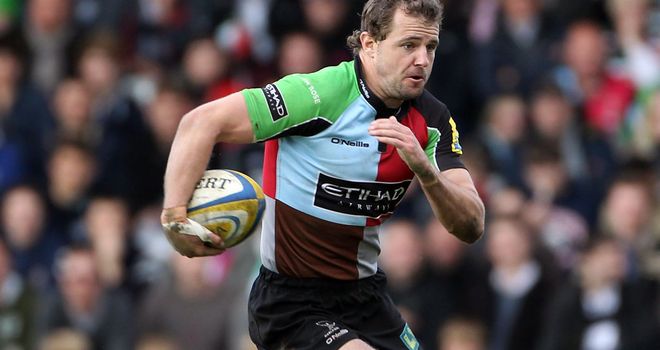 The Heineken Cup returns to our screens this weekend, promising another magnificent season of rugby from Europe's premier club competition.
The Sky Sports cameras will be at 11 fixtures across the weekend, starting with last season's runners up Ulster against Castres on Friday night and concluding with Jonny Wilkinson's Toulon taking on Montpellier on Sunday evening.
Sky Sports commentator Miles Harrison will be at the Stoop on Saturday evening to describe all the action as English champions Harlequins take on last season's Amlin Challenge Cup winners Biarritz. And we get his thoughts ahead of the big kick off.
How will their recent defeats to Saracens and Exeter Chiefs in the Aviva Premiership affect Harlequins' preparations and mind-set going into this match?
MILES REPLIES: It is a contrast to last year when Harlequins went into Europe on the back of all those wins in the Premiership. This time they got going alright but they have just lost the last two. So it is a slightly different mind-set to where they were last year on the eve of the Heineken Cup. Conor O'Shea has asked for a reaction on the back of conceding all those points against Exeter and I think he will get it. It may have been a different approach this week to the first game this time last year but I expect an even more emphatic start to their Heineken Cup campaign.
A year ago they were none too convincing in their first game against Connacht and I expect that reaction Conor O'Shea has been talking about. It is not great to lose Premiership points. But on the eve on a Heineken Cup campaign, to refocus the minds and reset the goals for the domestic champions who want to use that as a launch pad to have an impact in Europe as well, it is not the end of the world.
Will Quins have to adapt their attacking game in the face of Biarritz's unique suffocating style?
MILES REPLIES: Biarritz have not really divided opinion over the years, they have gathered everyone together to form the same opinion. With all the talent they have, why on earth have they played like they have? It has been a question and a conundrum people have been asking a long time in the Heineken Cup. To a certain extent they have had a reasonably successful Heineken Cup history in a much as they have got to a couple of finals and reached the knock-out stages eight times. You can't sniff at that achievement because that is still significant. But what they haven't done is do what everyone at the club wants them to do and that is become the European champions.
And they have probably held themselves back from doing that in the key moments because of the way they have played. A prime example is the way they finished in the Amlin Cup last year. They strangled the opposition but got what they wanted on that occasion. My feeling is their domestic form, in comparison to Quins, is more alarming. They have lost four of the bounce now in the French Top 14 and I think Quins, given that they are the English champions and are at home, need to seize the opportunity presented to them with this game on Saturday night.
Who will be the key players in this much-anticipated clash between the champions of England and Biarritz?
MILES REPLIES: Yachvili is not playing for Biarritz but Nick Evans will be playing for Harlequins. We talk about key men but these two are absolutely key in shining lights to their team. They are headline men every time they turn out. There is a lot more to Harlequins than Evans - you don't win the league just because of Nick Evans but I think he is a major, major player for them when it comes to big games. And we see that when he is not quite at his best, Quins don't function as well.
Biarritz celebrated Amlin Cup glory at the Stoop last season; does that mean the ground will hold no fears for the traveling French side?
MILES REPLIES: You hear sportsmen and women talk about going to favourite grounds or venues where they have a bit of feel good. So I think it is relevant. It did not happen 10 years ago, it happened this year, just months ago. History can sometimes be totally irrelevant in sport but I think it could be relevant that Biarritz turn up there knowing they have achieved something notable on that ground. But it is still Harlequins' ground and we should not lose sight of that.
Harlequins have to drive home that advantage on the first weekend. I think it will be a fascinating night. Biarritz have never won the European Cup but have traditionally been one of the major names of this competition over the years. Harlequins want to be one of the major names of the Heineken Cup having become English champions and I think it will be a great way to finish off the first super Saturday.
What will Harlequins be demanding from the match?
MILES REPLIES: Quins should be looking to be very emphatic and possibly have one eye on releasing the strange hold from Biarritz to the point they can score four tries. That has to be at the back of the mind because first and foremost they have to win the game. What they cannot afford to do is slip-up in this match because to go away to Biarritz in the final match, as we all know, is going to be a very difficult. If they need to get something out of that game, it will be a real challenge.
BEST OF THE REST
Which other team are you most looking forward to seeing in the Heineken Cup this weekend?
MILES REPLIES: I would go Ulster. They got to the final last year and they did all of that without a player called Jared Payne, who they signed to be one of their Heineken Cup stars. He got injured and they went all the way to the final without him. He is a really good player and is going really well at the moment, as are Ulster. They can push on from where they were last year in terms of their general performance and if you start saying things like that it means they can win it. If they are going to push on from being runners up there is only one place they can go.
I am not saying Ulster for the Heineken Cup - there are a lot of big-name threats and they will have to play exceptionally well to win it - but the early signs are that with the re-introduction of Tommy Bowe and the likes of Jared Payne, they will be quite a handful. Obviously they are getting our best wishes at the moment for obvious reasons. It is bound to be another emotional night at Ravenhill on Friday night and I am sure the team and the crowd will respond.