Close encounters
Miles Harrison can't see Saracens throwing the ball around too much when they take on Harlequins.
Last Updated: 28/09/12 12:59pm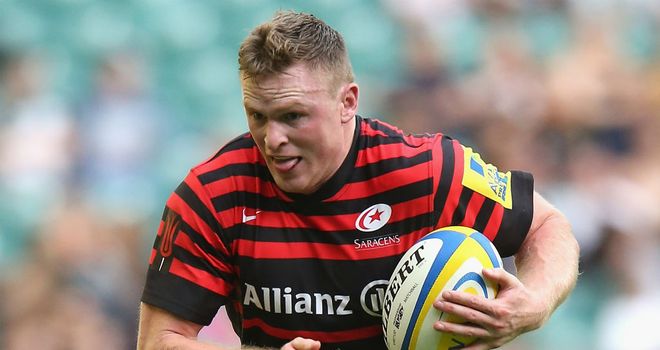 We head into another exciting Premiership weekend with plenty of mouth-watering clashes on offer including Northampton v Wasps on Friday and Sunday's eagerly anticipated clash between Harlequins and Saracens, live on Sky Sports.
Sarries head to the Stoop determined to hit back after their 14-12 loss to Exeter. And what better way to do it then against the reigning champions Harlequins who are yet to lose a match this campaign.
Miles Harrison will bring us all the action from the Stoop and says this game has all the signs of an epic encounter.
After a few weeks of great rugby in the Premiership we've had, understandable, a few disappointing games and, with the weather now taking a turn for the worse, will we see a shift in tactics or will teams still take a 'he who dares wins' approach?
MILES REPLIES: The weather is bound to play its part, it always does in rugby but, I sense, there is a shift in attitudes this season. Clubs know that Quins won the trophy last season by playing a style of rugby that was not only pleasing on the eye but was winning rugby too. I thought our live game last week between Gloucester and Wasps was an excellent watch with both teams looking to attack when they had the opportunity and they did that, not just for the sake of entertainment but, much more importantly, to win the game. Also, we can all get a little bit trapped into this feeling that every game needs to be a classic. In my mind, it is a modern disease that goes hand in hand with the need for a quick fix mentality. Life and sport are not always like that. And, when it comes to the Premiership, or any league for that matter, there are always going to be great games, good ones, average ones and downright awful ones. It was ever thus. When so much of sport is on the TV these days you get to see it all, the good and bad.
London Welsh picked up their second win of the season last weekend to take them up to ninth place. Which teams below them - Worcester, London Irish or Sale - have the biggest worries at the moment?
MILES REPLIES: I suppose, looking at the table, many would say Sale but it is still early days and I would not necessarily subscribe to that view. Sale have what it takes to pull away from the bottom but, certainly, the Sharks games against Bath this weekend and their home one versus Leicester, our live game on October 5, have become massive for them, before Europe begins. Irish will feel much better after their win against Bath as they played much better but their early season concession of so many points will have been alarming for their supporters and they will want to see this further addressed over the next two weeks pre-Europe. Worcester could have gone a whole lot better had just one or two things gone their way. I feel the Warriors have been genuinely unlucky but they also know that should even out over the whole campaign. It all makes for a very important clash between Worcester and Irish this weekend. I'm not trying to dodge the question but I think all of these teams plus London Welsh and perhaps some others too would do well to think the unthinkable because it looks like it is going to be one hell of a scrap this season - London Welsh themselves are seeing to that.
Quins are on a roll once again. Can they maintain it against Sarries and do you think they are targeting these early games specifically in the knowledge that they may be hit hard by international call ups this autumn given their success?
MILES REPLIES: Yes, they are on a roll with memories of last season coming flooding back. And, yes, they clearly can maintain this winning form against Sarries with their rivals from North London fully aware of that. But, no, I don't think they are targeting these games knowing that they are going to be hit hard by international call-ups. Quins' philosophy has been 'clear and obvious', to quote our referees, and for some time now. They play what is front of them and let the future look after itself and, of course, that paid big dividends last season. Europe will be tough, it always is, but you also sense that Quins are ready to embrace it and not be distracted by it, even more than they were last season. They are in a really good place at the moment and great credit must go to their players and their management too. The piece about Harlequins at the top of the Rugby Club sort of said it all.
Sarries have made a steady if unspectacular start and suffered their first loss of the season against Exeter. Have you seen any evidence of them developing this more attacking and open approach they have been preaching? Is there the will within the coaching setup to achieve this and do you think they will against Quins?
MILES REPLIES: Saracens have made some strides when it comes to their attacking play just ask London Irish and, to a certain extent, Sale. But, at Wembley against Leicester, both teams settled for a stalemate. Then, last week, the weather was appalling in Exeter and it would have been wrong to be too loose in those conditions. In fact, when Saracens were loose they were punished by the Chiefs. As for this week, Saracens will do what they always do and that is look to win the game any way they can. There is clearly a 'will' in the coaching team to use new signing Chris Ashton to be part of a fresher approach but, at Sarries, the 'will to win' supersedes all other factors. I don't see Saracens chucking the ball around too much at the Stoop do you? That sort of takes us back to where we began and this never-ending debate about entertainment and winning and the best way for a team to use what they have got and get to where they want to get to. And, Saracens' desire to beat the team who took the title of them will surely make this a compelling watch come Sunday. Speak to you from the Stoop.