Wembley awaits
Miles Harrison expects Leicester to hit top form against a more expansive Sarries side on Saturday.
Last Updated: 13/09/12 4:08pm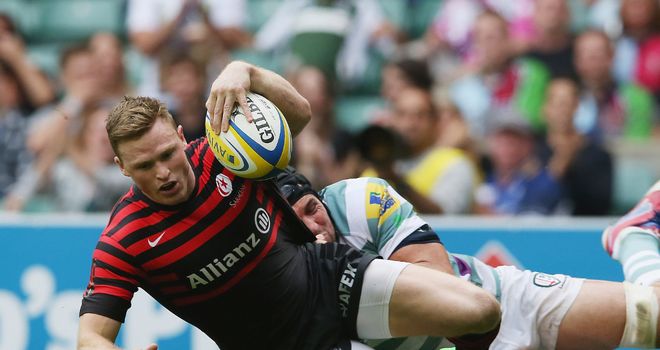 The new Aviva Premiership season has begun with an avalanche of tries and endless entertainment.
Last year's finalists Harlequins and Leicester Tigers have led the way with bonus-point wins in their first two matches while last year's other play-off contenders Northampton Saints and Saracens have also hit the ground running with successive victories, along with Bath.
Miles Harrison gives his views on the dominance of running rugby early in the season and weighs up the massive clash between Saracens and Leicester on Saturday...
Still early days but it looks like teams are trying to keep the ball alive more often than not. Do you think this will impact on how the international sides will play?
MILES REPLIES: You are right in that it has been an encouraging start to the domestic season and, of course, this 'entertaining' rugby has been helped by the conditions - fast, firm grounds and a bit of sunshine! But, as far as international rugby is concerned, I'm not sure that it has ever taken its lead from the club game. Also, the international sides chasing down New Zealand at the moment are getting enough lessons from the All Blacks themselves.
They always seem to try to keep the ball alive if it means that points can result. Argentina did well against New Zealand but only one team looked like scoring when the play went wide and that approach was always going to be enough to win the game. The AB's, Leinster and Harlequins were winners last season and they all tried to keep the ball alive and go for it when in sensible areas.
Who impressed you after round two of the Premiership?
MILES REPLIES: Taking our live game first, I thought Northampton did more than enough to confirm that they are going to be a threat again this season. As I said last week, there is a grit and determination about them which suggests the Saints feel that, for this squad, it is now or never. In particular, man of the match, Dylan Hartley was excellent. It was also good to see Tom Wood back - that is great news for the Saints, England and possibly the Lions too. Elsewhere, I felt there were some good signs from Bath in their victory against Wasps and I would also single out Saracens, who do what they have to do to get the wins. And, of course, that brings us nicely around to this weekend's big clash at Wembley.
Yes, let's talk about that - Saracens first - they had a good win over Sale with Charlie Hodgson really showing his old club what they are missing. How impressed were you with him?
MILES REPLIES: He has been a truly great Premiership performer over the years. I think Austin Healey said on the box on Saturday that he can't think of a passer of the ball, on the move, going wide, as good as Hodgson in world rugby over the last few years - big praise for a fine player. Hodgson can certainly help give Chris Ashton a fantastic debut season in Sarries colours. Mind you, Ashton looks after himself too and we are already seeing the impact of the winger. The signs are that Saracens are going to take some beating over the coming months. As we all know, there is room for expansion in their game and Ashton might just prove to be the perfect signing.
What about Leicester? They were made to work hard against Worcester, what would they have learnt from that game?
MILES REPLIES: Leicester haven't played amazingly yet but they have 10 points chalked up! They would not argue that 10 out of 10 has been their performance level but you can't argue with the points gained. OK, London Welsh away and then Worcester at home gave them the perfect chance to set up that position but the points still need scoring and they have made sure that these early chances to maximise have not been lost - typical Leicester.
However, this weekend is a step up but I'm sure Leicester will respond by going up a notch or two themselves. They will have seen this game on the horizon for the whole of pre-season and during the last two weeks too and prepared accordingly. It is going to be a cracking afternoon at Wembley and I hope you can join us for the first really big one of the season.