Chiefs lead the way
Miles Harrison expects plenty of entertainment when Northampton play Exeter on Sunday afternoon.
Last Updated: 08/09/12 8:45am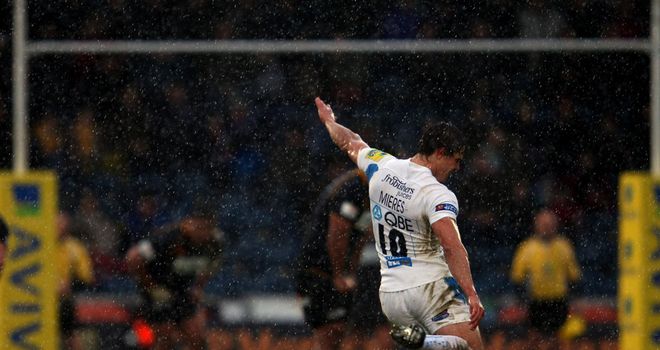 The Premiership is back and kicked off with an explosive weekend as Harlequins fought back from 40-13 down against Wasps to pull off one of the most extraordinary victories Twickenham has ever seen.
The game saw history made as the newly-trialled TMO ruled that there had been a forward pass in the build-up to a Wasps try, much to the dismay of the Wasps fans.
Exeter produced the performance of the weekend with a six-try romp over Sale, while new boys London Welsh battled valiantly in there 13-38 loss to a rusty Leicester.
Miles Harrison gives his views on the new TMO trials and looks ahead to Exeter's mouth-watering trip to Northampton on Sunday...
How did you think the first week of the Premiership went, Miles?
MILES REPLIES: I think, across the board, there was plenty to be excited about. The game between Harlequins and Wasps at Twickenham was a remarkable start to the Premiership and the comeback from Harlequins was sensational. Knowing what we know about them, it was not beyond the imagination that they could fight back, but surely nobody was expecting it! Harlequins showed again that they can stay very calm under pressure and this result shows that they are a mature side and are going to be pretty dangerous again this year. However, Wasps played some really good rugby in that first half and, in the cold light of day, would have pulled a lot of positives out of that game.
In our live game on Sunday, London Welsh made a real fist of it against Leicester and can walk away with some positives of their own. But they also know that they have had a dose of reality. After all, Leicester were not at their best - although they will have admired Welsh's first-half come back and refusal to lie down in the second half. On each occasion, they showed spirit -something that London Welsh will need a lot of over the coming weeks.
How do you feel the first week of the TMO trial went?
MILES REPLIES: It is a trial and everyone is taking a step into the dark here - not just the officials but the players as well as they are learning how to react and feel about it. We made the point in our coverage at the weekend that judgement should be suspended until we have more evidence as to how it works in practice. But I will say one thing at this stage and that is that if the decision to ask the TMO leads to the right call - then how can we possibly complain about that? When assistant referee Paul Dix intervened for the first time at Twickenham last weekend with a genuine concern that he had seem something, he was proved to be correct, the pass was forward and it was not a legal try. That hurt Wasps, not just because of the timing, but also because it proved crucial on the scoreboard and would actually have made the difference in the end. But let's not forget that it would have hurt Harlequins if it had not been spotted. You can't just think of the attacking side, you have to think of both sides - it hurts 'equally'. And, as I say, the more decisions that we get right, well how can that not be good for the game?
You have just visited Exeter, they must be pretty pleased with their result against Sale?
MILES REPLIES: I thought it was an incredibly impressive start to the season and they look like a side that have been up and running for a good, four or five weeks. Exeter have got themselves in a great position both physically and in the way they want to play the game. They are trying to move their game on and credit must go to their coach Rob Baxter for the work that they have done. They have made some signings, yes, but the bulk of players from last year are still there. Surely there is nobody left who thinks that Exeter do not have any substance to them. Ignacio Mieres is a player who did very well for Exeter last week and he reflects the growing confidence of the team. The back-row of Tom Johnson, James Scaysbrook and Richard Baxter is pretty impressive and I look forward to seeing them work as a unit again this weekend. But the joy of watching Exeter is that they extract every last drop of ability out of each other. They are a TEAM! They have never moved away from that sense of togetherness.
Their next game is our live game on Sunday when they travel to Northampton, it should be a great game, shouldn't it?
MILES REPLIES: It is beautifully set up for our live game on Sunday - Saints had a good win down at Kingsholm against Gloucester and will want to give their fans a great start to the season at Franklin's Gardens, while Exeter won't take a step back in the way they want to play either. I went to see Northampton on Thursday and there is a good feeling around the club with many of the injured players at the end of last season, fit again and raring to go. Having the likes of Tom Wood back in the team is a major boost to the Saints and they know it is time for this Northampton team to take that big step. But Exeter have no respect for reputation, and like all good sides they think about what they want to do and how they want to impose themselves on the opposition. The sides that achieve something in this game tend to have this inner confidence that what they are doing is the right way, and Sunday should show us who is further down the track on that front. It will be fascinating.