Boks want whitewash
South Africa will show little mercy to a much-changed England line-up, says Miles Harrison.
Last Updated: 22/06/12 10:36am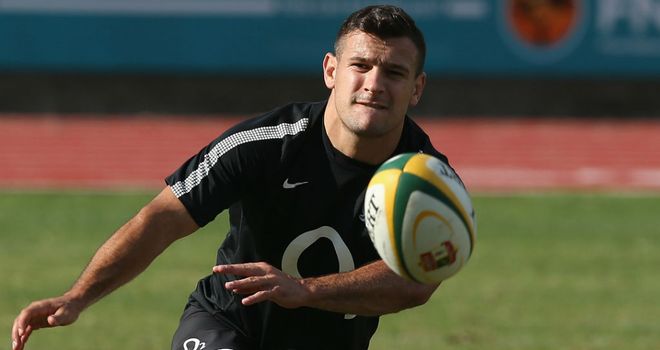 England coach Stuart Lancaster has made a host of changes to his side as the Red Rose look to win back some pride in their final test against South Africa.
Following back-to-back defeats to the Springboks Danny Care, James Haskell, Tom Palmer, Thomas Waldrom and Alex Goode have all got the call while prop Joe Marler is a late replacement for the injured Alex Corbisiero.
The tourists will be without influential captain Chris Robshaw, who is out with a broken thumb, and Miles Harrisons fears that, despite the overhaul, Lancaster's men may once again suffer at the hands of a Springboks side determined to end on a high.
Captain Chris Robshaw is ruled out with a broken thumb. How big a loss will he be - and what impact will stand-in skipper Dylan Hartley have on the team, Miles?
MILES REPLIES: Chris Robshaw has once again been England's stand out player and therefore, of course, he will be a huge loss. Still, South Africa are without arguably their star forward of the series, fellow back-rower, Willem Alberts, so, in that respect, the impact of Robshaw's loss to the England team is evened out. However, James Haskell has a great chance here to show why England need to consider him as part of the future and not part of a non-too glorious recent past. I spoke to James on Thursday and it is clear that he is comfortable with his new role at seven, the one that he has been playing at the Highlanders in New Zealand. As Stuart Lancaster says, Haskell brings energy to the squad but what he has to do is transfer that into a big physical presence on the field this weekend. Also, he is filling big shoes and if England are going to win this Test Match, Haskell knows that he not only has to do what Chris Robshaw was doing at the breakdown but help counter the growing South African power in this series. This is no small task.
As for Dylan Hartley, well he has grown into the role of skipper at Northampton and was the natural choice to lead this England team, when it became clear that Robshaw's tour was over. Hartley does not lack in the motivation department and no doubt he will have his say in the dressing-room to fire up this England side for one last push this season. In general, England are trying to grow the number of 'leaders' in the group and a few more players aside from their captain, Hartley, are going to have to pitch in and show leadership qualities this weekend if England are to triumph in Port Elizabeth.
Ben Youngs is also out which gives Danny Care another chance to show his worth. Will he be able to impose his game on South Africa?
MILES REPLIES: Danny Care has turned things around well. He has had a lot to deal with recently, most of which has been self-inflicted, but he has kept his form going and that is great credit to him. On the evidence of the way he finished the season and also in the way in which he played in the first game on this tour against the South Africa Barbarians South, Care deserves the starting slot back now that Ben Youngs has been injured. And it is very important to England's chances that Care does impose his game on the Springboks. In short, he needs to do what Youngs was doing so well last week - kick excellently out of hand when required to do so and then show the right decision making to really put some tempo on the game. But, that is the way Care plays and as well as Youngs went last week, if Care's form is where it was at the end of the domestic season in the Premiership Final, then England really shouldn't lose too much, if anything here.
As you mentioned, the Springboks have some injury problems of their own - but do you give England a chance in the final match-up?
The fact that those Springbok absentees centre around two of their key men Alberts and Frans Steyn (who is getting married this week) does help England but it is still going to be very tough to win this Test Match. South Africa have a good record in this city - be it at the old stadium or the spanking new one where Saturday's game will be played. Also, there is absolutely no sense of the Springboks taking this match lightly. That was an accusation leveled at the old regime for that final Test against the Lions in 2009 when coach, Peter de Villiers, moved the chairs in the squad and found his team slumped on the floor at the end of the series when they should have been celebrating the series win that they had already secured.
To answer your question, I do give England a chance but they have to start to put pressure on South Africa from the off and never let that intensity drop. They allowed South Africa to dictate for long periods in those first two tests when it became obvious that points for the home team were inevitable. But, if England are to win this match, then they must play the game more on their terms in the opposition half to see how South Africa react under pressure. Admittedly, it has been encouraging for England supporters to see their team come back, for a short time in Durban at the end of that game and then for an even longer period in Johannesburg - but the fact of the matter is that they left themselves too much to do on each occasion. And, in those situations, you are always open to the accusation that it was the opposition taking their 'foot off the pedal' or 'making substitute changes' which were the real reasons behind the other side's come back. I don't see it entirely like that but this Saturday England must string some significant passages of attacking play together without error, forced or unforced, to give themselves any chance to make the series 2-1. If they do that, they might be able to board that plane on Sunday night with a little smile. But, I reiterate, South Africa are in no mood to let that happen.
I hope you can join us on Saturday evening for the last one of the season. Thanks for your company over the last eleven months and we will do it all again after a bit of summer rugby! Miles.