Attack is the key
Miles Harrison says England have to show more in attack if they want to beat South Africa.
Last Updated: 15/06/12 11:50am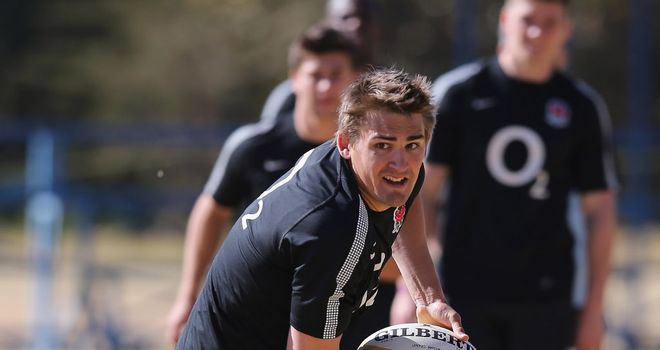 England head to Johannesburg for the second Test against South Africa knowing that their job has just got a whole lot harder.
Many feel that England's best chance against the Springboks was in the first Test down in Durban where they would take on their hosts at sea level after the boks had just four days to prepare.
Now they head up to altitude where they face a better prepared South Africa who will be full of confidence after an impressive second half showing in Durban.
England coach Stuart Lancaster has reshuffled his backline with Toby Flood coming in at fly-half for Owen Farrell and Jonathan Joseph coming in for the injured Brad Barritt. Joseph will start at 13 with Manu Tuilagi moving inside to No.12, while Ben Foden moves back to his preferred position of fullback and David Strettle comes in on the wing.
Much is expected of the young Joseph - who is being touted as the England messiah of creativity - but his impact will depend on the English forwards supplying their backs with front-foot ball and the battle of the breakdown is once again going to be crucial.
England have to win this game to keep the three Test series alive and Miles Harrison says that they have to show more in attack if they want to triumph at Ellis Park.
Miles, what do you make of the England selection, especially at 10?
MILES REPLIES: Owen Farrell has had a very impressive beginning to his international career and is clearly a player that England are going to stand by and allow to grow into international rugby over the years to come. However, he has looked short of his best of late both for club and country and that unerring confidence we saw during the Six Nations seems to have diminished a bit. Perhaps, that is understandable though as a juncture like this was always going to come along at some point for somebody so young. Meanwhile, Toby Flood is fit again and, having been patient, now has his chance to implement the plans again and bring his style of play to this England midfield. He generally stands much flatter and there is no doubt that when Flood came on last week, England looked sharper. He does give it a go and you sense that is what England needs this week if they are to expand their attacking game and come back against the boks. All in all, it feels like the right call.
Talking about the backline, the injuries to Brad Barritt and Mike Brown are blows to England but really open up some opportunities for Stuart Lancaster to try something different too don't they?
MILES REPLIES: Certainly, at centre, where another part of England's strong finish last week was undoubtedly that little cameo from new cap, Jonathan Joseph. I, like many others, am excited by the prospect of Joseph becoming another one of the young guns that England can look forward to growing into a permanent member of the team, over the years to come. Joseph looks a natural outside centre and could well be the man to solve a large part of this midfield attacking conundrum. Manu Tuilagi's move to inside centre is fascinating too. We will find out on Saturday if he can make the transition from 13 to 12. Tuilagi should have a good chance of getting across the gainline but England will want to see more from him than that - they have talked about needing to see Tuilagi make the right calls, when to pass and when not to. The fact that he has Flood alongside him, a man that he knows so well from his club side Leicester, should be a big help. As for the change in the back three, it is a real shame for Mike Brown and his supporters that he has to miss out, having come in last week and made an impressive contribution. But, it is David Strettle's chance to seize back his role in the back three now that he has recovered full fitness.
The win would have settled South Africa's nerves and they have now had even longer together - do you see Heyneke Meyer's team trying anything that is greatly different this week?
MILES REPLIES: Well, what South Africa had in the first Test proved to be enough - their plans worked. But, given that they have got rid of those nerves, which were clearly evident in the build-up to the first Test, and they have had extra time together, I think we all expect them to be even better this week. But, despite the extra time in camp, I do feel it will be much more of the same from the Springboks in terms of their approach, just with more intensity and accuracy - in the way that their second-half performance was better than their first half last week. It seems the boks always have power and always look to use it. If they can establish those attacking platforms and keep going at England with wave after wave, then, like Heyneke Meyer sides have been in the past, they will be very hard to stop. Also, they are at altitude this week and Morne Steyn's kicking game will cause more of a threat. Steyn wasn't at his best last week and he is unlikely to let that happen again.
The odds of an England win up at altitude are pretty short indeed but what positives will they take into this game that could get them that win and keep the series alive?
MILES REPLIES: First of all, the fact that the country's three previous wins in South Africa were not at sea-level! Also, England will take some heart from the way they finished that first Test. But, you are right it is going to be a very difficult task. However, if England can show that they have more to their attack and can be ruthlessly efficient when the chances come along, they have to have a chance. But, if it does go one all, England will have played a blinder and the inaccuracies that occurred post half-time last week must be eliminated.
I hope you join us as we broadcast from Ellis Park this Saturday. Speak to you then - Miles.