Fierce and ferocious
Miles Harrison says that winning one Test in South Africa is tough enough - let alone a series!
Last Updated: 08/06/12 1:47pm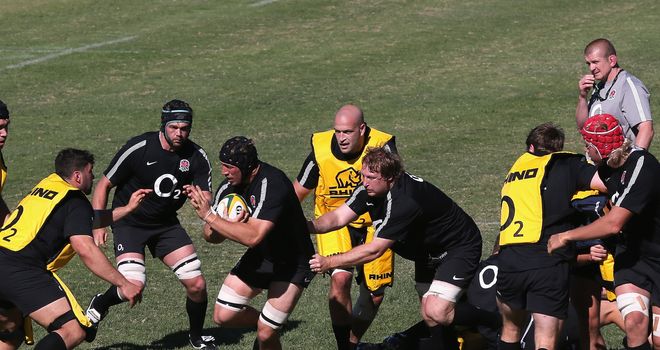 The last time England beat the Springboks in South Africa was 12 long years ago, but there is a confidence building in Stuart Lancaster's squad that may just change that on Saturday.
England begin the three-Test series with the Springboks this weekend in good shape having spent nearly two weeks together preparing for the game in Durban. In contrast the Springboks - reshaped by retirements and injuries - have been in domestic action and have only convened for the first time under new coach Heyneke Meyer this week.
Durban is bracing itself for a war of attrition as South Africa look to keep things simple and play to their strengths - use their big ball carrying forwards to grind over the gain line and pepper England's back three with high balls.
Can England stem the green-and-gold tide, can they get parity in the forwards and can they get their tour off to the best possible start? Miles Harrison assesses England's chances...
How intense is this tour going to be Miles?
MILES REPLIES: I think we all know that rugby teams don't arrive in South Africa and face anything less than 'intense' - it means so much here. Also, the fact that this is the first time a Home Nation has played in a three-match series in this country, gives the series the extra edge that the sporting public here have been wanting. It is also a 'first choice' England selection, something which certainly has not always been the case on these summer tours of late. However, it is clear that South Africa are a team in transition too - a look at the Boks' second-row selection more than proves that point. And, having some test match novices on display might, in the eyes of some, not only help the England cause but also reduce the perceived 'intensity'. But, it would be wrong to confuse the desire to look forward with any lack of desire to succeed in this series. It is right that both coaches have started their development post World Cup but is also obvious just how important this series is to them. From a home point of view, it has been evidently clear since we have arrived, like it always is in this country, just how much the Springboks fear losing. This will be an 'intense' series alright.
Were you surprised by Heyneke Meyer's first Springbok squad?The omission of Heinrich Brüssow has raised a few eyebrows...
MILES REPLIES: As I said, I think it is right that the new coach is looking to the future and that is why we see three new caps in the pack. It has also been clear that in an ideal world he would have liked a bit more experience alongside some of the new boys - that is why the likes of Victor Matfield were being considered. But, this decision in the back-row is centred round not just giving young Marcell Coetzee a chance it is also about the way Heyneke Meyer thinks the game should be played. He feels there is less of a need for a 'fetcher' at open-side these days. He also feels that Brussow gives penalties away and that the Cheetah has not been at his best of late. And, having chatted with the South African boss this week, it is also clear that he has a massively positive view of his new number six (remember South African open-sides wear six and not seven). Meyer feels that Coetzee is at the start of a long international journey. The door has not been shut on Brussow but it must feel like that to him at the moment, as we prepare to start this series.
South Africa have not had much time to prepare for the first Test but England pretty much know what the Boks are going to throw at them don't they?
MILES REPLIES: South Africa have said they are going to keep it simple as they haven't had long together. The boots of the Steyns, the power on the gain line, the tight driving game will all be in full cry - we're all pretty sure of that. England also know more generally what is going to be thrown at them, as all teams do when they come here. I'm not sure what the Afrikaans for 'kitchen sink' is but England are going to get that hurled their way in Durban on Saturday. It happened when the Lions came here in 2009 and it is going to happen again. England must ready for this despite all this talk of a lack of preparation time for the Boks.
Is this first Test a must win for England if they want to win the three-Test match series?
MILES REPLIES: I suppose that sort of depends on how the first Test goes. There could be a scenario where England get really close but, in the manner of their defeat, the point the way to go to still make an impact in the series. But, given that the second test is at Ellis Park where the South Africans have such a good record and at altitude too, England know that they can ill afford a losing start. The Boks would be on a roll after victory in Durban and with more time to grow together. Let's put it like this, I think this is a game England would be better off winning! However, I also feel that England have a genuine chance to win this first test. They made good advances during the Six Nations and are clearly a much happier and more focussed camp these days. If England did manage to snatch the momentum then who knows what might be possible? But, you don't get anywhere in this country by getting carried away with what might happen - England are fully aware of that too. To win just one test in South Africa is a mighty tough task and we will find out how close England are to achieving that come Saturday afternoon. It is a very exciting prospect and I hope you can join us from Durban.
Speak to you then - Miles.