Eyes on Twickenham
Miles Harrison had tipped Leinster for European glory - but believes Ulster might now upset the odds.
Last Updated: 18/05/12 12:16pm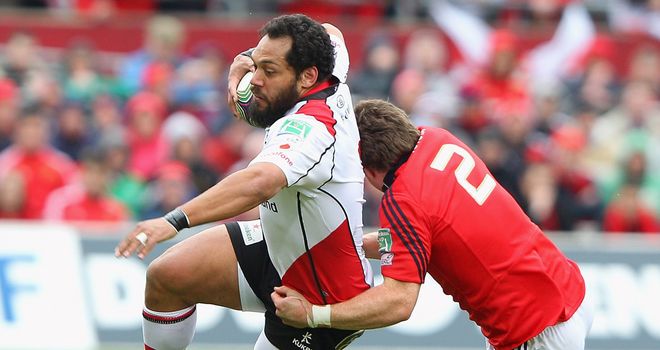 Dublin and Belfast will fall quiet this weekend as the faithful head to Twickenham for the Heineken Cup Final.
No matter what happens on Saturday, the Heineken Cup will be heading to Ireland as the underdogs Ulster look to finish the toughest of campaigns against favorites Leinster.
Ulster, who won the tournament in 1999, have got used to watching Munster and Leinster take all the European glory in recent years.
And while others may not believe they can upset the defending champions, that belief is strong within the squad - but they will need to play at the top of their ability to beat Leinster, who are looking to become the greatest team in Heineken Cup history.
Ulster may have won only one of their previous 17 meetings, but Miles Harrison says there is no reason why they cannot claim their second win against the Irish giants this weekend.
Leinster have a few injury concerns, but they have shown that they possess strength in depth, haven't they?
MILES REPLIES: Indeed they have and, although Leinster have had some injury worries in the run-up to this final, I think we all expect those main players, bar the unfortunate Luke Fitzgerald, to come through and play their part this weekend. But the point about Leinster's strength in depth is very relevant, especially come the final. They have genuine options in a number of positions and even those who have to be more patient and are regular bench back-up, also have the ability to come on and impact in the game. Any side that wins this trophy has to be able to call upon reinforcements during the course of the season and in the final itself. We saw that last year when Northampton's resources were stretched to the limit and then snapped. Leinster had problems at half-time but they had no problem in being able to show their strength in depth when it mattered most.
Ulster have been superb this campaign but are coming up against the team that have really set the standard in Europe. To win they have to try and slow the tempo of the game down and target Jonny Sexton so he cannot get Leinster over the gain line, though that is easier said than done!
MILES REPLIES: Yes, Ulster will be looking to nullify the Leinster threat that comes from their excellent backline, so well marshalled by Sexton. But, to win the game, Ulster will have to play their game, their style. We saw in their quarter-final in Limerick, just to use one example, how Ulster can dictate the course of events rather than respond to them. If Ulster can get their big back-row operating and getting over that gain line then they can profit from the gain-line battle, too. They will probably also look to play a territory-based game to use their set-piece to gain some advantage there.
In the same vein, Ruan Pienaar is the man that Leinster have to get to - something that Edinburgh perhaps failed to do?
MILES REPLIES: Pienaar is key to Ulster's territorial game. He has been a terrific signing, as influential as it gets, and his performances in the semi-final and the quarter-final were world class. Also, in the semi-final, the South African had the extra responsibility of having to 'look after' young Paddy Jackson and he did that superbly. He is a man who has fitted in well at Ravenhill and clearly understands the burning desire in Ulster to recapture the European Cup after all these years. Leinster know they cannot afford to lose their discipline anywhere in their own half and sometimes even inside the Ulster half because Pienaar will punish them. He has held his kicking nerve from some outrageous distances, and there is no reason to suspect he has the temperament to lose that nerve on Saturday.
There is a lot of talk about Ulster having the edge in the scrum and the lineout but if Leinster can handle Clermont Auvergne's pack, can you really see Ulster troubling them that much?
MILES REPLIES: Whilst there is no doubt that Ulster have a good pack, and with John Afoa back that just increases the power and technique (and tackling around the field by the way), Leinster are no slouches in this department either. Healy, Strauss and Ross can look after themselves and they have a big engine-room behind them in the second-row with Cullen being joined by Thorn. I expect a terrific battle upfront but I do not see this being one that necessarily favours one side. Like with all finals, it will be who manages to perform in those key moments in the key areas of the field that will decide the winner of the forward contest and quite probably the match as well.
Leinster are favourites here - they have the experience and the squad - but you cannot write off Ulster at all, can you?
MILES REPLIES: No, you can't write off Ulster but it is clear to see why Leinster are favourites. They have the Cup Final experience, they are unbeaten in Europe this season, they won in France against Clermont and they have this amazingly strong record against Ulster. However, to counter that, Ulster have men in their team who may not have played a Heineken Cup Final before but they are big-match players.
Also, Ulster may have lost in their pool but they were in a much tougher group and had a much tougher quarter-final from which they have derived great confidence. Their defeat to Clermont was at the Stade Marcel Michelin - not in Bordeaux and it could easily have gone their way. And when it comes to their record against Leinster, Ulster have certainly played recent matches with an underpowered squad. They have a horrendous record against Leinster but it must end one day.
They have never met on a stage like this when the players are going to go as deep as they possibly can. I tipped Leinster at the start of the competition (admittedly not the bravest call!) and will therefore stay with that - and certainly Leinster's bravery in the dying minutes in Bordeaux showed again that they are not just about attack, they can defend better than any other side as well. But, this is going to be one hard fought final and I genuinely believe that anything could happen.