Third time lucky?
Miles Harrison looks at a scintillating Premiership semi-final as Harlequins host Northampton.
Last Updated: 11/05/12 1:30pm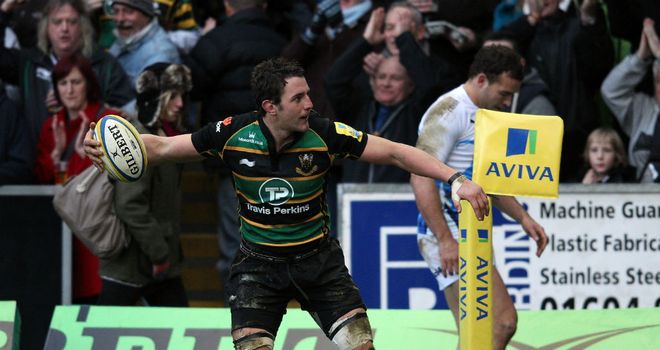 Harlequins, Leicester, Saracens and Northampton are the last teams standing in the battle for the Premiership.
Quins go into the game against Northampton with home advantage after finishing top of the regular season standings and the pressure will be on them to fend off a Saints side who are desperate to shake off the tag of England's nearly men.
Saints have lost to Saracens and Leicester in the last two Premiership semi-finals, as well as losing a dramatic Heineken Cup final to Leinster, but Miles Harrison says that they have the skill and the will to push Quins all the way.
We got used to Harlequins sitting at the top of the table this season but can they win the play-offs, considering that the team who finishes first in the league historically misses out on winning the Premiership?
MILES REPLIES: Since the play-off system began, six times the side finishing second in the league table has gone on to win the title and, by way of contrast, only three times has the side finishing top taken the trophy. But I think all that proves is that it can happen both ways! Therefore, Quins should be feeling no more or no less confident given their finishing position in the table. Clearly they can derive something from the fact that they have led the way all season but that brings a pressure and an expectation all of its own. Above all, though, they have to focus on the semi-final in front of them - as Conor O'Shea says, 'not on the final outcome'. All four teams in the semi-finals need to start over again from here. That is what gives everybody the knock-out buzz as we approach this weekend full of anticipation.
Even without the likes of Dylan Hartley, Courtney Lawes and Tom Wood, the Saints have a pretty formidable pack, can you see Quins getting parity upfront?
MILES REPLIES: Saints are pretty well covered as young James Craig showed with his performance last week against Worcester, but this is a step or three up and any pack that is minus the names that you have mentioned is going to be weaker for that. This is why the Saints need big games from their two props, Tonga'uhia and Mujati. They will undoubtedly miss the presence of Hartley but those big presences have to, with the aid of Long, help cover up for the England hooker's absence. For Quins, don't get too carried away by any comments or lines here and there about potential forward deficiencies. I don't see many in any of the three departments - front-row, second-row or back-row - and, of course, in Aviva Player of the Season and England captain, Chris Robshaw, they have a man who can inspire with his deeds on the pitch.
Can we go back to your point about Quins handling the pressure of being favourites at home to book a place in the Final. Will they cope?
MILES REPLIES: I think they can handle the pressure. The way they have played this season shows that, when the heat is on, they can rise to the occasion and answer the questions. Take that win in Toulouse for example. And, even in the defeat at home to Leicester when we last saw Quins live on Sky Sports, they played pretty well. Losing to Leicester that day was no disgrace and Quins will have had time to reflect on why. However, Northampton, after what happened to them last season, might actually relish going into this one as underdogs. And, the Saints are a dangerous team; Quins know that and semi-finals are normally close affairs. I think this one will be, too.
In the other play-off game, Leicester face Saracens, how do you see that one going?
MILES REPLIES: It's another great prospect; a repeat of the last two Finals. Leicester are flying but Saracens have the ability to clip their wings. Home advantage usually counts and it could well do so again this weekend, both in the Midlands and in London, but you wouldn't be rushing out to the bookmakers on either count would you?