No place to hide
Miles Harrison explains why Leinster against Clermont might be the game of the season so far.
Last Updated: 28/04/12 5:15pm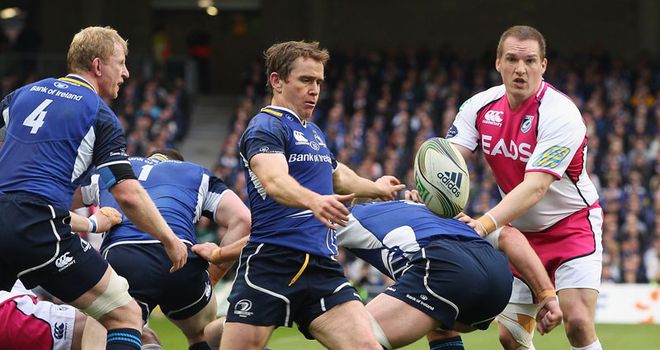 There'll be no quarter given when Clermont Auvergne and Leinster collide in the second Heineken Cup semi-final on Sunday.
The holders are determined to prove they go down in history as one of the greatest sides the competition has ever seen, but in Clermont Auvergne they force formidable foes capable of denting the dream.
Sky Sports commentator Miles Harrison will be at the Stade Chaban-Delmas and here he explains why this might just be the game of the season so far...
Clermont produced an eye-watering display to crush Saracens in the quarters. Is this one of the most powerful teams you've seen in Europe in recent years?
MILES REPLIES: That Clermont display at Saracens said everything about what this side so desperately wants to achieve in this, the season of their Centenary. And, it wasn't just about winning, it was about winning with the determination to deny the opposition both any chance and, in the end, any meaningful points. The way Clermont defended their line at the finish, when the result was already decided, spoke volumes for their attitude and feelings for Europe. To focus on the question, this is one of the most powerful Clermont Auvergne teams that I have seen in recent years (with the addition of Byrne, Sivivatu and Hines) but Sunday will show us whether they are one of 'Europe's most powerful teams in recent years'.
Leinster can't afford to focus all of their attention on the forwards, though, can they? After all Morgan Parra, Sitiveni Sivivatu and Wesley Fofana are all potential match-winners...
MILES REPLIES: And why stop there? Julien Malzieu, Aurelien Rougerie and so on. As you say, Clermont have a pack that can mix it with the best but they also have a backline that can do the same too. Will they use it to its full potential? I suppose that is the key question as far as this semi-final is concerned. Clermont will know that if the game starts to open up then there is no better side in Europe than this Leinster one when it comes to taking their chances. Give Leinster any space and they will use it to ruthless effect. In fact, you could argue, Leinster don't need space, they are that good.
There are some interesting match-ups on and off the park - Nathan Hines against his old side, Vern Cotter against former Clermont man Joe Schmidt. Which are you most looking forward to?
MILES REPLIES: It is a match shrouded in stories and those stories give it that extra special feel. It will be a strange one for Nathan Hines as he comes up against his old team-mates so quickly in a big game but Hines is a tough nut and he will have no room for sentiment. Same too for Vern Cotter and Joe Schmidt - the Kiwis - old colleagues and now rivals - and that recipe makes for fascinating viewing this weekend as we all look on to see who has got the edge because no stone will have been left unturned. I suppose it is that coaching contest of the brains which is what stands out from the pre-match stories.
Gordon D'Arcy, Jamie Heaslip and Isa Nacewa are back in contention after being rested last week but do they have enough strength in depth in all departments to go all the way?
MILES REPLIES: Yes. Leinster have great strength in depth now. They didn't use to have it but they have it now and it is one of the major reasons why they are facing the prospect of a third title in four years to become the greatest ever Heineken Cup squad. These games are won by all 23 players and Leinster have some top players to bring on off the bench. The fact that Ulster kept all 15 players on from the first minute to the last in their quarter-final against Munster is a modern rarity, a great credit to those starting Ulster players but also showed that they perhaps do not have the depth that say, Leinster have. Having said that, Clermont have the same sort of depth as Leinster!
We can't preview the match without talking about Brian O'Driscoll. How big an achievement will it be if he overtakes Vincent Clerc's record of 32 Heineken Cup tries?
MILES REPLIES: It will be a big achievement but we all know that the great man doesn't think about things like that. How could he when he is hitting rucks and tackles like he does? O'Driscoll is the best and it is so good to see him back in the games that matter and not talking about retirement. Alas, he can't go on forever but, for now, he can help Leinster to another European Final and that is all he is thinking about.
Leinster edged their way to a 29-28 victory when these two sides met in the 2010 quarter-finals. Are you expecting another tight match?
MILES REPLIES: Yes - very tight but I think Leinster can do it. I said Leinster at the start of the tournament and I'm sticking with it, even in Bordeaux, even against the mighty Clermont Auvergne. What a match though - the game of the season so far? Probably.