Dress rehearsal?
Miles Harrison can't wait for Harlequins against Leicester - a potential Grand Final in the making.
Last Updated: 20/04/12 12:12pm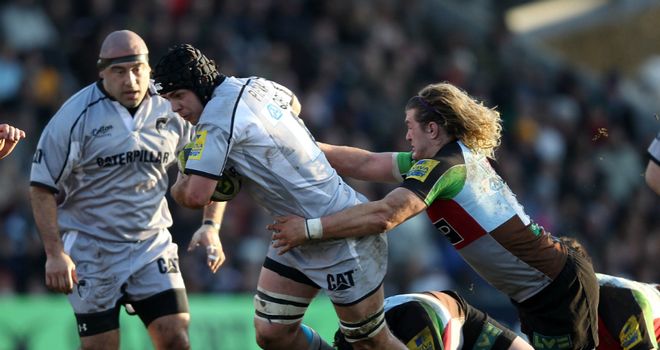 There's a huge weekend of Aviva Premiership action in store, not least at the Stoop where Leicester take on leaders Harlequins in a possible Grand Final dress rehearsal.
Richard Cockerill's Tigers have been in lethal form of late and have driven their way up to second place in the table, but they can expect another hefty physical confrontation in west London.
Sky Sports commentator Miles Harrison will be at the Twickenham Stoop to commentate on the game and he's expecting one heck of a clash...
Conor O'Shea says victory against Leicester isn't the "be all and end all" this weekend, but how important is it for each side to get one over their nearest title rival at this stage of the season bearing in mind they could meet in the Final?
MILES REPLIES:Conor's right of course - the 'be all and end all' games will come in the knock-out stages. However, it is clear, with the distinct possibility of these two meeting again in the Final, it will be important not to concede too much psychological ground at this stage. But, as they will say, it is one step at a time.
What both sides have got at the moment is good momentum but Leicester have made a big move and Quins could well benefit greatly in the long-term by putting a stop to that Tiger train building too much steam.
From Leicester's point of view, they are eyeing up this home semi-final now and to lose that chance having worked so hard to put themselves in the driving seat for it would be a blow but, as Conor said, not the 'be all and end all.'
Quins were physically dominant at times against Wasps last time out; how do you think their pack will fare against the Tigers' and how confident are you that the Rory Clegg-Danny Care axis can exploit any chinks in the visitors' defence?
MILES REPLIES:We should have great confidence in the Quins pack - they have had a good season, despite what happened in Toulon. But, Leicester will give them a severe test in this area.
Leicester's forwards have started to really piece it together. There are some very tight selection calls for Leicester in the forwards at the moment and it shows the options the Tigers have.
As for, Clegg and Care - well, it is not quite Evans and Care and that is no disrespect to Clegg who has shown this season what he can do and what he will be capable of in the years to come but Evans is one of the best in the world and you feel Quins need his sort if they are going to lift this trophy for the first time.
As you say, the Tigers are arguably the most impressive side of the last five rounds - they really seem to have stepped it up. How impressed were you with their four-try display at Franklin's Gardens?
MILES REPLIES:There's no doubt that Richard Cockerill felt that his team had sent a strong message out with that display. Aside from their issues in Europe, when it comes to results,
Leicester could not have done any more since the World Cup and if they play like they did last week through until the end of the season - they will take some stopping. They seem to have found the performances to go with the score-lines now.
Steve Mafi has received some rave reviews in recent weeks but were you surprised that he was named as the Aviva Premiership Rugby Player of the Month for March when there were so many other strong contenders around?
MILES REPLIES:It's a fair question, in view of the options but Mafi has been terrific for Leicester this season and I think he deserves his place in the sun. However, if Leicester go all the way to the Final, will Mafi get his place in the side?
Tom Croft looks back to his best and the second-row options for Leicester are plentiful. It goes back to my point about Leicester's strength in depth upfront - it is mightily impressive.
Will home advantage swing this clash in Quins' favour or is it too close to call?
MILES REPLIES:You should not have given me a get out clause like that! I will snatch hold of that 'too close to call' assessment but in situation like this, home advantage is often the difference.
That home factor could be the key factor in three weeks' time too when we come to the semi-final weekend. And, that is what these two are fighting for, to play the semi-final on familiar turf.
So, not the 'be all and end all' but one heck of a game and in Round 21 - watching top versus second in the Premiership can't be a bad way to spend the afternoon and I do hope you can join the Sky Sports team as we bring you all the action from what should be a Twickenham Stoop full of hope, ambition and atmosphere.