Prize performers
Miles Harrison previews Bath's trip to Sale, as both teams' European hopes hang in the balance.
Last Updated: 13/04/12 9:11am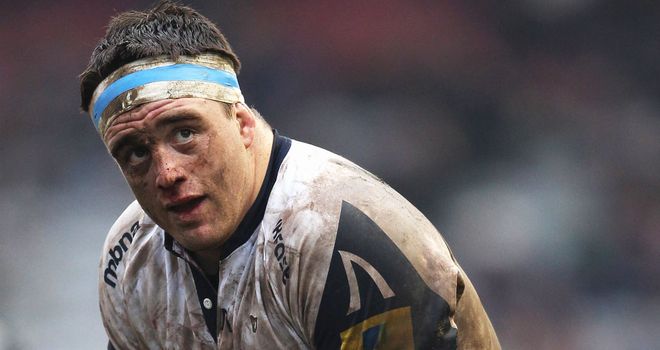 The race for a place in the top six of the Premiership cranks up a gear on Friday when Sale and Bath go head-to-head at Edgeley Park.
With the possibility of qualifying for next season's Heineken Cup still very much alive, expect no quarter to be given in the Round 20 clash.
Sale go into the match in seventh, just two points behind Gloucester, but Bath - still digesting the news that rugby director Sir Ian McGeechan and forwards coach Martin Haag will not be at the club next year - trail their hosts by a further two points and know that defeat would all but end their chances of a top-half finish.
Sky Sports commentator Miles Harrison will be in Stockport to cover the match and can't wait to see who wants it more...
Miles, how do you think the recent announcements about Sir Ian McGeechan and Martin Haag will affect the club in last few months of the season? How will Bath react against Sale?
MILES REPLIES: The normal response to news like this is that the players desperately seek to provide the kind of finish that would act as the right send-off for their coaches. I don't see any reason why this will not be the case for the Bath squad as they look to make sure that Ian McGeechan and Martin Haag leave on a high. That high would, of course, be the gaining of a European Cup place next season. And, when all is said and done, that is the main motivation here regardless of the news of the imminent departure of those two men.
Like Bath, Sale have really struggled recently (losing three in a row in the Premiership). Are you surprised that a Steve Diamond team has conceded so many points in recent games?
MILES REPLIES: In short, yes. I recall commentating on Sale on New Year's Day at Leicester and there was nothing that day which suggested that, a few months later, this team would be losing games by 45 points to nine as they did against Saracens recently. Clearly, Steve Diamond himself wasn't too impressed either as he reacted by ending the club's relationship with coach Tony Hanks. In its own way though, the conceding of the 'winning lead' against Newcastle was just as alarming as that result against the champions. OK, Newcastle are scrapping for their lives but if Sale want to be a Heineken Cup team next season then they simply have to put away the bottom club after having made such a promising start to the game. I would be surprised if they mentally put their foot in it again at home this week; they have to be right for this one as defeat could all but end their European chances.
Michael Claassens and Dwayne Peel are both class acts but which pack do you think will have the edge to deliver the good ball to their scrum-halves?
MILES REPLIES: Well, Sale have picked a big front-row with Andrew Sheridan and Tony Buckley propping and they will be looking to those two men to set the platform and therefore the tone. Sheridan is on his way at the end of the season and will be keen to leave a goodbye present of European rugby. Buckley was bought to deliver in games like these. In the second-row, Bath have Stuart Hooper back and, in Dave Attwood, they have a man who will be desperate to push himself right back into the England picture. In the back-row, Sale have an out-and-out seven in Dave Seymour and Bath have Carl Fearns, a different type of seven who will be looking to impose himself on his former club. As you suggest, that forward battle is going to be key and perhaps no battle more vital than the Seymour v Fearns contest. Whoever can deliver the edge here might just tip what should be a finely-balanced game in the favour of their team. I hope you can join us for a match that could well decide which of these teams plays European Cup rugby next season. Gloucester, the favourites for that sixth spot, play on Saturday and will be watching with great interest. Speak to you all from Stockport.