Luck of the Irish
Miles Harrison looks ahead to the Heineken Cup quarter-final between Munster and Ulster.
Last Updated: 07/04/12 6:22pm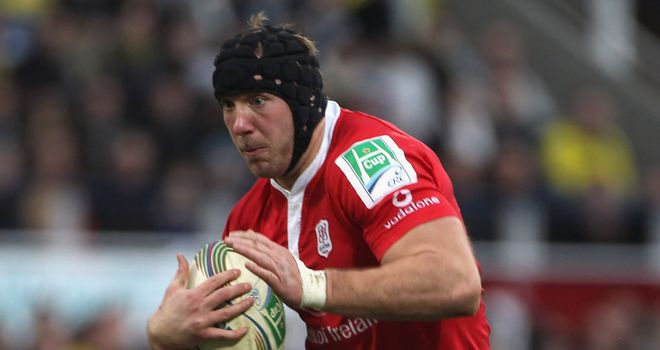 Sunday's Heineken Cup quarter-finals feature a titanic clash between Irish giants Munster and Ulster - and the game could hang on the fitness of two sides' key players.
Thomond Park favourites such as Paul O'Connell and David Wallace seem to be winning their races to take the field while Ulster may be without their talismanic back-rower Stephen Ferris.
Miles Harrison, who will be commentating on the showdown for Sky Sports fields your questions on the tie that has a country talking.
Munster may have lost to Leinster in the Rabo Direct Pro 12 but they have been boosted by some positive injury news ahead of Sunday's clash haven't they?
MILES REPLIES: As we speak, we are not sure of the final starting fifteen but, as you say, Munster have already been boosted by the return of Paul O'Connell, David Wallace, Conor Murray and Donnacha Ryan to full training. I suppose there remain doubts over their match fitness and I'm sure Munster won't take any risks on that front - they know they can't go into a match of this nature with any concerns. But, the news in the early part of the week was very encouraging and if they all play it will give the men in red a major lift.
Stephen Ferris looks like a major doubt for Ulster which would be a huge blow to their chances. If he doesn't pass a fitness test can you see Ulster changing their game plan?
MILES REPLIES: There's no doubt that Stephen Ferris' inclusion or exclusion will have a major bearing on this game. If you recall, he missed out on the quarter-final last year because of injury and to think that this may happen again is heart-breaking for Ferris and Ulster supporters. But, I would imagine you are going to need an awful lot of wild horses to stop Ferris from playing in this match. However, as mentioned with the Munster boys, there comes a point when you can't take the risk. Let's hope Ferris does come through because you want to see the best in games like these and you want to see Ulster play in their style and Ferris is such a major part of that.
Ulster have lost two games in this season's competition - both away from home - is that the kind of form that can get them through a quarter-final at Thomond Park?
MILES REPLIES: Ulster may well have lost at Leicester and in Clermont but they turned that defeat at Welford Road right around in such dramatic fashion and in France they got so to recording one of the great results of Heineken Cup Pool rugby. Even though they have lost twice, they have also shown what potential they have. So, I believe they can do this and I don't say that about many sides going to Limerick. Whether they will do it though is a different matter because Munster have this unbelievable ability to win the tight ones in Europe. They are also a force that can simply be too hot to handle at Thomond Park. It will be a magnificent occasion, whatever happens, and I hope it is a match to match the occasion. For me, it is the tie of the weekend and it is going to be an absolute privilege to be there to witness it.