A powerful force
Saracens' spirit of togetherness presents Leicester with a formidable task, says Miles Harrison.
Last Updated: 17/02/12 1:38pm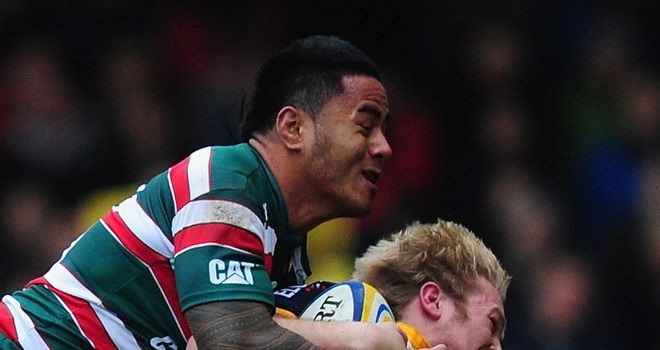 Leicester will be looking to get back on track this weekend after slipping to defeat to Exeter - but Premiership champions Saracens stand in their way.
The Tigers start the weekend in fourth despite their Sandy Park slip-up and welcome Manu Tuilagi, Toby Flood and Thomas Waldrom back from Six Nations duty for the match.
Second-placed Saracens have made two changes to their line-up, bringing Schalk Brits and Neil de Kock back into the starting XV after injury. Miles Harrison shares his thoughts on how the teams are shaping up...
The Leicester players apparently had a 'clear the air' meeting after their defeat to Exeter last week, Miles. Can Leicester blame their Exeter defeat on the international disruptions or are there other issues they need to be looking at?
MILES REPLIES: The international disruptions don't help - we've seen that with Leicester quite a lot this season when you consider what happened during the World Cup period too. But, what happened at Exeter was not solely down to the international calls. Leicester are not quite all there this season and they are going to have fight hard for this play-off spot. Sale won last week, London Irish aren't out of it yet, Gloucester look very dangerous to me and, of course, Exeter themselves are coming hard and true at just the right time. But, it would be wrong to get carried away by the negativity of the defeat last week as it was, after all, Leicester's first defeat since October in the Premiership. However, they are not at their best and the Tigers need to start to look like title contenders, and what better place to start than Vicarage Road this Sunday.
Sarries zhowed some great spirit to see off Wasps - is that down to their 'wolfpack' mentality and do you think the Tigers recent clear-the-air meeting was looking to create that sort of team spirit?
MILES REPLIES: 'Wolfpacks', 'Tigerpacks' - I'm not sure what animal is relevant here - but Saracens do have something at the moment that used to set Leicester apart too and that is the spirit of togetherness and the belief that, one way or the other, they are going to find the way to win the match. We have seen that in Europe as well this season and it is no surprise that, on this basis alone, Saracens are the ones to be flying the English flag in the Heineken Cup quarter-finals. Their spirit is undeniably a powerful force. Indeed, wolves would be proud to call themselves Saracens!
Saracens are hard to beat Miles. Will Leicester avenge that Round Four 25-50 defeat?
MILES REPLIES: Well, Exeter have done the double over Leicester during the international periods and the Saracens are well placed to do the same this week, given that they have home advantage and the confidence of having beaten Leicester so well earlier in the season. However, things are different for Saracens on the international front than they were in those early weeks - now they are providing many of the England squad themselves and they will have to face up to major absentees too. In this repeat of the Premiership Final of the last two years, I think we can expect another tight game - could it be that the Saracens' desire to win gets them there again? I know one thing - Toby Flood and Manu Tuilagi will be doing their best to stop them and in doing so advance their claims to takeover at England level from Charlie Hodgson and Brad Barritt - that is a fascinating sub-plot too. I look forward to speaking to you from Watford.