Your enemy's closer
Bath and Gloucester's proximity in the table gives the West Country derby extra spice, says Miles Harrison.
Last Updated: 17/02/12 11:19am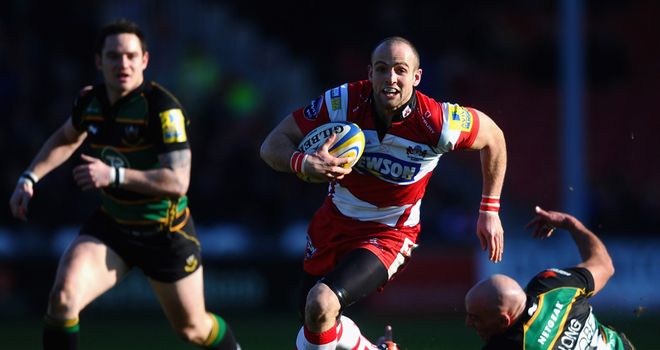 There'll be no love lost at the Rec on Saturday when Bath and Gloucester lock horns in another Premiership battle royal.
The ninth-placed hosts are unbeaten in four matches in all competitions and will be determined to make it two league wins on the spin after last week's 30-24 home win over Newcastle.
Immediately above them in the table sit Gloucester, who held their nerve to edge Northampton in a thriller last time out.
But Saturday is about much more than points and places; as Miles Harrison explains, big bragging rights are at stake...
Where does this game stand in terms of rivalries, Miles, and will the two clubs prepare any differently?
MILES REPLIES: In terms of rivalries, well, that's an easy one. This is a match that has meant a great deal for a long time and especially since the rise of Bath back in the late 1970's and early 1980's. Anybody who watched the Rugby Club this week will have seen that. Furthermore, because of the corresponding decline of Bristol as a major force in English rugby, Bath v Gloucester has assumed the status of being 'the' West Country derby. But, in terms of preparing differently, I think times have changed on that one; coaches' and players' preparations are geared to a week in, week out, striving for league points regardless of the opposition. However, where this weekend is a little different for all involved is the atmosphere generated by the supporters. They will give this match that bit extra something as they hope their team can beat their near neighbour. The players who have sampled this before will be ready for that and, for those who haven't, it will be an exciting, new experience.
The form of the likes of Jonny May and Charlie Sharples has been great to watch but Gloucester coach Bryan Redpath wants to see more balance - especially from fullback May. Do you agree with Redpath or is there a danger of heading into what Graham Henry called 'a game based on fear'?
MILES REPLIES: Like us all, I admire what May and Sharples have been doing and, I have to be honest, the absence of May from the England senior squad in this Six Nations Championship, was a surprise. I think May has something special about him and have done for some time. But, it is clear, that his time will come and, when it does, he will need to show the control that Bryan Redpath is talking about. Redpath is not the kind of coach who wants to stamp on flair or, as you put it, play 'a game based on fear' - all he is doing is wanting his men to learn the art of playing at the highest level - and that is being able to make the right decisions at the right times. May and Sharples can be lethal in attack, just ask Toulouse, but they also need to show a consistent maturity in their decision-making. You could argue that Sharples is a little further down the track in this respect whereas May has been moved around the backline from centre to wing to full-back, helping out his team and maybe sacrificing some consistency of performance because of those movements. Stuart Lancaster is perhaps waiting to see more of that consistency before chucking someone like May in at the deep end. But, these two players are England players in waiting and, I would argue, that their involvement should be sooner rather than later.
Obviously points on the table are the most important thing, Miles, especially for Bath who have pulled themselves out of the relegation zone, but who will have West Country bragging rights on Saturday?
MILES REPLIES: It obviously is important for Bath to win at home, especially as they have just started to turn the corner. To lose momentum in this game would be a disappointment to say the least! But, this match is just as vital for Gloucester as they are still within striking distance of the top four. Yet, then again, if Bath win on Saturday, they would be level on points with Gloucester if no bonus points exchanged hands. It is really tight on that table and that is why this game is so important regardless of the local derby element. There was a time when Gloucester could not beat Bath for love nor money, home or away - but those times have changed and there is no doubt that Glaws will feel they have a big chance on Saturday to win at the Rec again. I'll speak to you all from Bath for what is always one of the best days of the domestic season.