Pressure cracker
Miles Harrison believes that Cardiff Blues have too much motivation to be derailed by Racing Metro.
Last Updated: 21/01/12 1:37pm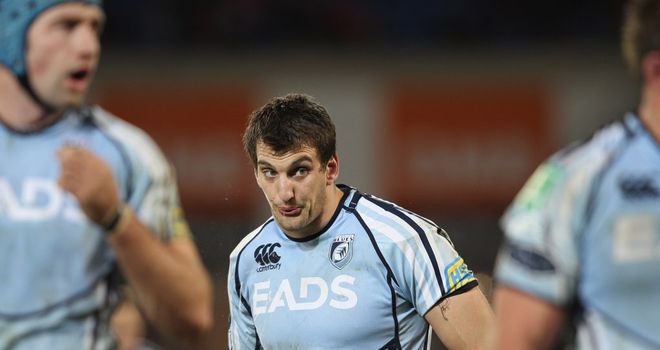 It's crunch time in Pool Two of the Heineken Cup as both Cardiff and Edinburgh battle for top spot and a place in the last eight.
Blues, the only Welsh side to ever win a European title, are in prime position to make it third time lucky after missing the knockout stages for the last two years. After beating London Irish 22-15 they now face Racing Metro at the Cardiff City Stadium on Sunday afternoon, knowing that victory is essential if they are to win Pool Two and guarantee a quarter-final place.
Edinburgh, who are level on points with the Blues at the head of the pool, will face London Irish at Murrayfield with both battling to secure automatic qualification.
And while Miles Harrison believes Cardiff should see off the French club, he says you cannot rule out Racing finally turning on their talent.
Cardiff hold their destiny in their own hands here Miles?
MILES REPLIES: Yes, they do, as there is nothing that Edinburgh can do to top the pool if the Blues match them blow for blow on Sunday. It is a great situation to be in. Also, going last on this final round of games is a privileged spot - the Blues will know exactly what they have to do - both within their pool and across the board too.
Why do you think Racing have been so disappointing?
MILES REPLIES: It is a strange one isn't it because there is an awful lot of talent in this squad. If I had to put my finger on it though - I would say it is the classic case of a club that, at the moment, deep down wants to crack it first at home and they are not quite doing that. They are reasonably well placed in the French Top 14 but, they are not in the top bracket yet - alongside Toulouse and Clermont - when it comes to winning trophies and being in Finals. Consequently, when it comes to Europe, the ultimate focus is another competition.
This all points to a home win Miles - Racing's campaign is over and they have not been good on the road. Will you be surprised if Cardiff don't win?
MILES REPLIES: I will be shocked let alone surprised! But, the warning is that earlier in the Pool at London Irish, Racing did turn up and they could go to Cardiff in that state of mind which says, 'let's just give it a go'. Also, they have some really big games coming up in the Top 14 and there will be selection issues to be sorted for those. Players are players and want to play and they don't want to miss out on a chance to stake a claim. OK, the Blues have the motivation and pressure to give an intensity to their performance that Racing should struggle to match but pressure is a funny thing and those who are not under it can sometimes find that, on a certain day, they are the ones who benefit most. But for me, it is the Cardiff Blues to win and book their place in the last eight.