All or nothing
Ulster were superb against Leicester, but Miles Harrison says they need to be better against Clermont.
Last Updated: 19/01/12 3:23pm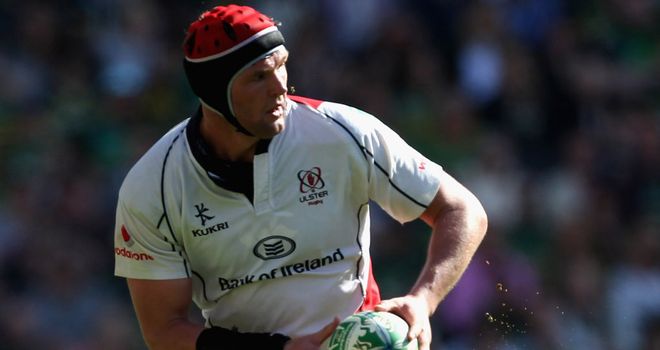 Ulster face their destiny on Saturday when they travel to Clermont Auvergne in a bid to reach successive Heineken Cup quarter-finals for the first time in their history.
The Irish side were the toast of round five after their demolition of Leicester at Ravenhill, however a trip to Stade Marcel Michelin is a daunting task and Miles Harrison believes they will have to raise their game even higher to be the team of round six.
Miles, Ulster were superb last weekend against Leicester but it could be all for nothing if they don't beat Clermont this weekend?
MILES REPLIES: It could be but, then again, they could have qualified before they step onto the field on Saturday, should Harlequins or Toulouse lose on Friday night. But, that is not the point because firstly, Quins and Toulouse, even though they have tough games on their travels, really tough games, will be favourites to win those matches. Secondly, and much more importantly, Ulster have their sights set on making a genuine challenge this year.
That means not only going to France this weekend and playing like a team that can go a long way but, it also means that they should have the ambition to target victory in this game to prove to themselves what is possible - a home quarter-final. That ultimately could make all the difference - again we saw what those fans at Ravenhill can produce last week in the storming win over Leicester. But, it is one step at a time and Ulster are likely to be facing qualification or the exit door come kick-off on Saturday and that is 'all or nothing' as you say!
Clermont have been a bit frustrating on the road Miles, but have managed a bonus losing point at Leicester. How impressed have you been with them?
MILES REPLIES: Well, actually, I was quite impressed with them on the road in Leicester because they calmly stayed aware of exactly what they needed to do in the game and the proof of that particular pudding is this weekend when they have home advantage and a chance to dictate the outcome in this trickiest of Pools. As for their trip to Ulster right at the start of the competition - yes, they missed opportunities to put that one away, but again they left with something and when you look at the Pool table now you can see the importance of those away bonus points.
Can Ulster do what few sides do and either beat the French giants or get within seven points of them?
MILES REPLIES: If they win, then we will have witnessed one of the great European performances. To win in Clermont is about as difficult as it gets in this competition - we all know that. The bonus point is a little more attainable - Leinster and Munster have both been to Clermont and come back with one of those in recent times and how Ulster would love to join that company. And, the bonus might be enough - we will know more on that after Friday night but, the bottom line is, on the evidence of last week, it is a long time since Ulster have been this ready to mount a challenge like this and I, for one, am not ruling out a little bit of history making this weekend. Whatever way you look at this match - it is what Round Six of the Heineken Cup is all about.