A sure thing?
Miles Harrison says Saracens should beat Biarritz but still need to be wary of the Basque giants.
Last Updated: 14/01/12 3:35pm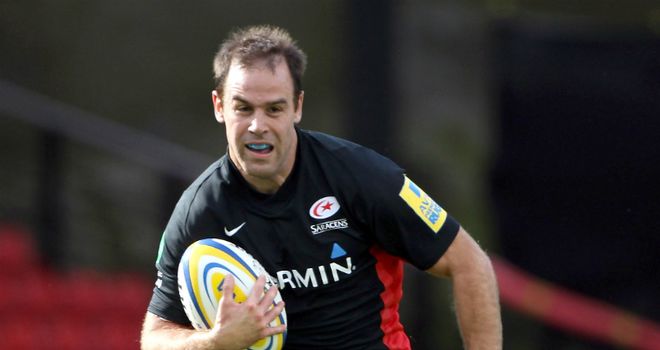 Saracens head into their match against Biarritz on Sunday knowing that victory will secure qualification for the knockout stages of the Heineken Cup.
A win would see the Vicarage Road side move to three wins in three games and top the group, making it impossible for anyone to overtake them.
However, Miles Harrison believes that Biarritz have the pedigree to spoil the home team's party...
Saracens are in control their own quarter-final destiny but they will need to be well aware of the threat from Biarritz, won't they?
MILES REPLIES: Well, if ever you wanted an opposition to remind you that the job is not yet done, then it is the team that threatens your dream most - and this is what happens for Saracens this weekend. Yes, Saracens have the advantage both in terms of points on the table and home advantage, but Biarritz are the ones who can change that right around. But the other side of that coin is that Saracens have the chance to supply the knock-out blow on Sunday. For them it is a tantalising thought; for Biarritz it is a worrying one.
The Saracens campaign seems to be gaining momentum in the Premiership but how important is Europe for them in terms of the whole Saracens brand?
MILES REPLIES: European success is clearly important for Saracens on many levels, one of them clearly being that it pushes the Saracens name even further out there. The business 'brand' is important because the club needs to make money to thrive and just look at what Saracens tried to do by taking this particular game to Cape Town! That is growing the brand! But I am one of those that tend to put the sporting achievement before any business consideration and for these Saracens players, success in Europe is the next stage for them on the back of their triumph in England last season.
I have spoken to Saracens boss, Mark McCall, about this and he says that at no stage have the Saracens squad talked about flying the flag for England in this season's Heineken Cup; it has all been about challenging themselves to take the next big step in their playing and coaching careers and the rewarding of their fans. He is right and that is what should drive players on - not the 'brand', but their own personal and team goals, plus the debt they feel to their loyal support.
Biarritz are having a tough time in the Top 14. Can they beat Saracens this weekend?
MILES REPLIES: This is primarily sport, not business, and in sport many things are possible and one of those things is that Biarritz turn up and play the game of their season in Watford on Sunday. However, I would back Saracens to repel Biarritz at their best anyway. So Saracens to win but, you know me, I laugh at those who make definite predictions because sport just ain't like that! Speak to you all from sunny Hertfordshire on Sunday!