Battle of Ravenhill
Miles Harrison is expecting a brutal game when Leicester travel to Ulster in the Heineken Cup.
Last Updated: 12/01/12 3:51pm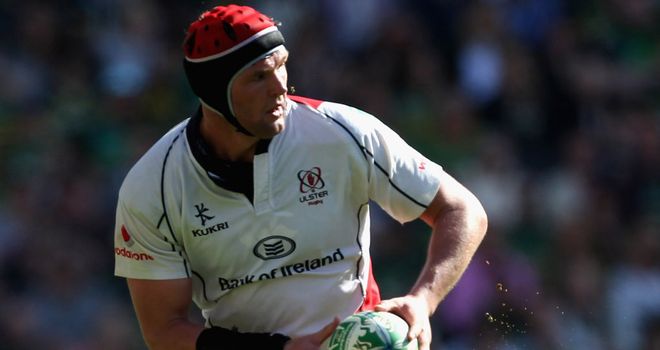 Two former champions clash at Ravenhill on Friday, with Ulster and Leicester vying for a place in the last eight.
Just three points separate Ulster, Leicester and Clermont in Pool Four with two matches remaining. Miles Harrison will make the trip to fortress Ravenhill and says there is everything to play for!
Is this the moment of truth for Ulster and Leicester as far as progressing to the play-offs is concerned, Miles?
MILES REPLIES: We have to assume that Clermont will do what they need to do in Italy this weekend and, by that, I mean take a try bonus point on top of their win. That would give Clermont 16 points with a home match against Ulster to come.
Ulster start this weekend on 14 points and Leicester are on 12. So, you can see the importance of this game at Ravenhill. Leicester have the safety net of a final game at home to Aironi but, as you can also see from those figures, a loss on Friday could mean that their safety net might as well have a hole in it!
Ulster have also probably got to get something from each of these last two weekends but, as far as this weekend is concerned, it certainly has the feel of a shoot-out because the one that is on the receiving end of the defeat will be in a very bad situation.
Let's talk about home advantage Miles. Ulster have beaten just about everyone at Ravenhill, how important will this be against Leicester?
MILES REPLIES: Playing at home has always been massive for Ulster. And, lately, they have won 10 straight Heineken Cup games in Belfast, including against Clermont Auvergne this season. Of course, on Leicester's only previous visit, back in 2004, the Tigers lost 33-0. Now, I am not expecting that kind of one-sided affair this weekend but it does show that, when the crowd and their team are on a roll at Ravenhill, then sometimes there is very little the opposition can do.
Decision time Miles. Can Leicester overcome those bad memories of Ulster and come away with a win?
MILES REPLIES: I believe they can but I'm not sure that they will. I have got this one down as a dramatic close encounter which really could go either way. When looking for an 'edge' on this occasion, it is pointless asking, 'which side wants it more?'
Both teams could not want it any more than they do. I am glad that I'm paid for calling the actual games and not putting my neck on the line to call the winner because I think this game is anybody's. One score in it either way? Yes, probably. You simply have to join us for this one on Friday night; it will be an intense start to the weekend's action. It might not always be pretty but it will be brutal because the desire to succeed could not be greater.