Down but not out
Wasps may be in a dogfight at the bottom but Miles Harrison says Leicester can't take them lightly.
Last Updated: 06/01/12 1:56pm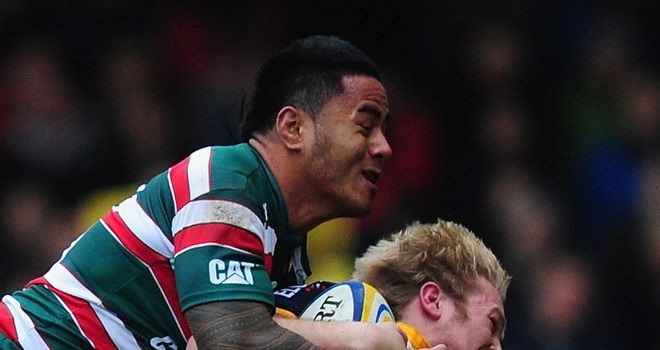 Wasps may be in a dogfight at the bottom of the table but Miles Harrison says Leicester cannot take them lightly.
In seasons gone by Leicester v Wasps was a highlight of the season as more often then not it would be a battle of the top two sides.
Times have changed with the likes of Saracens, Harlequins and Northampton setting the pace. Leicester have clawed their way back to fourth spot, but for Wasps it is a different story.
Their 6-0 loss to Worcester at home last weekend saw them slump to 11th spot but Miles believes a win against their fierce rivals will be just the tonic to get their campaign back on track.
Leicester have made a great recovery from the early season woes and that tough win against Sale sees them into the top four for the first time this season. Are they the club the others see looming large on the horizon?
MILES REPLIES: In the past, I would have said a categorical 'yes' to that but things are a bit different now. The landscape, when it comes to the top four, has moved on - you feel the league is much more open these days. Having said that, Leicester will always be a 'looming' presence in that they will probably always be involved in those key, season-ending moments. Also, the fact that they have lost just once, away to Clermont Auvergne and that is no disgrace, since mid-October, shows that their form is pretty solid at the moment. The top four as we stand now, could well be the top four come the end of the season and, if Leicester are in the semi-finals, I think we all know they will be a side to command respect, home or away. The Tigers have not been helped by lots of chopping and changing because of injury and international calls this season but they are pretty hard to beat again!
Leicester have a few injury concerns again this week with Flood and Manu Tuilagi out but they seem to have that strength in depth where someone always steps up don't they?
MILES REPLIES: Yes, they do, but I think we have seen the importance of Toby Flood to Leicester since his return from the World Cup and there was no doubt that, against Sale last week, the Tigers at times lacked the edge that Manu Tuilagi gives their backline (but, then again, which side wouldn't!). But, your point about their depth is a fair one. Theirs is a strong squad, always has been, always will be, but that statement doesn't mean that these two men will not be missed.
Wasps seem to be playing with a lot of determination but very little confidence - what is wrong there, Miles?
MILES REPLIES: When assessing Wasps this season, we have to factor in their re-building process under a new coaching regime who are in year one of a long-term plan. Also, they have suffered a terrible run of injuries and retirements. Of course, in sport, the bulk of confidence comes from winning and those wins are eluding Wasps at the moment. But, the other day, regardless of the strains being put on the players because of the depleted squad and the conditions in which the game was played, their failure to score even a point at home to Worcester was a score-line that made you stop and think long and hard when you heard it for the first time. This week, Wasps have acknowledged that they are in a dogfight at the bottom as well as looking up the table and not only do they need to show that fight but also the ability to execute scoring opportunities, something that was badly lacking last week.
These two great clubs have been fierce rivals of late, but with Wasps woes can you see them putting up a decent fight at Welford Rd?
MILES REPLIES: Yes I can, for the reasons stated above. Wasps do not have any option but to fight this Saturday! However, it is clearly going to be a difficult task - even if they were firing on all cylinders, taking out Leicester at this stage of the season on their patch with their internationals all now fully reabsorbed into their squad would be difficult enough. If Wasps do pull this off, it will be one of their finest ever performances against the Tigers and there have been a few of those over the years. I look forward to speaking to you all from Leicester on Saturday evening and seeing what happens when these great rivals meet again.