Mind games
Miles Harrison is intrigued to see how the Scarlets react when they travel to Munster's Thomond Park.
Last Updated: 17/12/11 5:13pm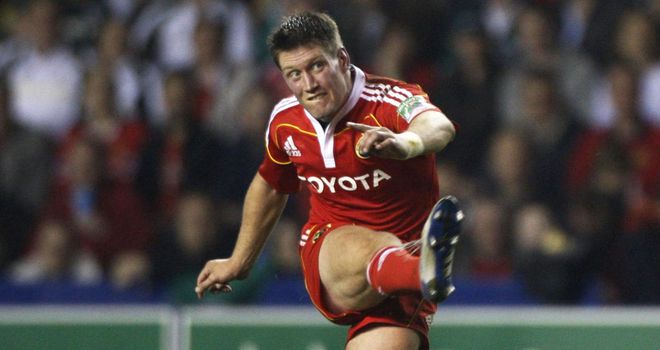 Munster will be looking to cement their position at the head of Pool One of the Heineken Cup when they welcome Scarlets to Thomond Park on Sunday.
The Irish giants showed their stubborness last weekend as they beat the Welsh side by three points and with home advantage, they will be expected to do likewise on Sunday.
However, the Scarlets will be disappointed that they did not grab their chances last weekend and will be out to prove they can win these crucial games.
Stuart Barnes said that Munster delivered a classy 80 minutes of un-classy rugby in their win against the Scarlets. It was a very important win for them, wasn't it?
MILES REPLIES: Having got their noses in front, Munster were once again the masters of making sure they closed out the win. However, as good as Munster were in doing that, my emphasis would be on the Scarlets blowing numerous chances to establish a winning position. Rhys Priestland's missed kicks were obvious examples of that but there were other moments when the Scarlets should have scored tries, yet they didn't. I think the Scarlets will be going to Munster thinking that if they play with their normal scoring instincts this week, they can still be successful in this tie.
Munster seem to be flying under the radar a little bit and there does not seem to be much expectation on them. That has certainly worked for them so far, hasn't it?
MILES REPLIES: Ronan O'Gara has been on the radar, making headlines, but I know what you mean and that lack of external expectation will no doubt be fuelling the Munster desire on the inside. Yes, they are winning games a little bit through the back door but they are winning. To progress a long way in this competition there will probably need to be something more from Munster but European Cup campaigns tend to be about building steadily and growing success step by step. Munster are certainly doing that and, as you say, this approach has worked for them before of course.
Scarlets will know they let Munster off the hook last week. They certainly have the players to win, but have they developed that mental strength yet?
MILES REPLIES: Well, this weekend will tell us a lot about the Scarlets' mental strength. A win at Thomond Park is a rare species and if the Scarlets can find one of those on Sunday then they will be able to answer those accusations about their state of mind. The way they went into these back-to-back games against Munster would have given them grounds for confidence that they could walk away with at least one win. Sunday represents their only chance of that now and that not only puts the pressure on but concentrates the mind, too. It will be intriguing to see how the Scarlets react.
Equally, you cannot quite see Munster thinking job done because of that win away last week, and this could be a much tougher game than they expect, couldn't it?
MILES REPLIES: I think Munster expect a very tough game and it has all the makings of a cracker. I believe it could be the game of the weekend - although I would never say that with any certainty considering what might happen in Edinburgh, Swansea, Leicester and, maybe, Toulouse. I hope you manage to get some Christmas shopping done this weekend; I'm not sure when that will be, though!