Wonder of Wembley
Miles Harrison says the clash between Saracens and Ospreys could be the game of the weekend.
Last Updated: 10/12/11 4:49pm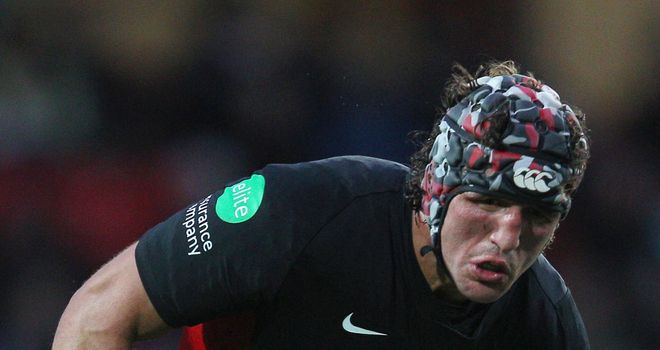 The Ospreys will travel to Wembley on Saturday night for a Pool Five top-of-the-table clash with English champions Saracens.
Sarries are determined not to suffer a second defeat at the home of English football after they went down 25-23 to Leinster last season. However, they will be well aware of the threat the Ospreys pose and cannot afford to let the vibrant Welshmen get into their stride.
Miles Harrison will be at Wembley on Saturday evening and believes this has all the makings of the game of the weekend...
The big news at Saracens is Peter Stringer arriving from Munster on a three-month loan. Is the Ireland international the answer to their scrum-half problem?
MILES REPLIES: There is no doubt that Peter Stringer's arrival is timely news for Saracens. The loss of Richard Wigglesworth and Neil de Kock has left the cupboard bare and Stringer brings experience and nous; something we saw recently at Twickenham when he was playing for the Barbarians and snatched the ball away from Australia's James O'Connor when he was preparing to convert. Young Ben Spencer has done really well since he came into the team and hasn't let the side down, but you need to have two and Saracens now have a good old 'un and a good young 'un.
Mark McCall was very outspoken regarding his side's display against London Irish. They may have scraped a 15-11 win but coming off two losses to Biarritz and Northampton, do you think there is a problem at Vicarage Road?
MILES REPLIES: Not really. I actually thought Saracens were pretty good in Biarritz; it was just that the game turned in a crucial period and they left themselves too much to do to win. But, remember, they did get back in it to leave with a losing bonus point. Northampton was one of those nights at Franklin's when the Saints, smarting from their poor effort the previous week against the Scarlets, came out on fire and were too hot to handle in that first half. Again though, the way Saracens finished the game showed that they never give up, regardless of the position. And, finally, that London Irish game last week. Perhaps Saracens are often going to be involved in close games because of the way they play but the key thing is that, more often than not, they win those games and last Sunday was a classic example. Irish could have won it but they didn't and they didn't because they were playing Saracens who are hard to beat.
We saw an emotional Shane Williams end his international career with Wales last weekend. His presence in this young Ospreys side is crucial, isn't it?
MILES REPLIES: Shane Williams, regardless of age, is still a world-class player and any team with him is going to be the better for it. He offers something almost unique in the modern game and we are going to miss him when he decides to hang up all of his boots and not just his international ones. Also, Wembley should suit Shane. He makes it worth going to see this game all by himself and you wouldn't put it past him finding another moment to remember in another great stadium this weekend.
How impressed have you been with the Ospreys this season?
MILES REPLIES: Considering all the disruption at the end of last season with the loss of some big names and then the World Cup absentees at the start of this campaign, the Ospreys can look at the Pro 12 table with a good deal of satisfaction. Their form has been more than solid and, in Europe, they started with a win against Biarritz - which they would have expected as the game was at home and Biarritz are far from being at their best this season - but, nevertheless, it was a win against a tough European nut. And that draw in Treviso was not as bad a result as some would have you believe. Treviso are not to be taken lightly this year - especially in Italy - but it does mean that the pressure has increased a little more on the Ospreys going into these crucial games against Saracens.
The last time Sarries played at Wembley in the Heineken Cup they lost to Leinster - much to the irritation of Brendan Venter. Can you see Sarries making amends for that this time around?
MILES REPLIES: Without a doubt, but the Ospreys have a certain steel this season which suggests that they can not only light up this match but win it as well. There will be another really big Wembley crowd - well on the way to 50,000 are expected. That is an incredible testament to Saracens and the competition in general. It clearly has all the makings of the occasion of the weekend, given the setting, rather like Leinster's match against Bath next week at the Aviva Stadium in Dublin. It looks a great way to finish off Saturday's action.