United we rise
Miles Harrison praises Harlequins' team effort ahead of their clash with French giants Toulouse.
Last Updated: 09/12/11 11:00am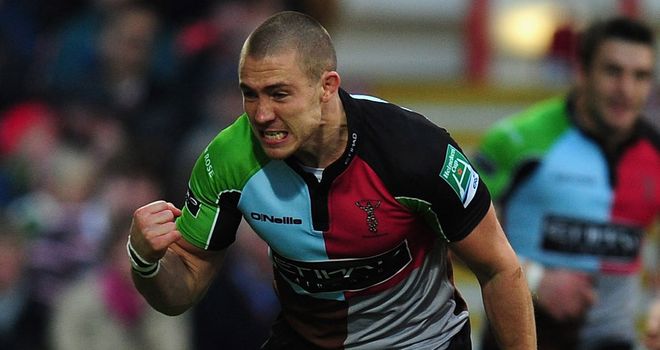 How much confidence will that win against Wasps give Harlequins heading into round three of the Heineken Cup?
MILES REPLIES: Quins weren't exactly short on confidence beforehand but you feel that win at Wasps proved an awful lot to those on the outside of the squad. Here is a team that clearly lives up to the oldest sporting cliché in the book: take one game at a time. Last Sunday, the temptation to look forward to the next game must have been massive with Toulouse lying in wait. But, even though some selections were made with Toulouse in mind, Quins' coach, John Kingston, insisted that there was to be no talk of what was to follow. Quins' performance against Wasps proved that they had listened to their coach.
There is a lot of talk about Quins' unbeaten record. How much extra pressure does that put on them?
MILES REPLIES: I don't think it is putting any extra pressure on them for the reasons outlined above; they are using the winning feeling to good effect. Look, at some point, Quins are going to lose, they can't go through a whole season winning every game, but they are playing a very rounded brand of rugby and proving to be lethal when they get the chance to score. Perhaps we should be thinking more about the pressure on their opponents to beat them, rather than the pressure on Quins to keep winning.
We always seem to speak about the importance of Chris Robshaw but which other players have caught your eye?
MILES REPLIES: Yes, Robshaw was excellent again last week but, aside from the captain, I have been really impressed with Mike Brown and George Robson this season and I pick out those names because they are playing well enough to force their way into England reckoning. But to single out names doesn't seem the appropriate thing to do with Quins. Nick Evans is their big star and he brings it all together as a class number 10 should, but we should not forget about the contributions of the young wingers, Seb Stegmann and Sam Smith; Joe Marler rampaging around in the loose; Luke Wallace coming into the side and looking like a hardened seasoned pro at the breakdown... the list goes on. It is a classic team effort thus far.
Toulouse have a growing injury list that has got to be a concern. Gürthro Steenkamp is going to be a huge loss for them, isn't he?
MILES REPLIES: I'm not sure Toulouse do 'huge losses'. As good a player as Steenkamp is, there is so much back-up in this squad it is frightening. This week, I sat down and re-watched Toulouse's first two games in the competition this season and those matches at home to Gloucester and away to Connacht emphasised the depth this club has. They have more options than any other team in the competition and that's why I made them my favourites to challenge Leinster for the title.
The Stoop is sold out on Friday and it should be a cracking game. Who do you think will emerge with control of Pool Six at the end?
MILES REPLIES: It is going to be great and I can't wait but I think the more pertinent question is who is going to be on top after the two games? I can see Harlequins winning this one but Toulouse leaving with a bonus, which won't be the end of the world for the French side. But, whatever happens, it is going to be special.