A proper Test
Miles Harrison says Australia will be given a full-on game by Graham Henry's Barbarians.
Last Updated: 25/11/11 2:29pm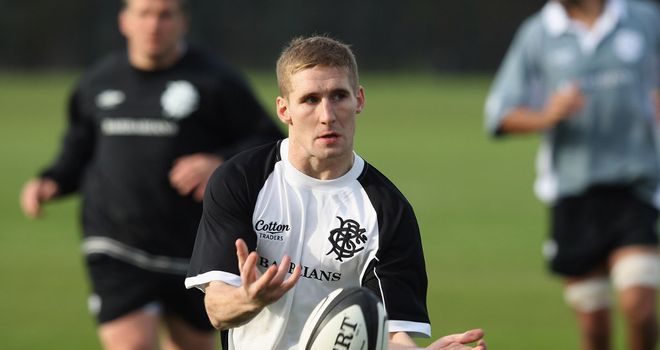 The Barbarians will take on Australia in a mouth-watering clash at Twickenham on Saturday, which promises plenty of action
Coached by Graham Henry, the Baa-baas include four members of the All Blacks' World Cup-winning squad in Keven Mealamu, Jerome Kaino, Adam Thomson and Isaia Toea.
Skippered by Victor Matfield, the Barbarians also have Danny Cipriani and rugby league star Sam Tomkins in their ranks and will need all their pace and flair against a very exciting Australian side.
Miles Harrison is looking forward to both sides bringing some positive vibes to Twickenham and is expecting a fiercely contested battle.
The ethos of the Barbarians mixed up with the attacking and running flair of the Wallabies... it should be the perfect recipe for a highly entertaining game shouldn't it Miles?
MILES REPLIES: I think that is very true - we have two sides here that will be looking to attack - which is always promising. But, make no mistake, this will feel like a proper Test match. The Australians haven't travelled half way around the world to lose this week in London or, indeed, next week in Cardiff. And, the Barbarians are very proud of having beaten South Africa at Twickenham last year and New Zealand the year before on the same ground. They would love a Tri-Nations triple and the fact that Graham Henry is coaching them rubber stamps the theory that the Barbarians are here to win. Also, we have Graham Henry and Robbie Deans going up against each other again as they did in the World Cup semi-final in Auckland. That's always a rivalry well worth watching.
What are your thoughts on Sam Tomkins playing a one-off game of Union?
MILES REPLIES: It's a great coup for the Barbarians and I look forward to seeing a very good rugby player play his part in this match. We know that there is nothing more to read into this - it is just a one-off for this Tomkins brother although Joel has made a permanent switch from Wigan to Saracens. I spoke with Sam after training on Thursday and he confirmed that he had never previously played even one game of Union in his life - so, in that respect, this is going to be worth watching as well, to see how he adjusts. A back three position is clearly where he should be and from what we've seen of him in rugby league, this lad can really play.
This Baa-baas team looks very impressive - with four members of New Zealand's World Cup-winning squad, skippered by Bok legend Victor Matfield and, as you say, coached by Graham Henry. Who are you looking forward to seeing in action?
MILES REPLIES: If I had to boil it down to one, I would pick Danny Cipriani and his return to an 'international' at Twickenham. And, Cipriani could not be returning home at a more opportune time to remind everybody of his undoubted talent.
Of course, James O'Connor will be at fly-half for Australia in the place of the injured Quade Cooper, how do you think he will get on?
MILES REPLIES: James O'Connor is also with the Melbourne Rebels now - Danny Cipriani's team - so it will be some battle at ten from a Rebels perspective but one with a wider appeal too. O'Connor is like Cipriani in that he is full of talent, although the Aussie has been backed by his country's coaching team over his relatively short career. Quade Cooper's injury and, indeed, loss of form is unfortunate for him but it gives Australia a chance to have a look at the highly skilled O'Connor in a position that he was always being groomed for.
Will the captaincy have any effect on flanker David Pocock's game?
MILES REPLIES: David Pocock is an inspirational player and, just like it is fascinating to see Danny Cipriani and James O'Connor at fly-half, it will be fascinating to see Pocock take charge of the team. There is no suggestion that Pocock is taking the job away from James Horwill who led from the front at the World Cup. But, it is a move that should grow the leadership in the squad. I think it is a solid move for a solid bloke who, I am convinced, will rise to the challenge. Gaining the experience will be invaluable for the player and Australian rugby in the long term.