A nation rejoices
Miles reflects on a riveting final week in New Zealand and the euphoria of a nation who claimed the World Cup.
Last Updated: 25/10/11 7:03pm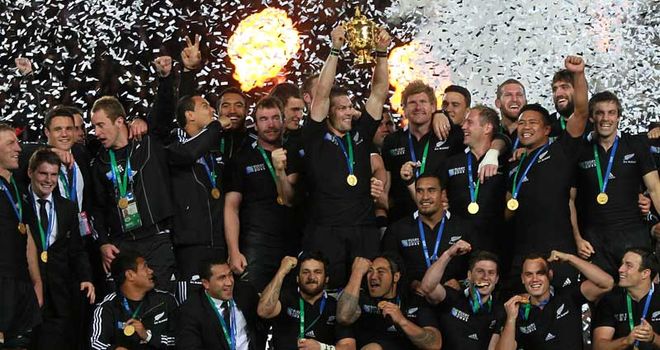 The Rugby World Cup has reached its conclusion and the All Blacks made history after beating France 8-7 in a tense encounter to claim the Webb Ellis Trophy.
Sky Sports commentator Miles Harrison has followed the competition from start to finish and has been bringing you all the colour from New Zealand in his World Cup diary.
In Part X, Miles shares the excitement of seeing a nation gripped and defined by its rugby team and their sigh of relief after 24 years and five failed campaigns. Read on for his final diary entry...
Day Forty-three - Monday 17th
To say New Zealand is now going mad for this World Cup does not do the mood in the nation justice. There is a quiet confidence too after the win against Australia and, although nobody will admit it publically, as they have been stung too many times before, you can tell that New Zealand thinks that the World Cup is coming home.
The news coverage is wall to wall, even ceiling to ceiling - you know the kind of thing, correspondents standing on street corners as far flung as Paris, talking endlessly about all aspects of the Final and getting absolutely nowhere in their discussions with the presenters. Of course, nobody will know the real answer to the big question until Sunday night. It is going to be a long week for New Zealanders, it really is.
Day Forty-four - Tuesday 18th
And, today, my task is to talk and I've chosen to meet up with two French journalists, Arnaud David and Laurent Depret, for a sit down interview at a French restaurant in Auckland called Pastis. Yes, ok, it's a cliché, but who cares? It looks the part on camera and the food is pretty good too!
We talk around the Final topics, just like those correspondents in Paris, and we zone in on this growing feeling within the French camp that they are not only being totally discounted but perhaps 'disrespected' in the local media. To be fair, talking to a few Kiwis, they feel uncomfortable about that too.
I argue that France's record hardly suggests that they have reached the Final as a form horse but, by the end of the conversation, my persuasive French friends have got me feeling, for the first time, that France might have a chance.
They agree that this French team is not one you can love in the traditional French way but they claim that the players have it within themselves to go deep and find levels of passion and forward power that the All Blacks might find too hot to handle. At any rate, that is the argument of Arnaud and Laurent.
We all conclude that, in sport, you very rarely have a story that runs perfectly to script but, on Sunday, France have to rip up the book of this tournament.
Day Forty-five - Wednesday 19th
I'm talking again today, this time to my Sky Sports colleague from back home, Scott Quinnell. Scott is out here working with some sponsors and also in his capacity as one of the judges for the IRB Awards Dinner which will take place on Monday when the great and the good of New Zealand rugby will make up the majority of the audience. Just imagine that event if New Zealand haven't won, it will be more like a wake than a celebration.
We sit down and talk Wales as a preview of Friday's Bronze Medal game and Scott is understandably buoyant over Wales' chances, both in that game and over the coming years. Like us all, he has been enthused by the youthful policy adopted by Warren Gatland and how those youngsters have delivered for their boss in this tournament.
We agree that, normally, the Third Place Play-Off is a game that few are really looking forward to, least of all the players, but this one might be different. Finishing third does mean something for Wales, as does the chance to beat a Tri-Nations team. Tiredness is the worry, both physical and mental, but Friday should be good, fingers crossed.
Day Forty-six - Thursday 20th
Today is a day that the Sky NZ team have all been waiting for. There is no live programming and things have been organised by producers to allow those who want it, some time away from the weekend preparation. So, it is mobiles off and plates and glasses at the ready for the end of tournament barbecue.
The setting is amazing, a house overlooking the bay at St. Heliers, a district of Auckland. The pad carved into the hillside is set out on four levels and is pure Hollywood with views to die for and the sun shines too.
The Sky NZ crew have been a magnificent team to work with and so welcoming to Stuart and I. The friendships that have been created will last a lifetime. The barbecue is not going to be a short one either - a midday start guarantees maximum use of the facilities!
Day Forty-seven - Friday 21st
It's the Bronze Medal game today and, as I said on Wednesday, that is normally something that fills me with dread. I would watch a rugby game between any two teams at any venue at any time of the year and get something out of it, bar this one.
Why do the two nations that have crashed out of the Cup, at the most agonising stage of all, then have to fight it out all over again to decide who gets the medal that nobody wants?
However, I have high hopes that this match does not necessarily fall into that category. For starters, I've never seen an Australian sporting team that doesn't give their all and, given Wales' determination to make their point and both sides' willingness to run the ball in excellent conditions, this could be a Third Place Play-Off to remember.
Pre-match, I interview Robbie Deans and we talk about how he has freshened things up, partly out of necessity and partly out of choice. But, then, once the game starts, there's even more disruption for the Wallabies as they quickly lose Kurtley Beale and Quade Cooper.
Cooper's injury looks a bad one but, thankfully, he's applauded as he leaves the field and not booed which would have been appalling. I think the whole Quade Cooper thing has been the one blot on the New Zealand public's World Cup copybook.
Yet, Wales look too tired to take advantage of the Australian readjustments. There are uncharacteristic mistakes from Jamie Roberts as he misses the tackle to allow Australia in for the first try and Mike Phillips too makes some errors at the base of the scrum. That pair have given so much in this RWC but this is clearly a game too far.
George North's thrilling cover tackle and Leigh Halfpenny's last-play try, both serve to show the spirit and talent in the team though. And, it is that old problem that hurts Wales again - had they kicked their goals they would have won the game - now, when have we heard that before?
After the match, I speak to Shane Williams and he says that, if in form and selected, he would love to have one more cap in front of his home supporters and his family at the Millennium Stadium in December, ironically against Australia. That's good news and his try today, his final score in a RWC, is typical of the man. When he goes, we will miss him badly.
Day Forty-eight - Saturday 22nd
What do you do the day before a World Cup Final? Answer, kill time. There's a programme commitment at the Viaduct Studios in the evening as Stuart and I have been asked onto the Cup Final Preview Show. There is a deliberately lighter feel to the programme, almost to provide a bit of contrast with the tense national mood. It seems everybody is going for New Zealand, the bookmakers are already paying- out but what on earth are the French thinking about all of this? Tomorrow, we will find out.
Day Forty-nine - Sunday 23rd
It is World Cup Final day and, if you don't get excited and nervous about that, whatever your role is, there is something wrong with you. For New Zealanders, the nerves are now right back to the top of the list.
It is, in so many ways, the perfect Final for New Zealand - a pleasing historical repeat of 1987 and the chance to lance the French boils of 1999 and 2007 to boot. It is also at Eden Park, a place where the All Blacks have not lost for twenty-six matches.
Surely, they can't lose to the French today, not here? But, if they do, the perfect Final turns into the worst nightmare for New Zealand and All Black rugby. There will be no boil lancing, just an open sore that may never heal. This nation is defined by one thing only - its rugby team and they must deliver today.
My memory of many memories on an unforgettable day is standing pre-match pitch-side with just twenty minutes to go to kick-off, interviewing Justin Marshall, the great All Black.
We are standing right down in the corner where the current All Blacks are doing their final warm-up in their bid to become immortals, like the side of 1987. Justin confesses to feeling physically sick - I'm with him, the tension is like no other that I have felt in a rugby ground.
In the media room, a fire alarm goes off in the middle of the Haka. It is quickly stopped but perhaps the bells are ringing metaphorically out on the pitch too as France stand up to the All Blacks in a way that suggests they have found their passion.
The images of the day come thick and fast; Parra's face; Cruden's agony too; Woodcock's well worked try and France's schoolboy-like response to the move; Donald's literal shot at redemption; and Dusautoir's superhuman efforts all over the field.
The French captain's score puts the frighteners up New Zealand just like French teams have done before but never quite like this, not in a home World Cup Final. When the final whistle finally goes, a ground and a nation, sigh twenty-four years' worth of relief. Faces instantly turn from agony to joy. The best team has just won the tournament but the best team on the day did not win the Final. For France, it is World Cup Final despair again and this time by just one point.
Day Fifty - Monday 24th
That night was very short! The party in Auckland and, no doubt all around the country, was cooking. The first sound I hear on the morning after the night before is not the dawn chorus but cars still tooting their approval at the events of the previous day.
New Zealand is a contented place now, the burden has been lifted. As I said, had they lost, I'm not sure this nation would have ever recovered its rugby nerve.
For me, there's one last appointment, the IRB annual awards dinner. And, to end this Cup diary, there now follows an outrageous final section of name-dropping. But, I make no excuse for it - I've never lost that boyhood wonder at meeting my rugby heroes and, let's face it, the meeting of friends old and new is what these things are about most of all.
The first people I see walking down the red carpet are my Sky UK colleagues, Will Greenwood and Scott Quinnell. The banter with them is great and it's a reminder of what I'm going home to...more 'fun', sorry, 'work'.
World Cup Final referee, Craig Joubert, joins us and says he's looking forward to a break. He has earned it - the pressure on these guys with the whistle is immense. It seems Joubert's refereeing of the Final has caused a bit of a stir outside New Zealand but the referees were told before the tournament not to make decisions at the end of the games that determined the outcome unless they were 100% sure.
My own view is that there was a scrum penalty that should have gone France's way with about fifteen minutes to go and it was very kickable and others saw things at the breakdown that they felt went unpunished. But, in situations like these, the referees are damned if they do and damned if they don't. It was the case for Alain Rolland in the semi-final too. In sport, teams can win but officials never can.
Just before the dinner starts, I have my most meaningful handshake of the trip, as the All Blacks squad enters the room and Graham Henry comes over. I'm so pleased for him and, as he says, he is now at peace.
I make my departure a little bit before the end in order to catch my flight and I watch the conclusion of the dinner on the giant screens at Auckland airport. The Awards are being broadcast live to this rugby crazy country that can't get enough of the sport we love and I'll miss this place.
In front of me in the queue for the flight home are two more Sky UK colleagues, Sean Fitzpatrick and Zinzan Brooke. And, once seated on the plane, I'm two seats away from Michael Jones.
I turn the airline TV on and there's an option to watch that classic encounter New Zealand versus South Africa in 1996 at Loftus Versfeld. I can't resist. It was the first time that Barnesy and I had worked together in the commentary box. We sound so young but I stand by the words! Fitzy, Zinzan and Michael J all played in that game - so too did Ian Jones, Justin Marshall and Jon Preston, my new Sky New Zealand workmates.
I recline the chair and settle back with a glass of something New Zealand to reflect on the last fifty days. Thank you New Zealand for RWC 2011 - it was 'sweet as' they come!