The final furlong
Miles reflects on a thrilling semi-final week for the home fans and heartache for unlucky Wales.
Last Updated: 18/10/11 9:23am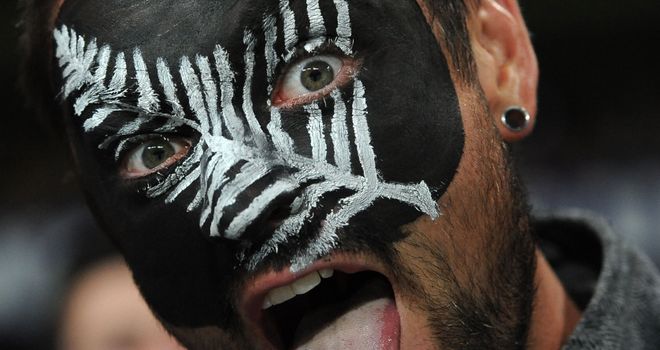 The climax of the Rugby World Cup is almost upon us with New Zealand and France set to battle it out for the Webb Ellis Trophy next weekend.
Sky Sports commentator Miles Harrison has followed the competition from start to finish and his been bringing you all the colour from New Zealand in his World Cup diary.
In Part IX, Miles shares the excitement of semi-final week and reflects on heartache for the Welsh and euphoria for the home nation.
Read on for his penultimate diary entry...
Day 36 - October 10
It is the last internal flight of the World Cup and the next time I board a plane will be the day after the Final to go home. Auckland airport will be busy then alright and it's busy today with players and fans passing through, not as strangers in the night, but World Cup mates in the light of day.
Some though are looking a lot happier than others. For England, Ireland, South Africa and Argentina it is farewell - all four had designs on a semi-final place - indeed three of them were in the semi-finals four years ago, but now that dreaded boarding pass is in their hands.
Before departure England inflict yet another bad news story on themselves as Manu Tuilagi jumps overboard from an Auckland ferry to swim to the harbour. It's obviously a dangerous thing to do given that the ferry is just about to hit reverse, but it is also so obviously a stupid thing to do in view of the way England's campaign has gone. The last thing the side needs is another bit of bad publicity and here it is supplied on a plate. England leave New Zealand with no great affection from the locals.
Day 37 - October 11
Today there are two news conferences to attend. First up it is out to Takapuna where the Australians find themselves. The conference has the air of a US Presidential address with hoards of microphones facing the Wallabies as they confront the massed ranks of the media.
It must be quite intimidating for the players and, to be frank, it is quite a competitive environment for us too with our microphones jostling for position. My story line for the day concerns Aussie confidence and the question - do they have the belief to do this? Scrum-half, Will Genia, leaves me in no doubt that they do when he says that he actually wanted the draw to work out so that his team play New Zealand in the semi-final at Eden Park. For him, it is the perfect game, the chance For Australia to win against their local rivals on the ground where they never win - a good line and a player with genuine belief.
From there it is to the Wales camp at Sky City in central Auckland and Shaun Edwards gives a news conference. Shaun has always been a great talker, engaging to listen to and from a media point of view, so quotable. Today is no exception and he agrees to do a 'one to one' for Sky. We talk about the comparisons between what is happening here and his experiences on the 2009 Lions tour in South Africa. But, this time, can his team take the ultimate prize? There is a growing feeling that this might be more than just a dream.
In the evening, I'm off to a reunion dinner for the 1987 All Blacks - the one and only team to win the World Cup for New Zealand. It's a privilege to be there to see so many of the old greats, especially as the squad have gathered in the memory of the late John Drake who, of course, was one of the greatest props to play for New Zealand but also later went on to become a colleague through his work as a top class broadcaster for Sky NZ.
As far as this year's Cup is concerned, there's a mix of anticipation and anxiety in the room over the All Blacks' chances, which reflects the mood of the nation. As Will Genia sort of pointed out yesterday, the All Blacks worst nightmare is to lose to Australia in a home semi-final but, looking at it the other way they are now just two steps away from ending all the years of hurt. Meanwhile, I get to meet a hero of mine, the ex-All Black, Andy Dalton - a great way to end a terrific evening.
Day 38 - October 12
Now, if you've be following this diary from day one, you will know that there's not been a full day off yet. I am not complaining, as I knew the score before I came - this is a World Cup after all and you don't expect 'days-off'. But, the mind and body are ready for a bit of something different. And, those who know me will also know that, given the chance, if I've got some free time and somebody says do you want to play cricket? Then, the answer takes all of 0.1 of a second to come back and is always in the affirmative.
So, when my Kiwi cameraman, Jon Hill, and producer, Andrew Sorenson, (brother of Northampton's Mark), suggest a net at the indoor centre near Eden Park, then I'm virtually getting the pads on before the phone has been put down. My New Zealand opponents (sorry friends) are gearing themselves for the domestic club season here but you will be pleased to know that I keep bat and pad close together for Queen and country! Well, at times anyway.
In the evening, it's off to the west of Auckland up into the hills in the 'rainforest' where I am treated to some great Kiwi and Welsh hospitality from friends of friend, Simon and Sian. They host a lovely dinner party and it all makes me wonder whether my hosts' nationalities are an indication of the nationalities that will take part in the World Cup Final? However, nervousness still abounds as Simon asks the guests if he can turn up the TV news to find out more about Richie McCaw's ankle? And, Sian wants to hear more on Rhys Priestland's shoulder. Meanwhile, Rosie the dog from Australia growls menacingly in the background. All we need is a French cat purring contentedly and all bases are covered.
Day 39 - October 13
Richie McCaw's foot is reaching Dan Carter groin status as far as the news coverage is concerned. The New Zealand media go mad about the sighting of the Canterbury Crusaders flanker, Matt Todd, at All Black training, stressing out that McCaw is about to pull out of the World Cup. You would not believe the depth at which this piece of information is reported. I did not know there were so many angles on a story. As it turns out, Todd is there to play the part of David Pocock in training - a sensible and practical idea. But, it is a story that starts a series of accusations New Zealand are flouting the RWC rules by gaining an unfair advantage.
Wales name their team for the semi-final, with no Rhys Priestland, who is injured. James Hook comes in and will be expected to carry on from where one of the 'players of the tournament' has left off. Hook is very talented but this is some task and, given the nature of the game, and Hook's constant repositioning within the Wales' back-line, he has his work cut out.
Day 40 - October 14
Friday starts with an appearance on the Radio Sport Breakfast Show which is being held on the road in a central Auckland café bar. I'm there along with the former Australian full-back, Matt Burke. Matt happens to be one of the nicest guys in rugby. He seems in a pretty positive frame of mind about the weekend but I suppose he is an Aussie and, like with Will Genia earlier in the week, they don't really do negative. However, the fear of losing current full-back, Kurtley Beale, to injury is one thing that does worry Matt.
After an early start, and full of cold, I return to the house in search of a couch and a cup of tea. What I get is the Rugby Channel and coverage of Ulster versus Benetton Treviso. Now, some might see this as being a little sad and I concede they might have a point in that there must be more to life for some on a Friday morning, but I will say this in my defence... on my return home I am down to commentate on Leicester against Ulster in the Heineken Cup round two. It is research you see! Actually, it is just a sad rugby nut that cannot resist a game of rugby if stumbled across at whatever time of day.
Talking of sad - the day ends with a live piece on Sky Sports News talking about, amongst other things, England's latest sorry tale - Courtney Lawes flouting the mouth-guard regulations. These reviews can't come quick enough. Then it is a mad dash into Auckland and I am there in time for the semi-final preview show just to serve as a reminder, if required, that this is one heck of a weekend.
Day 41 - October 15
Brad the Aussie walking up the hill in Remuera for a coffee thinks that if Australia win tomorrow then it will be a turn up for the books. Didn't stop him flying in from Sydney though - and by the time we get to the top of the hill - he's got Australia in the Final. That's the Aussies for you!
But, this is Wales' day or, it should be. A World Cup Final beckons and the excitement around the ground in the evening is immense. However, 18 minutes into the semi-final the atmosphere dies and, in many ways, the game does too. There's a moment that Welsh rugby will never forget - the sending-off of their captain and their star man in the tournament thus far (and that is saying something because there are so many candidates). Sam Warburton is ordered out of the World Cup.
On seeing the tackle on Vincent Clerc live, I instantly write "yellow card" in my match notes. Of course, by the letter of the law, it is obviously potentially red as Warburton has not got his man back to the ground safely. Now, I do not want to belittle the issue of safety here and in all discussions on this matter it is only right to remember that the law and the referees are there to protect players' welfare even though it might not seem like that way to some. But, this position has been created by those who took it into their hands, literally, to dangerously spear opponents into the ground.
Yet, I believe, there should always been room for the interpretation of the law no matter how serious the issues are. And, more importantly relating to this case, there was no malice in the tackle, I am absolutely convinced of that. Yes, Warburton took some sort of risk in view of the zero tolerance on this issue but he was just too strong, sweeping his lighter opponent off his feet. It is also clear to everyone watching that 'red' changes the course of the game.
After the drama, France stop playing and suffer stage-fright born of superiority in numbers. Yet, in all honesty, it is Wales who are doing 'all the playing' as they were before Warburton's nightmare moment. The fact that Wales still engineer so many opportunities to win the game is to their great credit. The fact that they don't take them, just serves to pile on the agony for them and their supporters.
As I wait pitch-side to enter the fray for a post-match summary, the great Aussie lock, John Eales, stands alongside about to do his bit for TV back home. 'Yellow card and sort the rest out on Monday', is his view. A lot of people in the game will agree but before Monday comes there's going to be an awful lot said about the decision, a decision that changed a World Cup semi-final.
Day 42 - October 16
If yesterday was meant to be Wales' day - today is meant to be New Zealand's and I swear you can almost hear the nation's collective heart pounding with a mixture of trepidation and anticipation. Surely the AB's can't go 0 and 3 to the Wallabies in World Cup semi-finals? Everybody seems to have a flag in their window or car or a painted face or some sign of national allegiance but behind the paint the New Zealanders faces also reveal a tension. This is the day they have been both dreaming of but dreading too.
Pre-match in the flash interview area we wait for the coaches. Australia's Robbie Deans' sharp eyes look at their competitive best - he says his team must never let it drop for the full 80 minutes and you sense that they won't if the coach has anything to do with it. Next in it is New Zealand's Graham Henry. We shake hands and exchange a little banter but it's not a day to mess around. 'What's the first thing you thought of when you woke up this morning, Graham,' is my opening question. 'That it is going to be a long day', is Henry's quick-witted, yet quite revealing reply. His answer to my final question is revealing too - 'Graham, of all the qualities or skills you want to see from your side tonight what is at the top of the list?' Straight away the reply comes, 'defence,' he says firmly.
Well, his team do not disappoint on that front. It is one of the most complete defensive displays that you will ever see. New Zealand have changed and learnt from the past. They are not afraid to take the odd drop-goal and they have bought into the theory that defence wins World Cups. That does not mean that they do not know how to attack as their early salvo and the brilliance of Israel Dagg proves. In short, they look a pretty complete team - a World Champion team.
The crowd play their part too - their nerves settled by the team's start, they find the volume switch that perhaps New Zealand crowds never used to be able to really locate before this World Cup. They also care little for tries tonight - it is all about the win. And, it is a win that was never in doubt. It's the Final for New Zealand now and, in all honesty, it looks like the Cup as well. But, this is one nation that will take nothing for granted until the deed is done.