Flood facing Tigers job-share
Nobody's spot is guaranteed says Cockerill
Last Updated: 28/08/12 6:13pm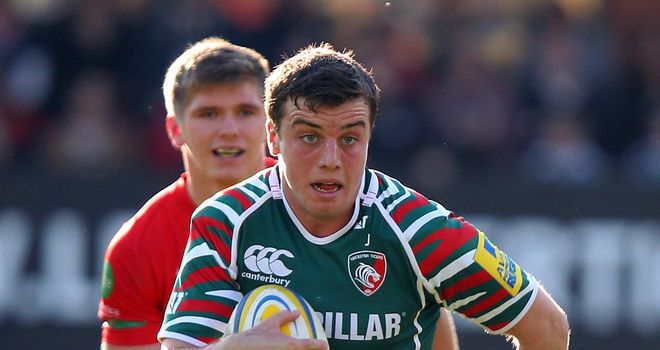 George Ford: Ready to compete for No.10 shirt
England fly-half Toby Flood may have to accept a job-share arrangement with rising star George Ford, Leicester coach Richard Cockerill said on Tuesday.
Flood regained the England number 10 jersey during the summer Test series against South Africa but he has been given a stark reminder that nothing is guaranteed at his club, who launch their Premiership campaign on Sunday.
Ford, a member of the England Saxons squad, spent his summer in the gym and the 19-year-old is now in a position to compete with Flood to be Leicester's first-choice fly-half.
Cockerill believes both men are good enough to be in the senior England squad - but only one can start for the Tigers.
"At Leicester in particular, nobody's spot is guaranteed," Cockerill said. "We have seen in the past that guys have been left out of the side, when on paper you would have picked them.
"Toby reacts to it very well. He knows that he needs to play very well to be in the side because he wants to play for England.
"George Ford is younger but he is a very good player too. I am hoping he will kick on and be really good for us. Toby the same.
Rigorous demands
"Both need to play for us. We want to keep them both long term.
"Like we have with (tight-head props) Dan Cole and Martin Castrogiovanni. They are both playing Test matches, they are both playing for their club.
"They understand that not playing every week is beneficial. The difficulty is if they are both playing well. It is a great headache to have, two really good fly-halves."
Last summer, Ford helped the England Under-20s to the final of the Junior World Championship and he was named the International Rugby Board's young player of the year for 2011.
After a debate between club and country however, he did not tour with an England representative team in June and instead worked on bulking up to meet the rigorous demands of the Premiership.
"It was the right thing to do," said Cockerill. "It is perfect. He is 88-89 kilos. When he came home from the Junior World Cup last summer he was 79 kilos.
"He is quicker and more powerful and more robust than he has been before.
"It was a sensible decision from both club and country because if George kicks on this year he will not have another off-season for a long time.