England ring the changes
Reed and Cattell handed their first starts
Last Updated: May 14, 2012 9:06pm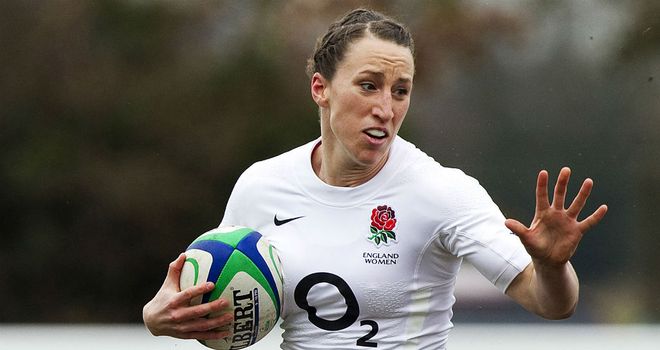 Katherine Merchant: Has returned following her sevens success
England Women have made a total of seven changes to their line-up for Tuesday's FIRA-AER European Cup clash against Italy in Rovereto.
Coach Graham Smith has handed Bristol centre Amber Reed her debut for the clash, while Lauren Cattell will make her first start after coming off the bench and scoring in the 61-0 rout of Spain.
Five of the changes come in the pack, with a new-look front-row of Rosemarie Crowley, Vicky Fleetwood and Laura Keates, while lock. Rowena Burnfield and flanker Gemma Sharples also start.
Lichfield's Fiona Fletcher is also in line for her first appearance after being included on the bench that includes Katherine Merchant and Emily Scarratt following their Marriott London Sevens heroics.
Positives
Head coach Graham Smith said: "Given that the unity of this new looking side has gelled quicker than anticipated I am fully confident that we are capable of putting on a good performance against Italy.
"This will be a big game for Lauren Cattell starting at fly-half and Amber Reed in the centre.
"Despite her young years, Lauren has taken everything in her stride and she certainly has the potential to be a very good player.
"Amber has also shown herself to be big and powerful and her running game and distribution are real positives. Teaming up with Silly Tuson in the centres I think they have the potential to be quite a combination."
England: 15 Danielle Waterman (Worcester), 14 Lydia Thompson (Worcester) 13 Sally Tuson (Bristol), 12 Amber Reed (Bristol), 11 Ruth Laybourn (Darlington Mowden Park Sharks), 10 Lauren Cattell (Chesham), 9 George Rozario (Lichfield), 1 Rosemarie Crowley (Lichfield), 2 Vicky Fleetwood (Lichfield), 3 Laura Keates (Worcester), 4 Tamara Taylor (Darlington Mowden Park Sharks), 5 Rowena Burnfield (Richmond), 6 Sarah Hunter (C), 7 Gemma Sharples (Worcester), 8 Harriet Millar Mills (Lichfield).
Replacements: 16 Emma Croker (Richmond), 17 Rochelle Clark (Worcester), 18 Kate Newton (Bristol), 19 Emily Braund (Lichfield), 20 Fiona Fletcher, 21 Fiona Davidson (Richmond), 22 Kim Oliver (Bristol), 23 Katherine Merchant (Worcester), 24 Emily Scarratt (Lichfield), 25 Ceri Large (Worcester).