Sky Bet
Loading Market ...
Leeds hooker Andy Titterrell remains confident he can play for England again despite the prospect of Championship rugby.
The 30-year-old joined Leeds in 2009 after Gloucester released him two years into a three-year contract.
And now the British and Irish Lions tourist is set to find himself part of a squad playing outside the Aviva Premiership after finishing bottom of the league on points difference - with only a remarkable turnaround from Cornish Pirates in the play-offs able to spare them.
But Titterrell, who was part of the England Saxons who won last summer's Churchill Cup, remains confident this does not have to deter him from playing for his country in the future.
Titterrell, who has been sidelined for six months with a serious knee injury, told skysports.com: "I still have aspirations and desires to play for England again.
"Whether or not that happens is completely out of my hands but I won't ease up on my efforts and I will give 100%.
"I don't know where I am going with rugby but I still want to play this level. It's the only thing I have done since leaving school and my desire still burns quite brightly."
Challenge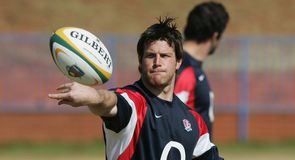 Titterrell can now "see light at the end of the tunnel" following his injury nightmare and he is relishing the prospect of getting back on the field.
And although disappointed at the prospect of dropping out of the top flight, he admits life in the Championship could be an exciting challenge and a great chance for the club's rising academy stars to shine.
Titterrell, who won the Premiership title while at Sale in 2006, said: "The Championship is not an easy league and all the teams are vying to be up there at the top.
"It's exciting but it's also nerve-wracking. It's not an easy side and then we have got the play-offs to contend with too.
"At Sale, the likes of myself, Charlie Hodgson and that had been in the academy but only got our opportunity when we were not doing well. We were able to shine in a team that was struggling and it will be the same now.
"You've got to keep young talent and I think that's where the Championship will be good for us next year."