Friendly rivalry for Sexton
Ireland fly-half remains 'good friends' with O'Gara
Last Updated: 20/03/11 3:29pm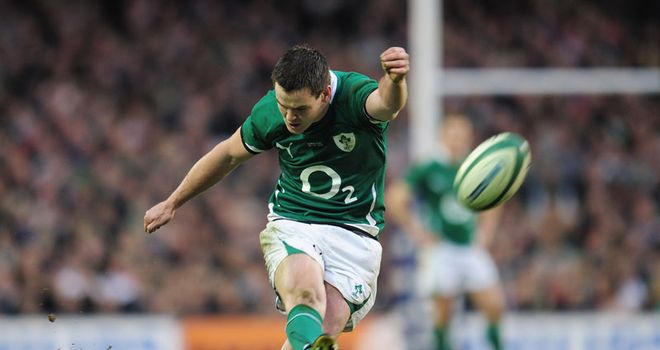 Sexton: Friends with O'Gara
Jonathan Sexton insists that he is "good friends" with Ronan O'Gara despite the rivalry between the two Ireland fly-halves.
There is continued debate over who should fill the No. 10 jersey for Ireland, with Sexton getting the nod for the RBS Six Nations clash against England on Saturday.
He rewarded coach Declan Kdney with a man-of-the-match performance as the hosts thwarted their opponents' hopes of a Grand Slam at Aviva Stadium.
And the Leinster stand-off says that there is no feud between the two when they are together in the Ireland camp.
Sexton said: "There's been a lot written about the two of us. We're good friends now, though we probably didn't get off to the best starts!"
On-pitch
"But what happens on the pitch between Leinster and Munster goes out the window when it comes to Ireland.
"I'm sure we'll be back killing each other in two weeks time when we play Munster at Thomond Park, but we're great friends right now building towards the World Cup.
"We have a good laugh about the talk over who's the Irish 10. We're fully aware that when one plays well, the other gets criticised.
"That's not how it should work, but I've learnt a lot in that respect over the last few weeks. You mature from it.
"There's a lot of support out there for Ronan and he deserves it after what he's done for Munster and Irish rugby. I'll have to put in a few more performances like that to get the support he's had."
Sexton came in for criticism after the loss against Wales last weekend, where he produced an error-filled performance after replacing O'Gara with 30 minutes left.
Good place
"I was in a good place last week, even though I'd seen a lot of criticism out there about me," he added.
"Against Wales I came on and the first three minutes weren't minutes to be remembered. But I thought I recovered well and had a good final quarter.
"I did okay when I came on against Scotland as well so I was in a good place, despite everything that was being said.
"After the French game I was reading too much into what was being said and I literally haven't watched the TV or opened a paper since. Staying away from it helps.
"Sometimes my girlfriend gives out about what certain people have said and I'll say, 'Leave it, I don't want to hear about it'. It's all part of it and will continue to be."