Exeter buoyed by trio
Sestaret, Jess and Dollman sign new deals
Last Updated: 08/02/11 11:27am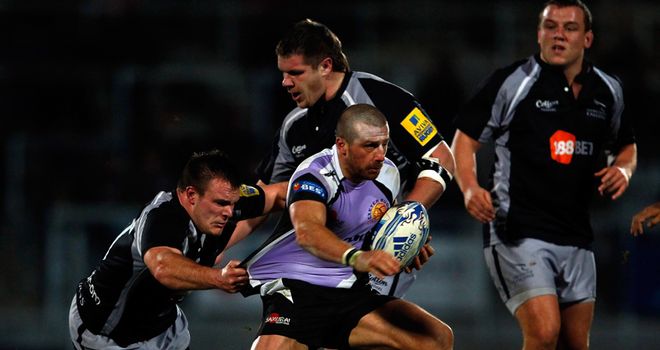 Sestaret: Wants to finish his career at the Chiefs
Nic Sestaret, Matt Jess and Phil Dollman have become the latest players to commit themselves to Exeter.
The back trio have all agreed two-year deals with the Chiefs, which means 16 of the current squad have opted to stay at Sandy Park.
And head coach Rob Baxter is delighted Sestaret, Jess and Dollman have signed new contracts.
"With all three of them what's pleasing is they're improving with exposure to Premiership rugby, which is what we hoped for from our players at the start of the season," said Baxter.
"More recently you've started to see Jessy come through. He's taken a bit longer than Nic and Phil to settle in, but now he's starting to come through.
Fantastic
"Nic is what Nic is - he is 100 per cent in everything he does, be it playing or training. He adds great energy to every side he plays in and has a fantastic attitude. It's fantastic that they want to stay with us.
"We can keep working on them now for a period of time and our aim is obviously to make them as good players as we can."
Frenchman Sestaret, who moved to the Chiefs from Plymouth in 2008, has now set his sights on finishing his career with the club.
"I always wanted to stay here and maybe end my career here," he said. "I need good fitness training to be good on the pitch and that's what I've got here. I'm very happy with that, the coaches and all the staff.
"I've got a family now and I quite like England too. This is my sixth year (in England), so it will be eight years by the end of this contract - I'll almost be an Englishman!"