Moore rejects France move
Australia hooker agrees new two-year deal
Last Updated: 04/02/11 8:29am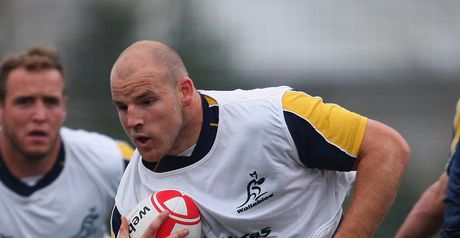 Moore: New deal
Australia hooker Stephen Moore has rejected the chance to move to France after signing a new deal with the Brumbies and the ARU.
Racing Metro had been leading the chase for the 55-cap veteran but he has now agreed to a new two-year deal contract.
And the 28-year-old admitted he now wanted to play a key role in the emerging Wallabies side.
"When I weighed it all up, it wasn't a hard decision," Moore said.
"There is still a lot I want to achieve in Australian Rugby, both with the Wallabies and here at the Brumbies.
"There was also the lifestyle factor to consider. Once we looked at everything, my fiancee Courtney and I came to the decision that Australia is where we want to be.
"The team is making great strides. We saw that in the results that were achieved last year, especially in the back half in the games against the Springboks, All Blacks and France.
"It's an exciting time to be involved, not just because of the results that have been achieved, but the style of rugby that is being played.
"It's entertaining to watch and enjoyable to play. There's still a lot of improvement left in the side and I didn't want to be in the position after this year where I was looking from afar feeling disappointed that I was missing out on being a part of it."