Rees confident of success
Hooker believes Wales can topple the Boks
Last Updated: 28/05/10 1:50pm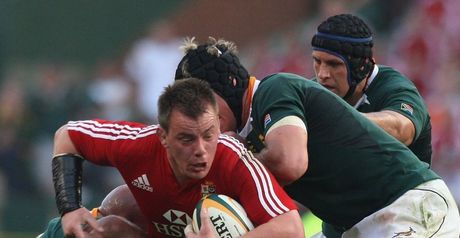 Rees: Ready to tackle the Boks
Wales hooker Matthew Rees insists his side will go in to their clash with South Africa full of confidence.
Wales will tackle the world champions at the Millennium Stadium on June 5, before heading to New Zealand for two Tests.
But despite seeing Wales flattering to deceive during the RBS Six Nations - playing some good rugby in sporadic bursts - Rees believes the side are heading in the right direction.
And although Rees, who was part of the British & Irish Lions squad that lost 2-1 to the Boks after a thrilling series last summer, admits the tourists will have some good players, he has faith in the talent available to the Welsh.
"We are sometimes very quick to put others up on a pedestal in Welsh rugby," said the Scarlets star.
Confidence
"South Africa will bring some real talent to the party whichever team they pick, but we have some great players too and a good mix of youngsters now who will maybe bring some of that extra confidence of youth with them.
"The last time many of us played South Africa we came away with a win, and we know in the second Test with the Lions we probably should have won as well.
"But in all fairness, the Springboks won the series and there is no doubting they will be an incredibly tough prospect.
"We were very disappointed in South Africa, and it's great to get the opportunity to play them again.
"It's not about arrogance, but about belief in ourselves as players. In Wales we are very good at building opposition teams up, but we have not been so good in the past at backing ourselves.
"But we have a core of players here who have been playing well and improving for two or three years - or even four or five - and we know we have the ability, so why shouldn't we be confident?"