Cusiter: We learnt from loss
Skipper says Scotland players have taken the blame
By Rachel Griffiths. Last Updated: 24/02/10 4:18pm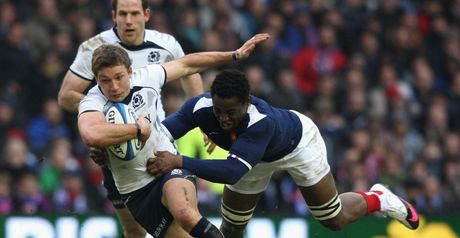 Cusiter: Admits mistakes
Chris Cusiter insists the Scotland players who made errors in their RBS Six Nations loss to Wales have not shied away from taking responsibility.
"We've got to learn from it and not make those mistakes again."
Chris Cusiter Quotes of the week
Replacement hooker Scott Lawson came under fire for the last-gasp defeat, after his sin-binning started a chain of events that saw the Scots lose their grip on what had looked to be a definite win.
The Gloucester player is said to have apologised to the management staff and his colleagues for his costly lack of discipline since the match 10 days ago, and captain Cusiter admits he is also amongst the numerous players who have taken a share of the blame.
Responsibility
"I don't think anyone shirks that responsibility," said Cusiter. "The guys who made mistakes know who they are. A lot of us made mistakes - I'll hold my hand up as well.
"We've got to learn from it and not make those mistakes again."
The skipper revealed Scotland will remember the lessons learnt against Wales when they face Italy in Rome in their third Six Nations clash on Saturday, and will also attempt to build on their superb performance delivered in the first 70 minutes in Cardiff.
"The things that went wrong, we have to learn from; but, equally, the things that went well, we've got to keep on doing," said Cusiter.
"That was the best we've attacked for quite a while now so we've got to continue in that vein and look to cause Italy problems."
"That means these little errors that we made last weekend, we can't afford to make them again."
Tough
Cusiter believes the Italy match will be particularly tough, especially with a track record which has seen the Azzurri win four of the side's 10 Six Nations meetings, including three of five at home.
"It's just a huge game in terms of the championship and the Scotland-Italy history," he added. "Particularly playing at home, they're a very, very proud team.
"It's a huge challenge for us to go over there, as big as any we'll face in the Six Nations."