Boks punished for protest
Smit & co. pay the price for wearing armbands in support of lock
Last Updated: 24/08/09 7:16pm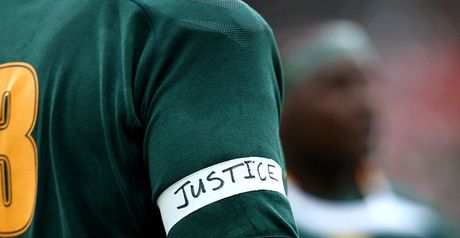 Armband: The offending article
South African rugby chiefs and players have been fined for protesting Bakkies Botha's ban during the third British and Irish Lions Test this summer.
Springbok players and management wore armbands marked with the words 'Justice' to protest the two-week suspension handed down to lock forward Botha.
Botha was cited for a challenge on Lions prop Adam Jones which left the Welshman with a dislocated shoulder during the Springboks' 28-25 victory at Pretoria in the second Test.
A three-man independent disciplinary committee, including former Australia captain John Eales, found the South African Rugby Union (SARU), team members and officials guilty of bringing the game into disrepute.
SARU received a £10,000 fine and each Springbok player who wore an armband landed a £200 fine, expect for skipper John Smit, who was fined £1,000.
The independent disciplinary committee said the sanctions would have been much more severe but for legal technicalities.
And though the International Rugby Board (IRB) has welcomed the guilty verdicts an appeal against the level of the punishment is under consideration.
The IRB has 14 days from the date of the independent committee's written decision in which to make any appeal in relation to this matter.