Matfield sees Australia threat
World Cup-winning lock highlights Wallabies' lineout threat
Last Updated: 06/08/09 4:51pm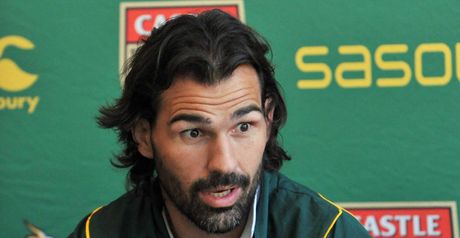 Matfield: Wary
South Africa lock Victor Matfield has warned that Australia will present a greater lineout threat than New Zealand when the sides meet in Cape Town on Saturday.
The world champions are currently top of the table after two victories over the All Blacks and will now look to consolidate their position against the Wallabies, who lost their only match in the competition so far to New Zealand.
And, while the home side will be confident of a third win, Matfield believes the Springboks have to be wary due to the presence of veteran lock Nathan Sharpe.
"It will definitely be a bigger challenge," he said.
"The Wallaby lineout did very well competing against the All Blacks in Auckland last month.
"Nathan Sharpe is very experienced and has been running their lineout for a long time, so it will be a tough challenge."
Forwards
Matfield has also highlighted the danger the Australian forwards can pose.
"There are a lot of perceptions out there and some teams always have their forwards blamed when they lose," he said.
"But if you look back to the Super 14 then the (New South Wales) Waratahs had the best scrum and one of the most physical packs."