Italy left Sole-less
Coach Nick Mallett forced to turn to uncapped Derbyshire
Last Updated: 01/06/09 7:28pm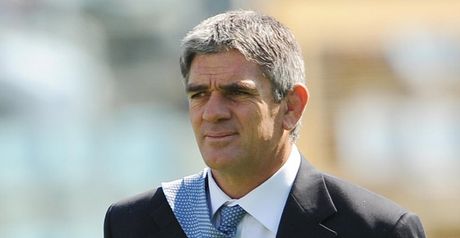 Mallett: Making changes
Experienced back row forward Josh Sole has been replaced by the uncapped Paul Derbyshire for Italy's tour of Australia and New Zealand.
Twenty nine-year-old New Zealand-born Sole, capped 38 times, withdrew from the squad on Monday because of a wrist injury.
Sole's withdrawal is the latest blow for coach Nick Mallett, who has already lost Leicester Tigers prop Martin Castrogiovanni, scrum-half Simon Picone and full-back Andrea Marcato.
Italy are due to face-off against Australian on June 13 and 20 and then round off their tour against the All Blacks on June 27.
Forwards: Matias Aguero (Saracens/ENG), Mauro Bergamasco (Stade Francais/FRA), Marco Bortolami (Gloucester/ITA), Carlo Antonio Del Fava (Ulster/IRL), Paul Derbyshire (Petrarca), Simone Favaro (Rovigo), Quintin Geldenhuys (Viadana), Leonardo Ghiraldini (Calvisano), Jean-Francois Montauriol (Venice), Sergio Parisse (capt, Stade Francais/FRA), Salvatore Perugini (Toulouse/FRA), Tommaso Reato (Rovigo), Ignacio Rouyet (Viadana), Franco Sbaraglini (Treviso), Fabio Staibano (Castres/FRA), Alessandro Zanni (Calvisano)
Backs: Mirco Bergamasco (Stade Francais/FRA), Kristopher Burton (Prato), Gonzalo Canale (Clermont/FRA), Pablo Canavosio (Viadana), Gonzalo Garcia (Calvisano), Craig Gower (Bayonne/FRA), Luke McLean (Calvisano), Gilberto Pavan (Overmach Parma), Matteo Pratichetti (Calvisano), Roberto Quartaroli (Overmach Parma), Kaine Robertson (Viadana), Giulio Rubini (Overmach Parma), Tito Tebaldi (Parma), Giulio Toniolatti (Rome)